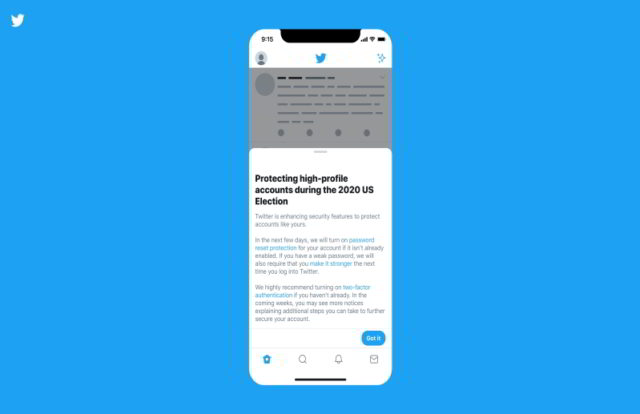 The 2020 U.S. election is just a couple of months away and opportune threat actors are bound to make attempts of attacking the accounts of high-profile personalities for malicious gains. To avoid this nuisance, Twitter has come forward and announced improved account security measures for the 2020 U.S. election.
 Key Highlights 

The improved security measures will be applicable for: U.S. Executive Branch and Congress; Governors and Secretaries of State; official handles of Presidential candidates, political parties, and presidential campaigns; all major U.S news outlets and journalists.
The changes in rules will include Twitter Accounts containing "weak" passwords.
Twitter additionally advised these accounts to implement its Two-Factor Authentication feature.
Twitter's Security for 2020 U.S. Election
Twitter realized that a large set of voters, politicians, election officials, and journalists depend on the microblogging site for their fair share of reliable news and information about the election. Thus, it decided to proactively implement account security measures and provide its users' utmost security and integrity of data being shared across its platform.
Twitter also accepts that it has learned its lessons from the recent security incidents where a trio of young men compromised several high-profile accounts, including the Democratic nominee for President, Joe Biden. Thus, in a bid to further strengthen the security of these high-profile accounts during the 2020 U.S. election, Twitter has taken the following measures:
Accounts containing "weak" passwords will be mandatorily asked to update and use a stronger password on the next login (beginning September 17).
Enable its "Password reset protection" feature for all accounts in question by default.
Encourage accounts to implement the Two-Factor Authentication feature as an additional layer of protection against unauthorized access.
Twitter tends to inform these accounts of the changes being implemented via an in-app notification.
Twitter's Internal Measures
Twitter subsequently announced that it is not just the user security measures that have been strengthened, but also proactive internal security safeguards.  The additional measures include:
Advanced and sophisticated detections and alerts to Twitter's internal teams and account holders, so that rapid response can be given to any suspicious activity.
Increased login security to defend against hostile account takeover attempts.
Expedited resolution for account recovery, and many more.
Facebook is also Closing the Gaps
Late last year, Facebook stated that it is tightening its security measures for the 2020 U.S. elections after it detected signs of Russian meddling. The social media giant had stated that it was taking down accounts involved in illicit activities and stepping up searching state-controlled media trying to manipulate American voters.
Facebook had also pledged to use a variety of security measures, including artificial intelligence (AI), to counter such attackers or other online intruders from implementing misleading strategies and false information to meddle in the 2020 U.S. elections.