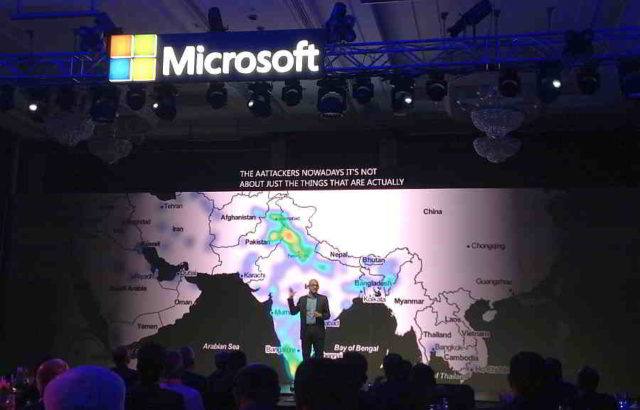 Microsoft CEO Satya Nadella kicked off his three-day visit to India on February 24, 2020 by addressing a gathering of over 150 business leaders at the "Microsoft Future Decoded: CEO Summit" in Mumbai, India. Nadella's presentation centered on the theme of tech intensity and using digital technology inclusively to build the economy. Cybersecurity is included in Microsoft's tech stack. Nadella emphasized the combination of security products and operational security posture when he spoke about cybersecurity. He also warned about microtargeted attacks on infrastructure.
By Brian Pereira
"When you look out to the next ten years, we need broader productivity and broader cross-sectoral impact of digital technology. In other words, the next ten years are going to be defined by digital technology," Nadella said. "Technology must drive more inclusive economic growth. To do this you need core trust in technology, whether it is privacy, ethics around AI, cyber–that's going to be huge."
Security is a crucial part of Microsoft's tech stack, which includes endpoint security, security services from the cloud, security intelligence, threat protection, IoT security, and a Zero Trust model.
"There needs to be trust in technology that you all create, whether you are a retailer or a healthcare company. Trust comes down to four attributes: privacy, responsible AI, digital safety and security. It is trust in privacy, trust in AI that you apply. Trust has to be human right. AI has to be ethical."
Nadella said that the economic losses due to cybercrime are "one of the most stunning issues of  our times." He showed that the losses in 2018 were US$600 billion and it increased to US$1 trillion in 2019.
"One of the areas we focused a lot on is building both the security products, but more importantly, the operational security posture that we have in real-time, where we see trillions of data signals each day. And we go to work so that we can protect all your infrastructure, applications and devices. So, what we have is comprehensive security… starting with identity, to devices, to applications, to your infrastructure. But backing it up not just with the products that help secure your data and applications, but also bringing this operational security," said Nadella.
VIDEO: Cybersecurity from 50:19 mins.
He then spoke about hackers and targeted attacks.
"The attacks, just like microtargeting in advertising, are being targeted at specifically, most vulnerable populations," he revealed.
Nadella gave the example of an incident in Northern India where 11,000 users or nodes were targeted for bitcoin mining. That attack was essentially co-opting 11,000 user compute cycles, for bitcoin mining.
"Our operational security posture gives us that early warning signal and then we go inoculate these 11,000 users, using, in this case, Microsoft Defender. That ability to see in real-time, as an attack happens and then to remediate it—is that combination of both the security product and the operational security posture–both coming together," he said.
Brian Pereira is the Principal Editor at CISO MAG and was hosted at this event by Microsoft India.