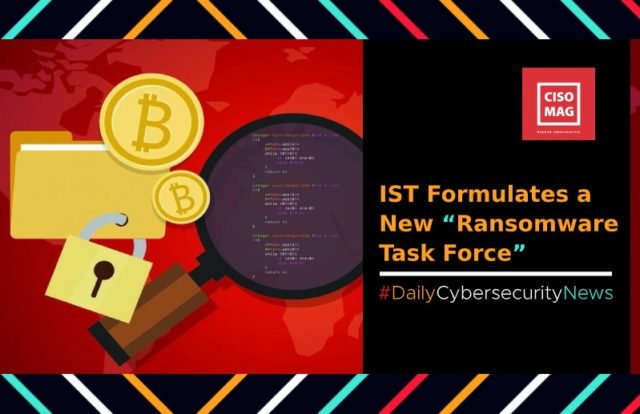 Ransomware has continued to plague digital transformation since the onset of the pandemic. A recent survey from cybersecurity firm CrowdStrike, revealed that nearly 56% of organizations reported a ransomware attack in the last year. With reports of an extended lockdown in parts of Europe being enforced again, there seems to be no stopping for digitization, which inversely means a larger threat surface is exposed and, that ransomware threat will keep growing larger by the day.
To counter this threat, the Institute for Security and Technology (IST) has decided to bring together a formidable team that can help steer the ship away from rough waters; they call this team – the Ransomware Task Force (RTF).
What is the Ransomware Task Force?
The Institute for Security and Technology launched the Ransomware Task Force in partnership with experts from multiple domains like the industry, government, law enforcement, nonprofits, cybersecurity insurance, and international organizations. The RTF's founding members believe that ransomware is a much larger and complex threat for any organization to handle single-handedly. Thus, having a consortium or council of members who can provide clear recommendations for both public and private sector organizations will significantly reduce the threat and the impact posed by such cybercriminals.
Ransomware incidents need a check as this economically destructive cybercrime has increasingly led to dangerous, physical consequences. Hospitals, Schools, City Governments, and others have been targeted and held hostage by malicious actors seeking ransoms or payouts in exchange. The ransomware menace is not just limited to one sector; this is the prime reason why the IST has involved people from various sectors.  They aim to get a closer perspective of every sector and not only cybersecurity.
The Ransomware Task Force will synthesize a clear framework of actionable solutions. It will assess existing solutions at varying levels, identify the gaps in solution application, and create a roadmap of clear objectives and actionable guidelines for high-level decision-makers. To achieve the goals of the final roadmap, the RTF will share their expertise through papers and catalogs and engage stakeholders across industries to implement vetted solutions.
Partners of the RTF
The founding members of the Ransomware Task Force include some known names like:
Aspen Digital
Citrix
The Cyber Threat Alliance
Cybereason
The CyberPeace Institute
The Cybersecurity Coalition
The Global Cyber Alliance
McAfee
Microsoft
Rapid7
Resilience
SecurityScorecard
Shadowserver Foundation
Stratigos Security
Team Cymru
Third Way
UT Austin Stauss Center
Venable LLP
The official Ransomware Task Force website, with information on the membership plans and leadership roles, will be launched in the first half of January 2021.