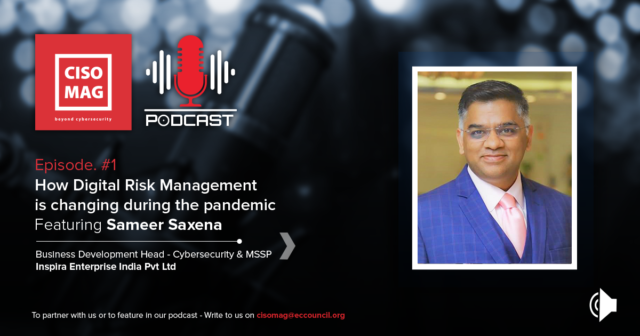 Episode #1 
When the pandemic came along earlier this year, more businesses increased their reliance on digital infrastructure. Today, businesses rely heavily on digital processes to run their operations. Clearly, the risk has shifted to digital platforms and DRM is the next evolution in enterprise risk and security for organizations.
The ultimate objective of digital risk management is to build digital resiliency, where an organization's systems and operations are designed to detect digital threats and respond to events to minimize business disruption and financial losses.
"

Sameer Saxena

, Business Development Head- Cybersecurity & MSSP, Inspira Enterprise India Pvt. Ltd. discusses the evolution and future of Digital Risk Management with Brian Pereira, Principal Editor, CISO MAG."
Sameer is a Cyber Security practitioner with over 20 years of industry experience of which 10 years has been in the Cybersecurity Education, Skill Development, Awareness function. He has led organizations to develop and strengthen cross-functional teams and establish relationships with the Industry ecosystem. Sameer is the winner of the Cyber Security Social Media Influencer of the Year 2020 by CISOMAG, an EC-Council Publication.
Being an outlier, he had been instrumental in creating the need for an Indian version of the Information Assurance Workforce Skills Framework, which was the only one approved by the National Skills Development Corporation (NSDC).