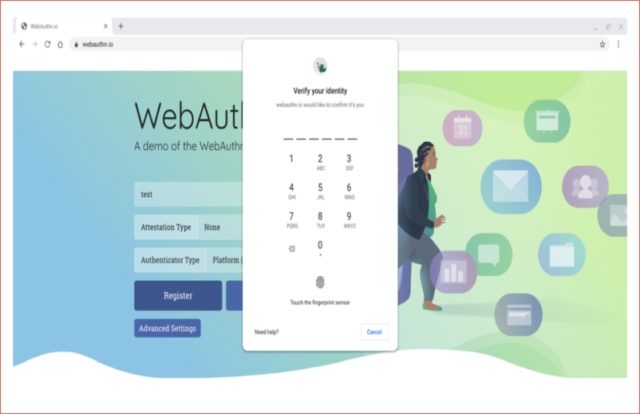 WebAuthn, or web authentication, which has been regarded as an official web standard since 2019, has finally been introduced for passwordless authentication on Chromebooks. Using this, users can sign into their favorite websites, including Google, Dropbox, GitHub, Okta, Twitter, and Microsoft, by simply scanning their fingerprint that is registered to unlock their Chromebook. Alternatively, users can also use a PIN.
What is Google's WebAuthn?
WebAuthn primarily allows users to register and authenticate on websites or applications using any "authenticator." This authenticator could be a fingerprint or PIN, which can be easily used instead of a password. However, the catch is that you need a fingerprint scanner/reader to do this in the first place. Thus, Google has come up with a smart solution of using the fingerprint reader of a Chromebook to scan users' fingerprints; match it with the one saved to unlock the Chromebook, and allow users to sign in.
Today, when remote working is at an all-time high and the uptake of Chromebooks, especially among students, is breaking the roof, Google's WebAuthn feature will let its users breathe a sigh of relief. It lessens the burden of remembering multiple passwords and makes web sign-in faster and easier.
Alexander Kuscher also confirmed that if users "use 2-Step Verification to sign-in, your Chromebook PIN or fingerprint ID can be used as the second factor, so you no longer need to pull out your security key or phone to authenticate."
Personalize Your Lock Screen
Apart from the web authentication feature, Google has also allowed its users to add their personal touch to the lock screen. It has turned the screen into an art display where users can add their favorite photos or albums from Google Photos or the device gallery. Additionally, this screen can also be used to check the current weather and control music functions like play, pause, or skip, all without unlocking the device. To turn ON this feature, go to your Chrome OS Settings and select Personalization > Screen saver.
How to Get the Latest Chrome Update
To get the latest version of the Chrome OS installed on your device, follow these simple steps:
On your computer, open Chrome.
At the top right, click More.
Click Update Google Chrome. (Note: If this button is not visible, then you have the latest version installed already.)
Click Relaunch.
Incidentally, Chrome 88 also has a feature that allows fixing weak passwords for better online security. Read the story here: Google Chrome 88 To Fix Weak Passwords for Better Online Security