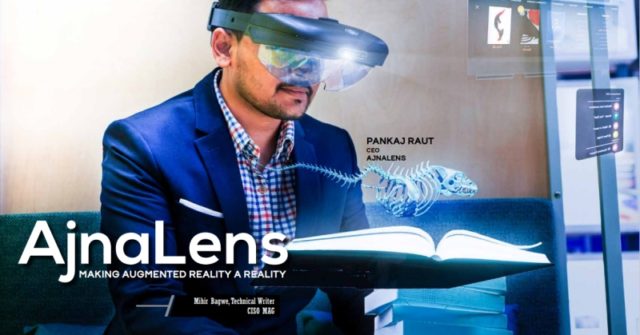 In the last three decades, we have seen how innovation in computer technology has transformed human life at a rate which no other invention has done before. This was possible because computers augmented human intelligence and enhanced their capabilities. Over the years, computers have transformed from huge machines–that consume the space of an entire room–to handheld tablets. The evolution is still underway, as we now move towards wearable devices that are just smaller versions of computers.
Wearables have become the talk of the town in recent years owing to their wide range of consumer-focused and industry-based offerings. These devices are broadly classified into four types:
Smart glasses and head gear
Smart watches
Wearable medical devices
Fitness trackers
Of these, the one that really interests and fascinates people the most is the head-mounted wearable display. These devices have the broadest scope of usage as they visually transmit data and information to the eyes via the headgear. Considering the tech industry's inclination towards, and the demand for wearable gadgets and artificial intelligence (AI), a bunch of tech enthusiasts came together to co-found AjnaLens.
The company, registered under the name Dimension NXG Pvt. Ltd., is co-founded by Pankaj Raut (CEO), Abhishek Tomar (CTO) and Abhijit Patil (COO). Before AjnaLens, all the co-founders worked in different fields. Raut, who comes from a business background, had developed a tech product in 3D scanning, Tomar headed the VFX team at Red Chillies Entertainment and Patil was working with Godrej on process planning and optimization for the manufacturing of Brahmos Missile. However, expertise from various domains is exactly what worked in their favor. They covered all bases required to form a startup – technology, business and operations.
Using the brand name, the company designed AjnaLens – a pair of AI-powered mixed reality (MR) glasses that augments human intelligence. In layman's terms, this pair of glasses enables the user to use AI and helps in better, concise and real-time decision making in fields ranging from education to enterprise to defense.
The Struggle
The path to success like other tech startups was not flower-laden. Finding the right investors and visionaries who believed in their vision and the future of such a technology was an uphill task. They were in a literal sense talking sci-fi; talking to investors was like talking to people with a James Bond movie script in hand. The industry was unexplored, untouched, and unheard off. Raut, Tomar, and Patil needed brave and visionary people by their side. They were fortunate enough to have met people like Vijay Shekhar Sharma, Founder and CEO of Paytm, and Nailesh Khimji, Director and Board Member – Khimji Ramdas Group (Oman), among other angel investors. After acquiring the required seed funding, it was time to get to the drawing table and this is where the second part of the challenge began.
Network Security and Bandwidth
Uninterrupted streaming of Augmented Reality (AR) based on cloud-hosted content and services requires huge bandwidth and coverage in areas where these wearable AR glasses are deployed. Ensuring reliable Wi-Fi and other modes of network availability in remote locations, where even mobile/cellular network coverage is not present, was a daunting challenge.
Both devices and networks require the highest security standards in sensitive environments to ensure critical, personal and organizational information is not compromised. These devices carry massive amounts of user data ranging from user demographics to personally identifiable information (PII). The team at AjnaLens was very much aware of the cybersecurity aspect of their wearable glasses, especially being in the defense sector. Thus, they implemented multi-layered 256-bit encryption to secure the data and communication of these devices. An in-depth discussion with the team related to the core cybersecurity technology used in the wearable was not possible as they are still awaiting a few security certificates and clearances from the defense authorities. However, after two years of intensive R&D, the team was confident about the data safety of this device and finally launched AjnaLite and AjnaLite Plus at DIDAC in September 2019.
The Beginning of the Rise
The trio was very clear about their first target industry – the Education industry. They found a way to integrate AR/VR technology and AI in one headset, that would help education and training in remote areas. This was the beginning of the rise. The startup was immediately taken note of by the local and international media, and won many accolades including Technology Innovation Leadership Award in Augmented Reality Headset – Frost & Sullivan (2018), Awarded #1 Innovation across India by CII, AICTE & DST, Early Growth IOT Startup of the year – The AEONIAN 2018 and many more.
The Future of Warfare
Meanwhile, the team at AjnaLens saw a huge potential of their technology in the future of warfare. Thus, was born one of the world's most advanced MR glasses for defense and law enforcement forces – AjnaBolt. This pair of MR glasses was launched at the recently held Defence Expo 2020, in the presence of India's Prime Minister Narendra Modi, and Defence Minister Rajnath Singh. AjnaLens also signed an MoU with the government to set up a manufacturing unit in the state of Uttar Pradesh, India.
What's Next
AjnaLens is soon launching an enterprise version of its AR glasses, in 2020, called AjnaOne. To support the manufacturing of the enterprise version and further enhance their AR/VR capabilities, AjnaLens raised a Pre-Series A funding of US$1.5 million which was led by Maharashtra Defence and Aerospace Venture Fund.
With nearly 15+ Patents in AR/MR and allied fields under their name, and after receiving the backing from the Government of India-led institutions like DRDO, Army, Navy and Air Force the co-founders humbly said, "The journey is still challenging. But people are slowly realizing the possibilities and opportunities. They are now coming forward to join hands for a larger vision."
S N A P S H O T

Company
Dimension NXG Pvt. Ltd. (Brand Name – AjnaLens)
CEO
Pankaj Raut, Co-founder and CEO
Website
https://www.ajnalens.com
Consulting Partner
Optiv
Tech Partners
CISCO, AWS, RSA
Social Media Handles
Location(s)
Mumbai and Bangalore (India)
Employees
20
Total Funding
US$ 2.2 Million (till Feb 2020)
Funding

Seed Round/Angel Round

Total investment: US$411,000
List of investors

Vijay Shekhar Sharma, Founder and CEO – Paytm
Japan Vyas, Founder – Root Ventures
Nailesh Khimji, Director and Board Member – Khimji Ramdas Group (Oman)
Chetan Kajaria, Joint MD – Kajaria Ceramics
Manish Bhatia, Chairman – Bhatia Brothers
Jay Jesrani, Mountain Lion Partners
Multiple other Angels

Grant

Total amount – US$215,000
Received grant of ₹ 1.5 Crore (approx. US$215,000) from the Ministry of Defence under iDEX initiative to develop and give military tanks as see through capability in 360 degrees (X-Ray Vision).

 

Pre-Series A

Total investment in US$ 1.5 Million
List of investors

Nailesh Khimji, Director and Board Member – Khimji Ramdas Group (Oman)
Mohsin Hani Al Bahrani, Director – Mohsin Haider Darwish Group
Michael Marks, Founder – Innoventure Partner
Multiple other HNI

Lead investor – Maharashtra Defence and Aerospace Venture Fund

Industry-wise Services

Aerospace, Defense & Law enforcement
Education
Enterprise (Launching in 2020)

Architecture, Construction and Interior designing
Manufacturing
Oil & Gas
Automobile
Retail
Logistics
Media & Entertainment
PRODUCTS OFFERINGS

Offerings

AjnaBolt for Defence: AjnaBolt is a pair of mixed reality glasses that enhances situational awareness, decreases response time, and helps the defense and law enforcement personnel make better tactical decisions instantly. It receives, compiles, and processes the raw data from various sources using AI and shows critical information in the most intuitive way possible.
AjnaLite for Education: AjnaLite is an affordable standalone AR/VR headset that enables the students to enhance their imagination and ignite their curiosity as well as increase focus and memory retention. It helps the educators take their teaching experience to the next level by getting immersed in the students' learning process and guide them better using performance insights.
AjnaOne for Enterprise: Launching soon.
Company Timeline
 2014 
Founded in Mumbai Maharashtra
Founders met at Google startup weekend held at IIT Bombay. Synergies between founders met and decided to start working together on technologies that could have a positive impact on human lives.
Officially registered on November 14, 2014
 

2015 – 2017 
Raised first funding: Angel Round
Team Size of 5
Incubated at Zone Startup India.
Build an in-house R&D Optics Lab
Dedicated the 2 years for R&D in Optics, 3D World sensors and tech.
Got the first fully functional prototype ready.
Started generating revenue using allied skills in 3D Printing.
Applied for 6 patents in India.
Landing 20+ Letters of Interest.
 2018 
Team size expanded to 10
Created breakthrough in Multiple Optics for Augmented Reality
Applied for 6 patents.
Started multiple Industry paid pilots.
 2019 
Team exceeds 15 members
Launched AjnaLite and AjnaLite Plus at DIDAC in September 2019 for pre-orders
Signed 30+ LOI/MoU with private schools and colleges to setup AR/VR Lab
First batch manufacturing of AjnaLite and AjnaLite Plus started
Received grant of ₹ 1.5 Crore (Approx. US$215,000) from the Ministry of Defence (India) under iDEX initiative to give military tanks a see-through capability in 360 degrees (X-Ray Vision)
Accelerated at Forge accelerator
Key Customers: DRDO, PM Experts, Army, etc
 2020 
February, launched AjnaBolt at the Defence Expo 2020
Completed fundraise of US$1.5 million lead by Maharashtra Defence and Aerospace Venture Fund
About the Author
---
Mihir Bagwe is a Tech Writer and part of the editorial team at CISO MAG. He writes news features, technical blogs, and conducts interviews on latest cybersecurity technologies and trends.
---
Other Posts from the Author:
**Disclaimer**
CISO MAG did not evaluate/test the products mentioned in this article, nor does it endorse any of the claims made by AjnaLens. The facts, opinions, and language in the article do not reflect the views of CISO MAG and CISO MAG does not assume any responsibility or liability for the same. CISO MAG does not guarantee the satisfactory performance of the products mentioned in this article. The material in this article was curated from brochures and other sources as provided by AjnaLens.