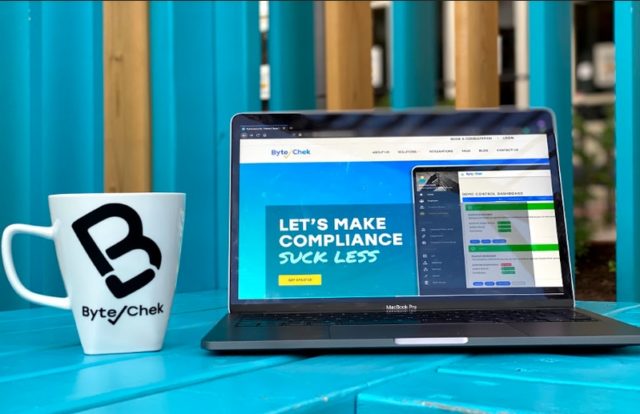 In today's hyper-connected world, cyberthreats are continuously evolving. This is why establishing a risk-based control to protect the integrity, confidentiality, and accessibility of business information, both in-house and customer data, is of the utmost importance. However, regulatory compliance and data privacy issues have long been an IT security nightmare. The EU's General Data Protection Regulation (GDPR), France's Digital Republic Bill, and the much-debated California Consumer Privacy Act (CCPA) in the U.S., are all making IT compliance issues stand at the forefront of corporate concerns.
SPONSORED CONTENT
The cyber gurus have for ages debated that there are a great number of tools available to aid pure information security, but when it comes to data governance or compliance frameworks, you can number them at your fingertips. Numbers suggest that a lot of companies still do their compliance auditing and analysis manually. Thus, hoping to revolutionize cybersecurity assessment and automate compliance audits and reporting, AJ Yawn and Jeff Cook came together to kickstart their new venture ByteChek.
It Takes Two to Tango!
Since his high school days, AJ Yawn, who grew up in Oceanside, California, has been an athlete at heart. He was an active member of his High School Basketball team and always dreamt of making it to the NBA. His dream looked within touching distance as he made it to the Florida State University's team in his senior year. However, as destiny would have it, some critical injuries forced him on the sidelines.
But playing a sport teaches you to "Never Back Down." And so, Yawn persevered. His grit and determination toward long-term achievement helped him serve in the U.S. Army for six efficient years. We call it efficient because this is where Yawn was introduced to the field of cybersecurity intelligence, which eventually shaped his entire career and mindset. His thirst for knowledge and inquisitiveness encouraged him to dig deeper into the field of cybersecurity assessments and audits, and the result of it is now for everyone to see.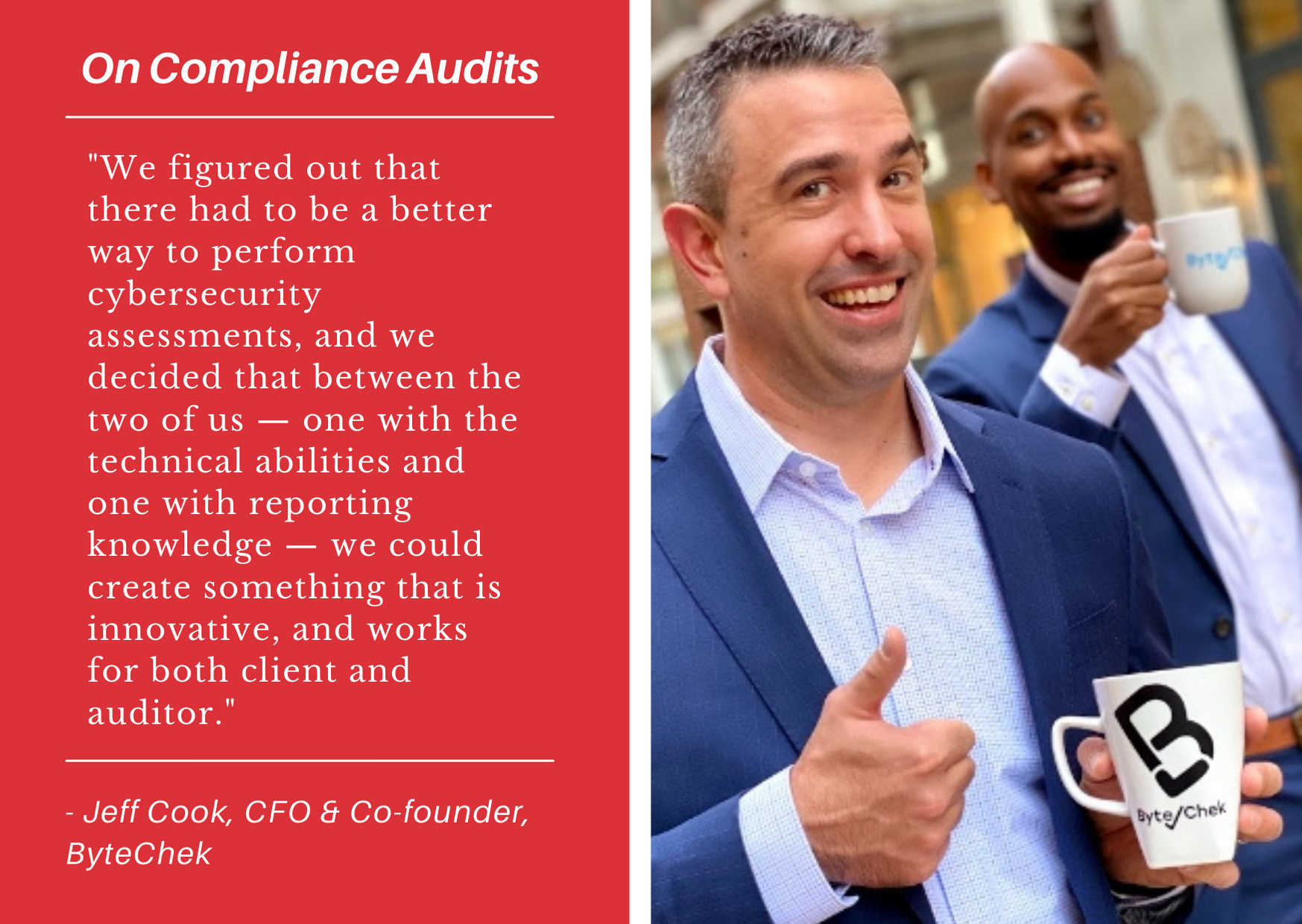 His business partner and CFO of ByteChek, Jeff Cook, also matches the same wavelength. All thanks to sports. Cook himself is a qualified 4th Degree Black Belt Karate champion. Taking reference to the "Karate Kid" movie, we are not sure if he is a Miyagi-Do fan or a Kobra Kai, but one thing is certain, like Yawn, Cook never shied away from any adversary. Be it his Karate Black Belt test or the CPA exam. He's fought all the battles and emerged victorious every single time. This grit and motivation are what led to the foundation of ByteChek in November 2020, when the world was reeling through one of the greatest adversities of the current century – the COVID-19 pandemic.
 The Cyber-Aware CEO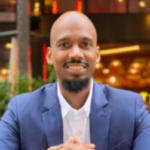 AJ Yawn is the Co-Founder and CEO at ByteChek. He is also a founding board member of the National Association of Black Compliance and Risk Management Professionals (NABCRMP). Yawn has earned six AWS certifications, including the AWS Solutions Architect-Professional and AWS Security-Specialty. Before ByteChek, He spent over a decade in the cybersecurity industry, both in the U.S. Army and as a principal consultant.
 CFO with Extensive IT Audit Experience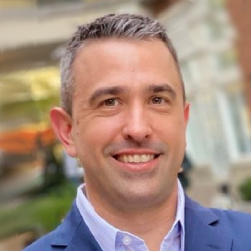 Cook brings his information assurance and public accounting experience to ByteChek as a professional with over nine years of IT audit and consulting experience and over 20 years of public accounting and auditing experience. He has worked extensively on SOC in addition to providing IT audit support for traditional financial statement audits. Jeff is also heavily involved with the AICPA, volunteering with the development of the SOC and CITP programs. Cook was part of the SOC 2 working group, helping to develop the 2018 version of the AICPA SOC 2 guide, has developed numerous training for the AICPA, and is a prior recipient of the AICPA IMTA Standing Ovation Award for outstanding professional achievement in the IT specialization area. He is also a part of the AICPA CITP credential committee, the AICPA IMTA SOC task force, and the AICPA Eye on Technology task force.
The Kickstart
Both Cook and Yawn had been colleagues and had always dreamt of venturing together to start a compliance audit automation company because of Cook's expertise in CPA and Yawn's in cybersecurity. But last spring, when both men parted ways with their previous employer, things finally got serious, and Cook reached out to Yawn to materialize their dream team.
"I know it's a global pandemic, but do you want to start this thing?" Cook remembers discussing with Yawn. The answer was a no-brainer for Yawn. "Yes," he enthusiastically responded. The two rushed to the drawing board, and fittingly ByteChek was launched on Veteran's Day as a gesture of Cook's appreciation and respect for his Co-Founder Yawn, who served as a captain in the U.S. Army.
Let's Check ByteChek
Cybersecurity processes can be overwhelming and laboriously time-consuming, even for the market's more prominent players. However, to counter this problem and speed up the process of proving compliance, ByteChek has introduced a cloud-based SaaS solution to automate IT audits and streamline cybersecurity reporting. This platform fits well for companies of all sizes. The ByteChek platform provides a stable security program, automates cybersecurity readiness assessments, and completes SOC 2 audits faster, and the best part – it does all of this from a single platform.
The ByteChek platform is well diversified and provides a ground-up approach to building information security policy. Once done with defining the policies, the platform then connects with the applications that companies use daily to eliminate evidence collection and vague auditor requests.
 ByteChek's product features include the following: 
Full suite of integrations
Information security policy generator
NIST CSF risk manager and register
System description generator
Automated & actionable recommendations
Real-time chat functionality with your auditors
Complete access reviews, vendor management, annual policy tests, and much more.
ByteChek has recently become the first cybersecurity software company selected for the accounting-focused startup accelerator sponsored by the Association of International Certified Professional Accountants (the Association) and CPA.com.
S N A P S H O T

Company
ByteChek, LLC.
CEO/CFO
CEO and Co-founder – AJ Yawn

CFO and Co-founder – Jeff Cook

Website
https://www.bytechek.com/
Consulting Partners
Maryland Association of Certified Public Accountants, Hire Military, and Missouri Society of Certified Public Accountants.
Tech Partners
Splunk, AWS Technology Partner, and Slack App Directory
Social Media Handles
Location(s)
Miami, Florida, United States
Employees
Up to 10
Awards & Rewards:

AJ Yawn – 2020 LinkedIn Top Voice Award
First cybersecurity software company selected for the accounting-focused startup accelerator sponsored by the Association of International Certified Professional Accountants (the Association) and CPA.com

Industry-wise Services

SaaS
Accounting
Compliance
Cybersecurity
Information Technology
Risk Management
---
 About the Author 

---

Mihir Bagwe is a Tech Writer and part of the editorial team at CISO MAG. He writes news features, technical blogs, and conducts interviews on latest cybersecurity technologies and trends.
Related Articles: