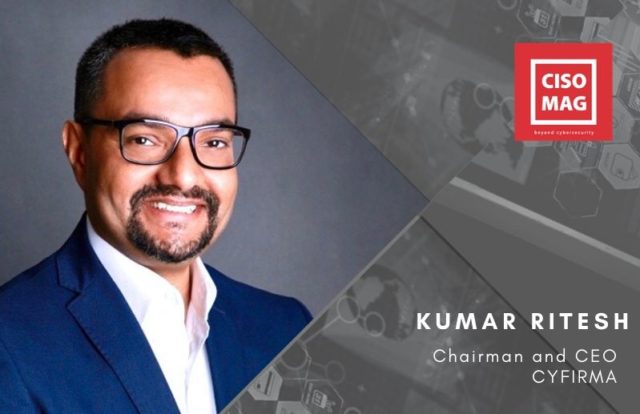 In the last two decades, the cybersecurity landscape has evolved, but security processes and controls have failed to integrate quality outside — in view of new cyberthreats and risks. Cyberthreat intelligence is an increasingly overused terminology, confusing the industry and blurring the lines between information and quality intelligence. This is where CYFIRMA steps in.
By Mihir Bagwe, Technical Writer, CISO MAG
CYFIRMA is a cyberthreat intelligence analytics platform company with a flagship product called DeCYFIR. This product is designed using Artificial Intelligence and Machine Learning (AI/ML) to provide real-time insights, threat visibility, and situational awareness to prevent business losses. It helps organizations discover and decode unknown cyberthreats and mitigate potential risks. The platform aggregates, correlates and analyzes information from the open and dark web, to effectively identify and process potential threats at the planning stage of a cyberattack. It provides deep insights into the cyberthreat landscape, and amplifies the preparedness of organizations by providing relevant, predictive, and prioritized cyberthreat visibility and intelligence.
The predictive capability of the platform gives organizations deep insights that correlate data to form a threat story, providing context to every threat, increasing the accuracy of threat alerts, and helping clients prioritize resources for cyberattack prevention. It also equips organizations with a multi-layered approach to cybersecurity and helps form strategic, management, and tactical viewpoints.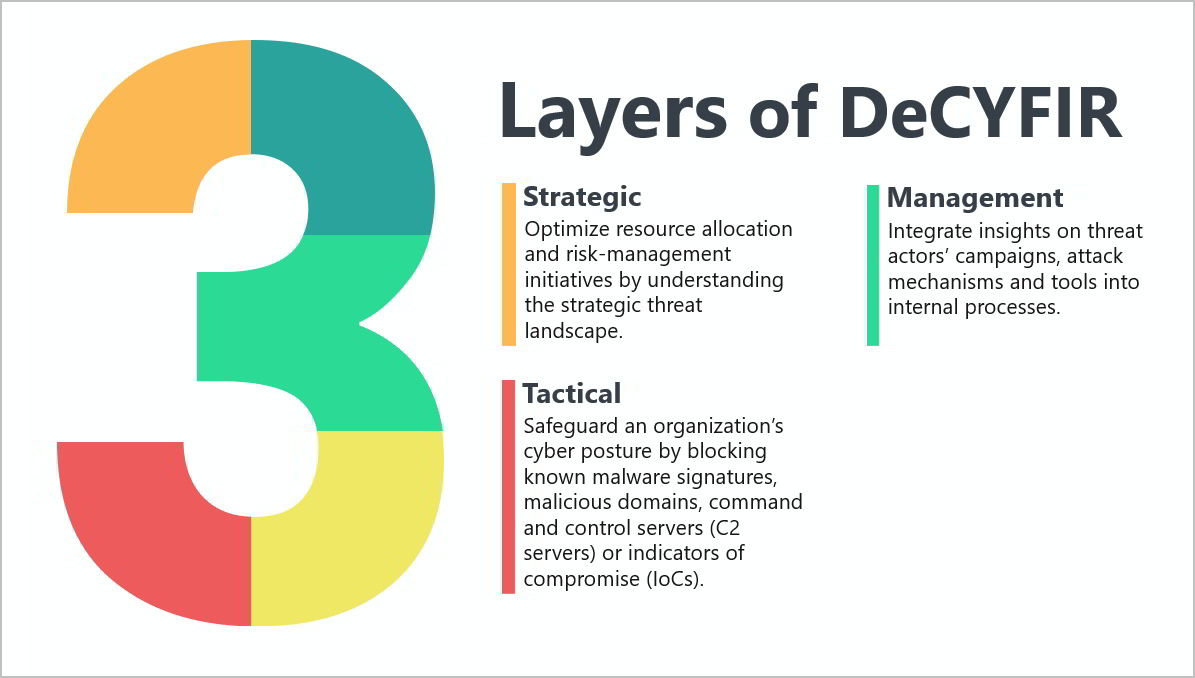 A Company to Watch
The company's growth and service offerings depend mainly on the leadership, guidance, and mentoring of its C-suite, and CYFIRMA has got the perfect piece to fit in this puzzle. CYFIRMA's Chairman and CEO, Kumar Ritesh, has over two decades of experience in global cybersecurity leadership and has various certifications including PMP, CISSP, CISM, CISSP-ISSAP, TOGAF 9.1, CIPM, and CIPT, among others, to back his knowledge and skill set. He is a highly dynamic executive displaying a high grade of technological acumen and business skills, along with a strong track record of developing successful cybersecurity strategies, products, policies, standards, and solutions.
His resume also includes the development of prototypes for data loss prevention, social profile risk assessment, web content assessment management, intelligence-led cyber risk management, and adaptive cyberthreat intelligence tools.
Kumar Ritesh, CEO, CYFIRMA

"Cyberthreat intelligence is an increasingly overused terminology, confusing the industry and blurring the lines between information and quality intelligence. This is where CYFIRMA steps-in."
Ritesh always observed that organizations struggled to understand the external threat landscape, as their cyber posture management was highly focused on internal protection, security controls, and building firewalls. This was proving ineffective, given that threat actors always kept modifying their approach, methodology, and techniques. A productized offering was needed to help organizations consume multi-dimensional intelligence driven by deep technology —thereby making cyber posture management efficient and effective.
CYFIRMA's clients are exclusively provided with:
Client-tailored and customized Outside-in/Hacker's view of the cyberthreat landscape.
Multi-dimensional strategic, management and tactical cyberthreat visibility and intelligence.
Threat indicators at the planning stage versus the execution and exploitation phase of a cyberattack.
Indicator centered threat hunting capabilities, which could be as simple as a conversation or geo-political issue driving the cyberthreats and risks.
An ability to integrate intelligence and insight into risk management, cyber posture management, and regulatory, compliance, governance, investment, and resource management.
Deeper analytical insights into situational awareness, cyberattacks and events, incidents, vulnerabilities, technology, or regulatory shift.
CYFIRMA has a team of highly experienced professionals with rich expertise in the cybersecurity domain along with AI and ML, among others. We believe CYFIRMA is the company to watch out for in 2020, especially with its core product DeCYFIR, which is being upgraded.
S N A P S H O T

Company
CYFIRMA Holdings Pte Ltd
Founder
Kumar Ritesh
Website
https://www.cyfirma.com/
Core Solution
CYFIRMA's proprietary, cloud-based Cyber Intelligence Analytics Platform – DeCYFIR (CAP v2.0)
Social Media Handles
LinkedIn: https://linkedin.com/cyfirma/

Facebook: https://facebook.com/Cyfirma/

Twitter: https://twitter.com/cyfirma

Location(s)
Singapore, Japan, and India
Employees
40+
Estimated Annual Revenue
$3 Million
Funding
Seed Funding: Total investment in US$3million, as part of Antuit Group, CYFIRMA was Incubated since 2017

List of investors: Goldman Sachs, Zodius Capital
Lead Investor: Goldman Sachs

Series A Funding: Total investment in Series A, US$5 million.

List of investors: Goldman Sachs and Zodius Capital
Lead Investor: Goldman Sachs

Awards

CYFIRMA was selected as "Most valuable brand of 2019" by prestigious journal IndustryWired
Recognized in Aspioneer's "10 Most Trusted Cybersecurity Solution Providers, 2019"
Selected in the  list of "Top 25 cybersecurity companies – 2019" by CIO Applications
CYFIRMA is Featured in ICE71's latest Singapore Cybersecurity Startup Map
Acclaimed as one of the "Top 10 Artificial Intelligence-Driven Solution Provider 2019" by Enterprise Security amongst 230 competitors
Listed in the prestigious Cyber Startup Observatory – US CyberSlide, APAC CyberSlide, Singapore CyberSlide and Japan CyberSlide
Named in APAC Business Headlines Magazine's "10 Sought After Risk Management Solution Providers in 2019"

Industry-wise Services

Defense & Security
Manufacturing
Health care
Travel & Hospitality
Retail
PRODUCTS & SERVICES

Offerings
CYFIRMA's proprietary and award-winning cloud-based Cyber Intelligence Analytics Platform essentially provides the following:

Broad range of cyber intelligence use cases
Real-time multi-layered intelligence
Early threat visibility
Holistic cyber situational insights
Cyber trending and current landscape
Deeper analysis and research
An illustrative dashboard

The following core DeCYFIR modules drive the consumption of CYFIRMA's insights and intelligence:

Threat Visibility & Intelligence: Provides comprehensive multi-dimensional strategic, management and tactical intelligence and insight into the latest cyberthreats applicable to an organization, industry, and geography.

Cyber Awareness: Provides real-time cyber insights, trends, the latest cyber news, technology, and regulatory changes, emerging cyber-attacks, vulnerabilities, and exploits.

Cyber Incident Analytics: Enables analysis of malicious files and automatic correlation with threat landscape to present affiliations to any threat actors, campaigns, and indicators.

Besides these, CYFIRMA's service offerings also include:

Daily Cyberthreat Intelligence reports
Weekly Security Updates
Cyber Education
Vulnerability Analytics
Brand/Individual Cyber Risk Monitoring and Cyber Risk Scoring
Company Timeline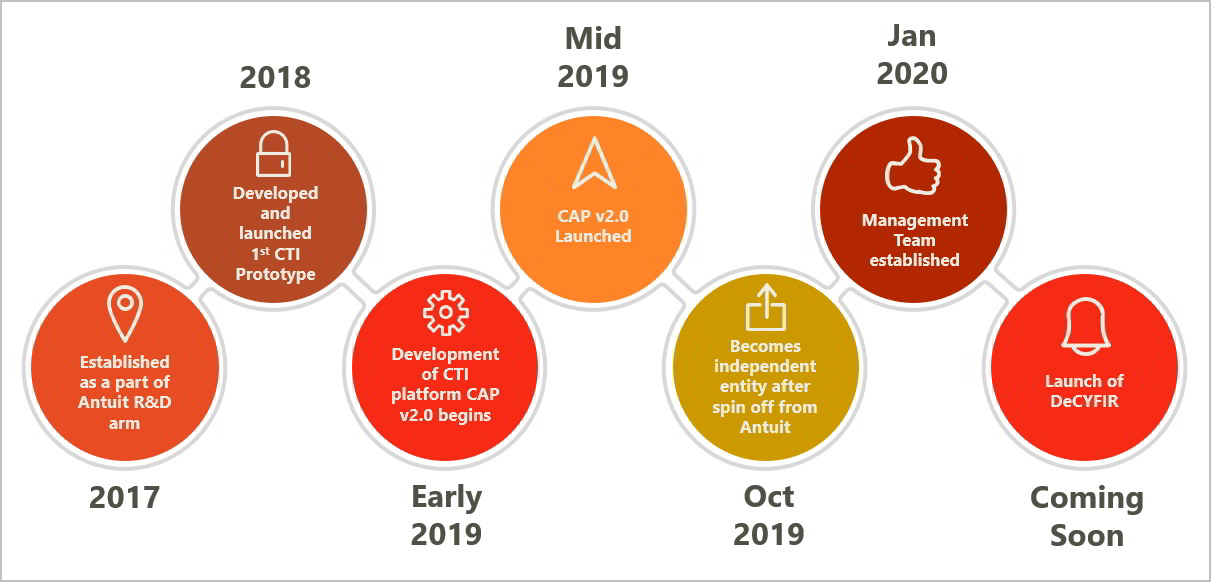 About the Author
---
Mihir Bagwe is a Tech Writer and part of the editorial team at CISO MAG. He writes news features, technical blogs, and conducts interviews on latest cybersecurity technologies and trends.
---
Other Posts from the Author: