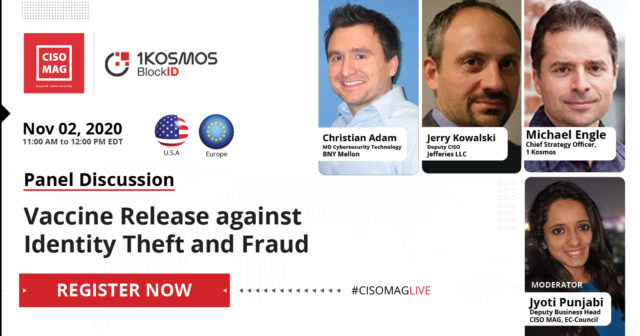 CISO MAG recently hosted a panel discussion with Michael Engle, Chief Strategy Office, 1Kosmos; Christian Adam, MD Cybersecurity Technology, BNY Mellon; and Jerry Kowalski, Deputy CISO, Jefferies LLC. The panel discussion, which was moderated by Jyoti Punjabi, Deputy Business Head, CISO MAG, EC-Council, was on "Vaccine Release against Identity Theft and Fraud." A slew of cybersecurity experts comprising of CEOs, CISOs. CIOs, Vice Presidents, and executives from countries like the U.K, the U.S., Singapore, Spain, Australia, India attended the virtual panel discussion.
Fraudsters are creating scam posts and emails with fake information about COVID-19, and there is also an increased number of hackers creating malicious websites that spoof legitimate public health resources. The panel discussion began with dialog on the rapid deployment of remote working solutions, and cybercriminals are already exploiting weaknesses due to reduced IT staffing and especially the use of personal devices and insecure public and home networks.
Jerry Kowalski took the lead and explained how multifactor authentication and password management solutions have been the key areas that industries have been focusing on. He stressed how Zero-Trust policies for managed devices has been helping several organizations adopt a better cybersecurity posture. Kowalski is the Deputy Chief Information Security Officer at Jefferies LLC. As a Deputy CISO, he is responsible for designing, building, and operating the cybersecurity program that enables Jefferies to run its core businesses securely. At Jefferies, he heads Security Engineering, Operations Security, Access Identity Management, and Application Security practices.
Michael Engle highlighted Gartner's latest research on password management. He said, " By 2022, 60% of large and global enterprises, and 90% of midsize enterprises, will implement passwordless methods in more than 50% of use cases — up from 5% in 2018." He also stressed how to replace legacy passwords with more multifactor authentication systems, including biometrics.
Engle is the  Chief Strategy Officer at 1Kosmos. He is a seasoned information technology executive, leader, and entrepreneur. Engle is an expert in information security, business development, and product design/development. He has experience running large teams and multi-million-dollar projects for a Fortune-100 bank as well as working with startups that need to set direction and go from "zero to one" as it is now commonly called.
Christian Adam called for a shift from legacy systems to a more forward-thinking one. He also exhibited his apprehensions over the feasibility of hardware tokens and how they have been compromised several times in the past. Adam leads Bank of New York Mellon's global cyber technology team that builds and runs global information security controls to protect the bank.  He has more than 20 years of experience in information security, planning, building, operating, and assessing controls for financial services companies. Christian's experience includes executive leadership positions at Experian, BlackRock, Goldman Sachs, Barclays, and Lehman Brothers.
The panel also stressed leveraging private blockchain to secure financial institutions and even discussed how passwordless solutions are the future. According to the panel, passwordless authentication eliminates the problem of using weak passwords. It also offers benefits to users and organizations. For users, it removes the need to remember or type passwords, leading to a better user and customer experience. For organizations, there's no longer a need to store passwords, leading to better security, fewer breaches, and lower support costs.
They highlighted how early adapters of passwordless solutions would be at the better end when the mass migration toward passwordless solutions, ending on a quip, "make passwords great again!"
The panelists also spoke about a few interesting COVID-19-projects they recently worked on and took questions from the attendees. Attendees of the panel also took part in a snap poll.
---
Do check out our November issue on "Compliance and Risk Mitigation."

Get Your Copy Now!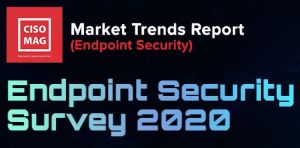 We also invite you to participate in our year-end Endpoint Security Survey, the aggregated results of which will be shared in our December issue. Take Survey Now!