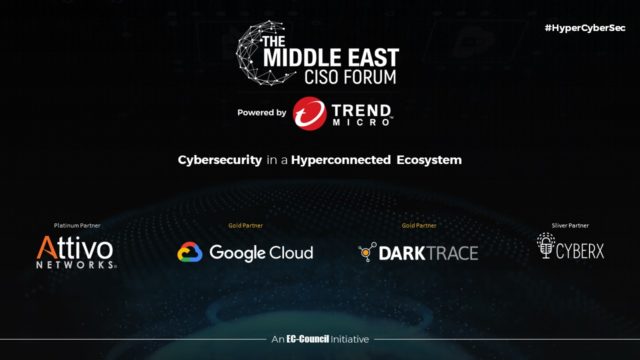 The Middle East region has often been quick to embrace emerging technologies and comprehensive countermeasures to fortify its cybersecurity prowess. The scenario was not very different even during the time of the COVID-19 pandemic. With the heightened need for Work from Home protocols, vulnerabilities in the remote-working space also increased manifold. To address the cyberthreats emerging from several newer vectors and to bring several thought leaders and cybersecurity stalwarts together to discuss the new normal, CISO MAG recently hosted the Middle East CISO Forum. Unlike the earlier CISO MAG's Middle East CISO Summits, this event took a virtual format to create awareness on the need for cybersecurity and its related implications  in the times of a pandemic.
The Middle East CISO Forum also brought forth a dynamic mix of senior cybersecurity experts to deliver real insights on how to redefine security frameworks and efficiently mitigate cyberthreats to an audience comprising of CEOs, CIOs, CTOs, CSOs, CISOs, CDOs, SVP, VP, Directors, IT Security Advisors, Ethical Hackers, Head of Planning, Governance, Risk, Head of SCADA, Head of Automation, Smart Grids, Digital Oilfields, ICT, IT Auditors, Information Security Managers and IT Consultants from several countries across the world.
The Forum began with a special address by Dr. Sohail Munir, Advisor – Emerging Technologies and Digital Innovation, Smart Dubai Government on AI, Blockchain, Cloud – Cyberthreats, and opportunities. Sohail Munir is the Advisor for Emerging Technologies and Digital Transformation at Smart Dubai Government. He is a seasoned industry professional with over  23 years of Program Management experience in the space of GovTech, Smart City, Safe City, Digital Transformation, Digital ID, C4I Systems, and FinTech. Munir's current R&D interests are in the space of Digital Government Transformation using Blockchain, IoT, Cloud Computing, Software Defined Networking, Data Analytics, AI, and Machine Learning.  In his address,a he stressed on three key areas to leverage AI, Blockchain, and Cloud. These include: Protect AI-powered systems:  Secure AI training data, training pipelines and ML models; AI to enhance cybersecurity defense: Use ML to understand patterns, uncover attacks and automate aspects of cybersecurity processes, while augmenting the actions of human security analysts; and Adversarial AI: Identifying attacks and defending against them will be an important addition to the cybersecurity role.
This was followed by a technical address by Dr. Moataz Binali, Vice President, Trend Micro, Middle East & North Africa, which focused on Securing the Digital Transformation for MENA Region. In his address, he stressed on how 2 out top 5 biggest risks to businesses in MENA are cybersecurity-related. He also highlighted global practices to implement a cybersecurity strategy fit for digital transformation. These included Connected Threat Defense, Hybrid Cloud Security, XDR (anything detection & response), XGEN (cross generational threat defense), and Virtual Patching. As Vice President for Trend Micro Middle East and North Africa (MENA), Dr. Binali is responsible for spearheading the company's strategy across the region, and advancing its position as a leader in cybersecurity that is passionate to make the world safe for exchanging digital information.
The following technical address was by Ray Kafity, Vice President, Middle East Turkey and Africa (META), Attivo Networks. Kafity possesses rich experience in sales and marketing management of high-tech solutions. He also has an extensive industry experience in broadband telecommunications, internet acceleration through caching appliances, internet/web content security networks, and application acceleration, and various cybersecurity prevention and detection solutions. His address focused on Cyber Deception & MITRE ATT&CK Framework for Advanced Cyber Threat Detection and Response. 
It was followed by a special address by Eng. Meshal Abdulla BinHussain, Information Technology Director, Ministry of Finance, UAE. His address focused on cyber threats looming in cyber space. According to him, "Current threat environments of cyber space shall revise and redefine the accurate and relevant policies and processes to Identify, investigate and thwart cyberattacks, share the intel with community and secure the computer networks. The nature of threats may not be considered as simple, but maybe targeting to inflict strategic & economic impact on entities."  He added, "Multitude of cybercriminals are targeting computer systems as cybersecurity is changing. Cybercrime has become established and sophisticated. This makes it easier since we live in a data-driven and connected era where Big Data and the Internet of Things are increasingly leveraged across entities." According to him, the key strategies to overcome these threat vectors include: Define a country-wide Cybersecurity Strategy with clear directions and objectives, Cover the gaps in existing legislation to ensure judicial support, Involvement of top management of Entities in Cyber Defense, and Create an authorized Community of Cyber Security Professionals & Entities against Cyber Attack by governing authorities.
 BinHussain's session was followed by a technical address by Rani Hmayssi, Regional Manager, Google Cloud MENA, in which he spoke on Cloud Security for the Modern CISO. He followed a timeline of event starting from the outbreak of the Coronavirus, its effect on consumers around the world, the plummeting stock market, and the increased remote working scenarios. He went on to differentiate between the new normal which can both be an obstacle and an accelerator. He also stressed on how Google Cloud has been an enabler for WFH. He also spoke on the zero-trust model as well as methods for solving security data overload. Hmayssi currently leads Google Cloud's security presence in the Middle East and helps organizations achieve their digital transformation objectives using Cloud and AI.
The session was followed by the highlight of the Forum, which was the Panel discussion on Addressing New Cybersecurity Blind Spots – Leveraging AI and ML. The session was moderated by Dr. Erdal Ozkaya, Managing Director & Regional CISO, Standard Chartered Bank (UAE). The panelists of the discussion were Sultan Altukhaim, Director, Information Security Department (CISO), Risk Management, Capital Market Authority; Abdullah Biary, CISO, Salama Cooperative Insurance Company; Thomas Heuckeroth, Group Cybersecurity Lead, Emirates Group; and Majd Sinan, Trend Micro Country Manager, UAE.
Following the first panel discussion, Mariana Pereira, Director of Email Security Products EMEA, Darktrace took a technical session on Faking It: Combatting Email Impersonation with AI. As the Director of Email Security Products at Darktrace, her primary focus lies on the capabilities of AI cyber defenses against email-borne attacks. Pereira works closely with the development, analyst, and marketing teams to advise technical and non-technical audiences on how best to augment cyber resilience within the email domain, and how to implement AI technology as a means of defense.
Pereira's session was followed by the last panel discussion on the topic, Cybersecurity as a Transformation Enabler in an Era of Hyper Connectivity and Cloud. The discussion was moderated by Piyush Kumar Chowhan, Group CIO, Lulu International, and the panelists were  Ali Abdulla Alsadadi, Head of IT, National Oil and Gas Authority (Bahrain); Mohamed Saad Mousa, Chief Information Security Officer, Ikea; Mariana Pereira, Director of Email Security Products EMEA, Darktrace; Mohannad Alkalash, Founder, CyberX; and Piergiorgio Di Giacomo, Chronicle Security Lead, Google Cloud in participation.
All the sessions and panel discussions were followed by a live Q&A with the audience. You can watch the entire recording of the Middle East CISO Forum at https://attendee.gotowebinar.com/recording/3725001766794837774
 The title sponsor of the Middle East CISO Forum was Trend Micro. Other sponsors of the Forum include Attivo Networks (Platinum Partner), Google Cloud (Gold Partner), Dark Trace (Gold Partner), and CyberX (Silver Partner). The media partners of the event were CXO Insight (Middle East) and UAEBusiness.com.
About CISO MAG
CISO MAG is a publication from EC-Council, which provides unbiased and useful information to the professionals working to secure critical sectors. The information security magazine includes news, comprehensive analysis, cutting-edge features, and contributions from thought leaders, that are nothing like the ordinary. Within the first year of launch, the magazine reached a global readership of over 50,000 readers. The magazine also has an Editorial Advisory Board that comprises some of the foremost innovators and thought leaders in the cybersecurity space. Apart from this, CISO MAG also presents a platform that reach out to the cybersecurity professionals across the globe through its Summits and Awards and Power List surveys.
About EC-Council
EC-Council, officially incorporated as the International Council of E-Commerce Consultants, was formed to create information security training and certification programs to help the very community our connected economy would rely on to save them from a devastating Cyberattack. EC-Council rapidly gained the support of top researchers and subject matter experts around the world and launched its first Information Security Program, the Certified Ethical Hacker. With this ever-growing team of subject matter experts and InfoSec researchers, EC-Council continued to build various standards, certifications and training programs in the electronic commerce and information security space, becoming the largest cybersecurity certification body in the world. Learn more at https://www.eccouncil.org.