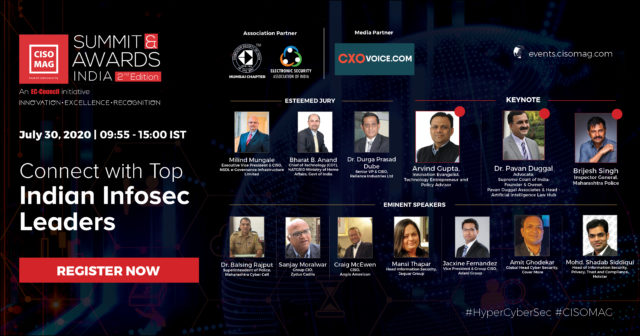 Mumbai, India – July 27, 2020 – Following the huge success of CISO MAG Awards India 2019, EC Council's CISO MAG is all set to virtually host the 2nd Edition of the CISO MAG Awards and Summit India on  July 30, 2020 from 9:55 AM to 15:00 PM IST. #HyperCyberSec
CISO MAG Awards 2019 was received excellently in the market with support from eminent partners namely SonicWall (Presenting Partner), SearchInform (Gold Partner), Sequretek (Cocktail Partner) and Ola (Mobility Partner) among others. It was graced by illustrious members, associations, and business circles in India.
CISO MAG plans to recreate the same magic, this year, virtually around the central theme 'Cybersecurity in a Hyper Connected Ecosystem,' staying true to what the changing times demand.
The 2nd CISO MAG Summit & Awards 2020 – India has been specifically designed to create more awareness on the need for cybersecurity and its related implications across the nation with its major aim to:
Promote and highlight professionals and organizations who have demonstrated best practices in the information security arena.
Uphold the cybersecurity profession in India region by recognizing innovations and contributions by the professionals and organizations.
Ensure fair, transparent, and robust award selection and recognition.
The intent of this event is to help drive innovation, excellence, and a positive change in the Indian security industry by recognizing best-in-class products, companies, and individuals.
This is your annual opportunity to build cross-sector security partnerships, benchmark your company's digital resilience, and participate in the discussions shaping India's cybersecurity landscape in 2020 and beyond.
The winners will have exciting reasons to celebrate:
Global Exposure – Winners will be featured in CISO MAG magazine under the exclusive India Awards section.
Online Promotion – Winners will be promoted on event website and social media.
Event Trophy – Winners will receive the coveted CISO MAG trophy
Certificate of Acknowledgement
Visibility in 20+ Countries
Milind Mungale, Executive Vice President & CISO, NSDL e-Governance Infrastructure Limited; Bharat Anand, CIO & CTO, Ministry of Home Affairs, Government of India; and Durga Prasad Dube, Senior VP and CISO, Reliance Industries Ltd., together form the esteemed Jury overseeing the Awards.
Associate partners for this event include Computer Society of India and Electronic Security Association of India.
Arvind Gupta, Innovation Evangelist, Technology Entrepreneur and Policy Advisor, will open the event with his keynote address. He will share his insights on strategic approaches to accelerate transformation in Cybersecurity in times of COVID-19.
Dr. Pavan Duggal, Advocate, Supreme Court of India and Brijesh Singh, Inspector General, Maharashtra Police, will be addressing the gathering to help reimagine business and reshape the future of work as the world goes digital.
A Panel discussion involving Dr. Balsing Rajput, Superintendent of Police, Maharashtra Cyber Cell, will be hosted on 'Leveraging analytics to derive a proactive security framework and incident response mechanism to safeguard business continuity.' 
The event will conclude with a discussion on 'Fortifying the cybersecurity strategy through comprehensive risk assessments, information sharing and access management protocols.'
Mansi Thapar, Head Information Security, Jaquar Group; Jacxine Fernandez, Vice President & Group Chief Information Security Officer, Adani Group; and Mohd. Shadab Siddiqui, Head of Information Security, Privacy, Trust and Compliance, Hotstar will be a part of this engaging interaction.
You can now register for the event in one step.
Additional details on the CISO MAG Summit and Awards 2020 – India are available at https://events.cisomag.com/E-Events/CISO-MAG-Summit-Awards-2020.html
About CISO MAG
CISO MAG, an EC-Council initiative, is a cybersecurity magazine delivering cutting-edge updates about the latest happenings in the cybersecurity world. It is the handbook for CISOs, CXOs, and every responsible stakeholder of a secure Internet space. More information can be found at https://cisomag.com/
For more information, press only:
Name: Deepali Mistry
Email: [email protected]
Phone: +91-9833151933