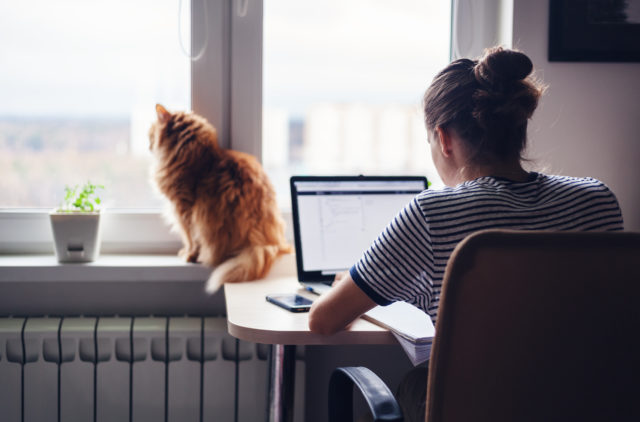 A new study from HiveIO revealed the impact of COVID-19 on corporate data security. It highlighted the effect of the new virtual economy on security professionals and organizations across a wide variety of industry verticals. Nearly 85% of organizations anticipate a larger remote workforce will threaten operations because of new risks.
"The IT departments are working at a deficit in their ability to support and maintain business continuity while optimizing IT support," the report said.
The study stated that several organizations are unable to introduce new security solutions designed to improve the efficiency of work-from-home employees. Around 70% of respondents admitted that they have suffered increased costs due to the ongoing pandemic. Nearly 25% of respondents reported shrinking staff support and another 18% fear additional staff reductions.
It also found that before the pandemic, 70% of respondents had only 10% of employees working remotely, however, at present 100% of employees are working at-home, resulting in IT teams supporting 90% more remote workers. Around 70% of organizations that were surveyed have not deployed new technologies to monitor, manage, and support remote employees.
"This pandemic left organizations little opportunity to initiate new technology projects, which traditionally require multiple months to deploy. That lack of manpower, budget, and time, shrinking IT teams cannot provide physical on-site or data center support," said Yama Habibzai, COO at HiveIO.
Security Risks with Larger Remote Workforce
The stress on IT staff escalated due to the sudden switch to a remote workforce, which also invited new risks, including:
Digital communications issues (54%)
Employee productivity loss due to family distractions and/or a new approach to work (49%)
Security risks involving cybersecurity – ransomware, data breach concerns, compliance issues, etc. (46%)
General security issues protecting intellectual properties (31%)
Reduced business due to travel restrictions (23%)
Increase in business costs to support remote staff (22%)
Recently, a similar study revealed that remote work increases the risks of cyberthreats like never before. According to the research, businesses in financial, healthcare, federal, and state agencies that deal with sensitive data might get severely impacted due to remote working conditions.
Guidelines for At-Home Employees to Thwart Cyber Risks:
Be wary of suspicious emails, downloads, USB drives or other things that could introduce malicious software onto your computer and into the network. These could include spoofing and phishing attacks from hackers pretending to be IT personnel asking for your credentials
Promptly install patches and updates, including to your anti-virus software, to all devices on your home network
Go into your Wi-Fi router's management software to ensure it is running the latest firmware, which can update security flaws
Connect to corporate networks using a secure means (e.g., a virtual private network), and store data on available encrypted network drives to avoid loss in the event of a computer virus or other malfunction
It is essential for work-from-home employees to comply with their company security standards to maintain the required cyber hygiene.