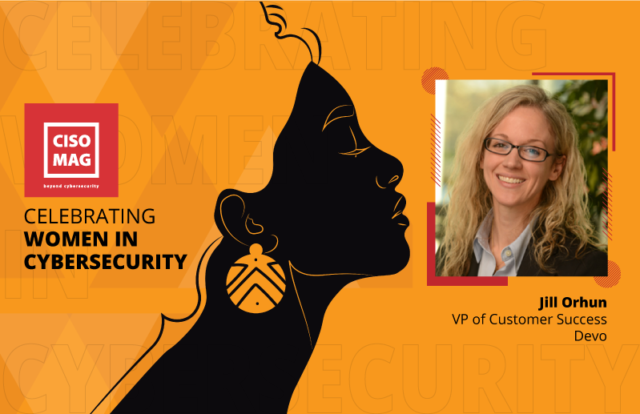 As the world celebrated womanhood and women's contribution to society on International Women's Day, we at CISO MAG decided to devote the month of March to all the women leaders of cybersecurity. This was in the light of the revelation that women's representation in cybersecurity has been less than a quarter and has remained that way for almost a decade, if not more. Most of the problems faced by women can be traced back to the earliest days of their education, where stereotypes begin.
Here's what Jill Orhun, VP of Customer Success at Devo, has to say about gender disparity, representation, and diversity in cybersecurity:
On how the female workforce in cybersecurity has evolved over recent years and where it's heading: Security people were early to recognize the benefits of having a diversity of perspectives. Beyond women to all minority populations, good security means guarding against a wide variety of attacks and the innovative humans who launch them, threat modeling thus benefits from holistic situational reviews that take social relationships into account,  which plays to women's strengths. Women are also amazing at open-source intelligence (OSINT) and social engineering, which only adds to the tool kit of security teams looking for novel ways to gather information and protect their organizations.
While we've been heading in the right direction in diversifying the security industry, I worry that the pandemic is going to have a material and long-lasting effect on forwarding progress. Since the beginning of the pandemic and lockdowns, women have disproportionately borne the burden of childcare, household responsibilities, at-home education, and more in their households. Women have tough choices to make, and many rightly prioritize household over the office. As a result, we're seeing an exodus of women from the workforce. The only way to stop this regression is for organizations to step up and establish a different value structure and culture, that helps organizations and their people to thrive in this new normal.
On how to get more women to evolve in cybersecurity: Women need to take the plunge, and organizations need to welcome them (and other minority groups) with open arms to help take the anxiety out of entering a male-dominated field. Many security people believe diversity adds value, evangelizing this belief will help women to understand the true benefit they can bring. With remote work is more accepted than ever before, organizations need to make security holistically an attractive opportunity for women, in terms of benefits, flexibility or work/life balance, company cultures, training, etc.
Advice to young women looking to enter the cybersecurity field: Women (and men) looking to enter into cybersecurity need a sense of curiosity and tenacity, to have faith in themselves and resilience to adversity as they build their individual approach. Security is still a male-dominated environment; awareness and tolerance of this reality will help women persevere past expected obstacles to an organization that fits them. The good news is, the security industry is growing so fast and companies want to bring women into open roles, so there's plenty of opportunities for women to get into the industry. Security teams that have embraced diversity will benefit by being able to hire from this rich group of talent.
---
Disclaimer
Views expressed in this article are personal.
CISO MAG's March issue on Women in Cybersecurity is out. Preview here. Subscribe now!