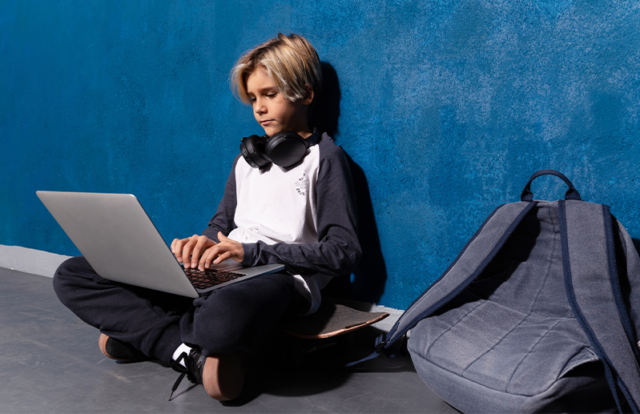 Though the Internet is a good resource for endless knowledge, it also has its share of risks. Unlike adults, most kids and teens are not aware of the security hazards while surfing online.  The Internet has become a part of life, and parents must ensure their children are aware of online safety measures and ways to protect their privacy and personal information.
By Rudra Srinivas, Senior Feature Writer, CISO MAG
Internet @Risk
While kids are busy making new friends and sharing their personal lives online, cybercriminals are preying on their personal information. A recent survey revealed a surge in toxicity on the Internet, with a staggering 70% increase in hate between kids and teens during online chats and a 40% increase in toxicity on several gaming platforms.
"Our children are growing up in a world where the internet is a basic essential of life. They do not view the online world as new technology like some of us do – to children. It has always existed. Therefore, they don't approach their interaction online with the caution that we might. They only see a screen that reacts to their button taps, innocently unaware of the invisible risks at play," said Luis Corrons, security evangelist at Avast.
How To Stay Safe Online
Kids and teens do not fancy constant parental monitoring. However, parents need to communicate and encourage their children to follow online security since they carry a smartphone all the time. Some of the security tips are:
1. Limit Your Personal Data
Sharing too much personal information online, especially on social media platforms, is risky. Limit the information you share online to avoid its misuse. Make all your online accounts private and secure by enabling privacy settings. Never share your private details such as phone number, address, or live location as a security precaution.
2. Stranger is Danger
Social media platforms or fan forums offer a virtual environment to make new friends and explore and share interests. However, threat actors often have multiple identities online. Never trust anyone blindly unless you meet them offline. Never share your images and other personal identities with a stranger.
3. No Password Sharing
It's a bad idea to share your password with your friends only to make them realize how strong it is. Your passwords could be misused to exploit your online accounts. Always use complex and unique passwords and never share them with anyone.
Note: It is important for kids to understand that password sharing is invasion of privacy, and therefore a breach.
4. Always Double-check
You come across several pieces of fake news and hate speeches online. Some are fake, while some grab users' attention with catchy headlines, discounts, or offers to phish them eventually. Always verify the authenticity of information before telling/sharing it with anyone.
5. Report Cyberbullying
Cyberbullying happens when someone reveals toxic or mean content about someone else to embarrass or humiliate them online. Miscreants often leverage social media platforms, chat rooms, online forums, and online gaming communities to bully unsuspecting users. Communicate with a friend or family member if a stranger sends you offensive/embarrassing messages or impersonates your identity to harass others. Reach out to concerned authorities (police or emergency services) and report the bully to avert danger.
6. Beware of Online Scams
Internet is not a safe place unless you're equipped with safety measures. Several threat actor groups and adversaries rely on the Internet to steal users' personally identifiable information (PII) or banking details to monetize it on darknet forums. The stolen data could also be misused to launch different kinds of financial frauds, identity thefts, phishing, and credential stuffing attacks. Don't click/download suspicious files and attachments from unknown sources; they could be malicious.
Wrap-Up
Online safety precautions should be an ongoing conversation among kids, parents, and teachers. Parents must monitor their children's online behavior and other aspects of their digital life to watch what they see or hear on the internet and guide them with right awareness. Right cyber awareness among kids today can reap responsible netizens tomorrow.
About the Author:

Rudra Srinivas is a Senior Feature Writer and part of the editorial team at CISO MAG. He writes news and feature stories on cybersecurity trends.       

More from Rudra.