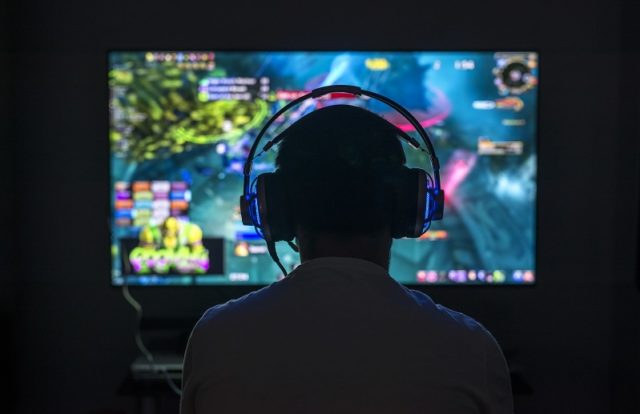 Contributed by SecureWorld
Gaming is not a crime.
But can it lead to one?
New research says yes, and that young gamers are increasingly turning into hackers who commit cybercrime.
The research found that 82% of teens and young adults recruited by online criminals had developed their cybercrime skills through video gaming.
The UK's National Crime Agency (NCA) held a forum and published a special report about the problem. The agency report looks at ways to identify those at risk of hacking, how to intervene before they go too far, and then inspire them to pursue a career in IT security.
Progression: how gamers become hackers
To paint a picture of a gamer's potential progression into cybercrime, the NCA created this pyramid: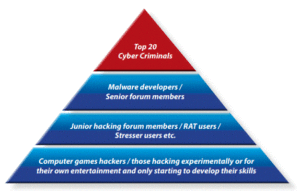 In other words, gamers aren't learning to hack at first, they are hacking to learn.
It's often innocent at the start, as they become more interested in coding, then in modifications of computer games.
And then they progress through hacking forum membership, gaining notoriety as they develop their skills.
Next, they become identified and groomed by professional hackers and cybercriminals as they move toward the top of the pyramid.
Then the cycle repeats itself with those coming up from below.
What makes hacking attractive to young people?
The UK crime fighting agency asked why this progression from innocent gamer to criminal hacker seems to be attractive. It heard comments about a sense of belonging, accomplishment, and common purpose.
"You are with people who are like-minded. The computer removes race, creed, sexuality. You're with people you can relate to."
"Hacking is a very creative art. You get addicted to it because by going up the ranks you get more points. People want to know you because you're higher up the food chain. These communities are structured around reputation and getting to the next level."
"You only ask for part of the puzzle. You smell that it's illegal but you just ignore it. You don't really see what's wrong with knocking out some code."
And just like that, young gamers find themselves accepted, approved, and addicted to conquering the next level.
Like a video game.
Psychological profile of gamers most at risk of becoming hackers
The UK's National Crime Agency, as part of its effort to uncover who needs intervention to break the gaming-hacking cycle, developed this psychological profile of those most at risk:
"These young people are often academically gifted, certainly in terms of achievement in technology and related subjects. In some cases, they appear to have started to investigate the intellectual challenges coding and hacking present at least in part because they are not adequately challenged by school or university technology subject syllabuses.
Some have been diagnosed with forms of autism or with Asperger's Syndrome.
They are likely to have a deep interest in technology, often first sparked by an enthusiasm for gaming; and are likely to spend a large and increasing proportion of their lives online.
In some cases when these individuals have been contacted via a home visit, parents and carers are frequently amazed to discover they have been engaging in illegal activity, because they spend so much time in their bedrooms."
Breaking the gaming-hacking cycle
The NCA's Prevent Campaign targets young people in several ways, and could be a model for other law enforcement around the world.
Letters or home visits to those whose information is found on hacker forums;
Publicity campaigns targeting gamers to explain clearly to them what is illegal online, while raising awareness within this group of the potential consequences of cybercrime for victims and for perpetrators;
Highlighting the benefits of a career in the technical security industry or the wider IT industry that could lie ahead for talented individuals who use their technical abilities for legitimate purposes;
 Encouraging them to participate in legitimate competitive activities that could offer them prestige and reward, and in other events such as cyber camps or university or industry mentoring programs
If we don't intervene, cybercrime talent will increase
You can read the NCA report, "Identify, Intervene, Inspire: Helping young people to pursue careers in cyber security, not cyber crime," for yourself.
Its ideas are thought provoking and fit in with our SecureWorld mission of "Connecting, informing, and developing leaders in cybersecurity."
We encourage you to share these ideas with your peers, because as the report concludes, there is a lot on the line, for all of us.
"In a world where young people are—rightly—being encouraged to learn more about coding and about technology in general, the opportunities for a greater number of talented individuals to be tempted into criminal activity will surely continue to increase."
This article was originally published here.
The opinions expressed within this article are the personal opinions of the author. The facts, opinions, and language in the article do not reflect the views of CISO MAG and CISO MAG does not assume any responsibility or liability for the same.