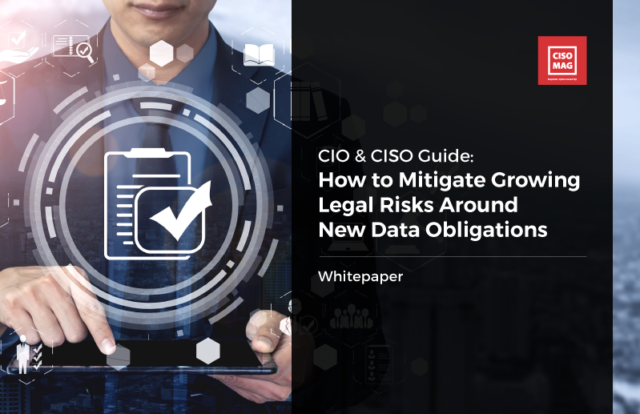 In response to high-profile data breaches, staggering fines, and rapidly evolving privacy and data requirements, CIOs and CISOs are facing a critical mandate: to enable their investigative teams with the tools and solutions needed to quickly, easily and securely investigate external cyberthreats, internal security lapses and compliance practices.
 SPONSORED CONTENT 
Recent surveys of C-level executives and CIOs reveal that Ensuring Compliance (52%), Data Security (52%), and Incident Response (43%) are top priorities.
This responsibility is extraordinarily challenging given that:
Investigations are multiplying and diversifying.
Litigation data is becoming almost exclusively digital.
Global trends like bring your own device (BYOD), the internet of things (IoT), working remotely, proliferating privacy regulations and cloud computing are complicating organizations' ability to conduct effective investigations.
Investigations are becoming more collaborative within the enterprise, involving nonlegal professionals that require real-time, remote access to forensic technologies.
Existing data management and investigative capabilities can't keep up with the explosion of data across a growing range of devices, platforms and systems.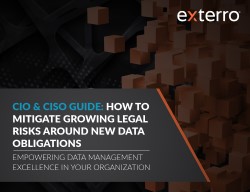 In this guide, we'll cover how CIO, CISO, and CLO priorities are converging, and how to better work together to create outcomes that:
Help ensure compliance with complex regulations
Place data management as a critical business initiative
Cover gaps in incident response processes
The guide is designed to walk CIOs, CISOs and their technical teams through the trends, challenges and solutions that may impact their technology planning including:
Global developments and security issues affecting compliance, investigative and e-discovery Processes.
Market observations and predictions demonstrating the increasing urgency for and move towards achieving excellence in incident response inside corporations.
Strategies for increasing collaboration and efficiency, while reducing waste, risks and costs.
Category-specific solution checklists and questions to leverage as they chart their technology maps and evaluate different types of solutions.
Exterro's point of view on why these leaders should take a holistic approach to manage legal governance, risk and compliance challenges.
Learn all about this and much more, by downloading the Whitepaper.