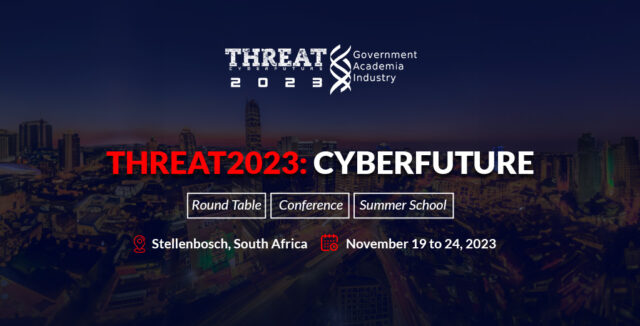 November 19 – 24, 2023
Event: Stellenbosch, South Africa
Enhancing Africa's Cybersecurity Posture.
THREAT2023: Cyberfuture, a unique and forward-looking cybersecurity conference set to take place in the beautiful town of Stellenbosch, South Africa, from November 19 – 24, 2023. THREAT2023 will bring together leading experts, and researchers, from Government, Academia, and Industry from around the world to explore the cutting edge of cybersecurity, with a focus on emerging themes that will shape the future of digital security. Immediately after the THREAT2023 conference, delegates who have chosen to, will participate in an innovative 3-day Cyberfuture Summer School.
The THREAT 2023 summit presents a unique opportunity for researchers, industry professionals and government leaders to share ideas and best practice towards enhancing 'Africa's Cybersecurity' posture. The summit will be held over three days in November 2023 and will comprise six plenary sessions in which perspectives from cybersecurity researchers, professionals and government will be shared.