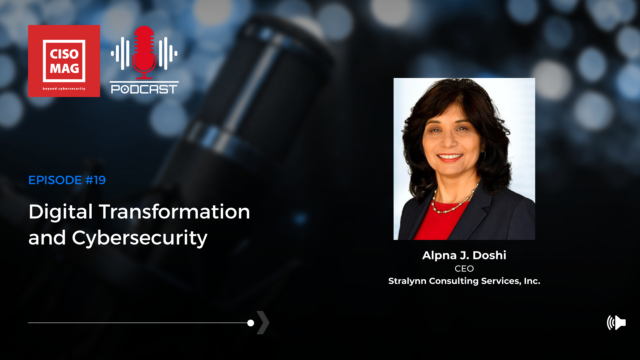 Organizations accelerated their digital transformation plans during the pandemic months. Plans that could take years to implement were executed in days and months. As a result, hurried decisions were made, and security was not thought through. It resulted in misconfigurations and careless security lapses leading to increased breaches and attacks. Hackers turned their attention to workers at home who have weak security. This led to increased phishing, ransomware and BEC attacks.
And because of this, other organizations are hesitant to embark on their digital transformation journeys or they have become prudent.
In this episode, Alpna J. Doshi, CEO, Stralynn Consulting Services, Inc. talks about the security risks and setbacks that arise out of hasty digital transformation projects.
Doshi says she founded her company with a vision to combine Digital Transformation and Cybersecurity, in a way that people will move ahead and embrace automation, with confidence. She says business leaders and operational heads will move ahead with digital transformation once they are convinced that cybersecurity has been adequately addressed.
Cybersecurity often needs a complete relook in failed or hung digital transformation projects, says Alpna. It is imperative to understand the complete ecosystem for the proper implementation of cybersecurity. To improve time to market, businesses fast track IT initiatives through Agile and DevOps. But security considerations are often ignored or overlooked.
According to Gartner, 60% of digital businesses would experience major service failures by 2023, due to the inability of security teams to manage the Digital Risk.  Doshi says digital with operational technology integration broadens the attack surface. To mitigate this, IT teams must connect the dots between the organization's security and it's ecosystem of partners and vendors. Are organizations ensuring that there is full-fledged governance for third-party cyber risk management?
Alpna J.Doshi, is a trailblazer in implementing complex transformations with 28+ years in the industry and has worked as an operating partner for Thoma Bravo, with over $80B assets in SaaS companies, and served as a respectable visionary leader for major companies such as Reliance Group, Royal Philips, and other major MNCs across the globe. Alpna is also on the Board of Mimecast, a Cybersecurity leader. She is widely recognized for her role in driving innovation, digitization, and growth while paving the way as a multi- faceted thought leader.
Stralynn Consulting Services, Inc. has been formed with a goal to be the pioneer in Digital Transformation Services with a mission to bridge the gap between the digital and legacy operational models.  Stralynn is headquartered in San Jose, California, USA, with offices in Canada and India. Its digital transformation dossier includes an array of digital business services, customized to provide multi-X EBITDA and growth agility.