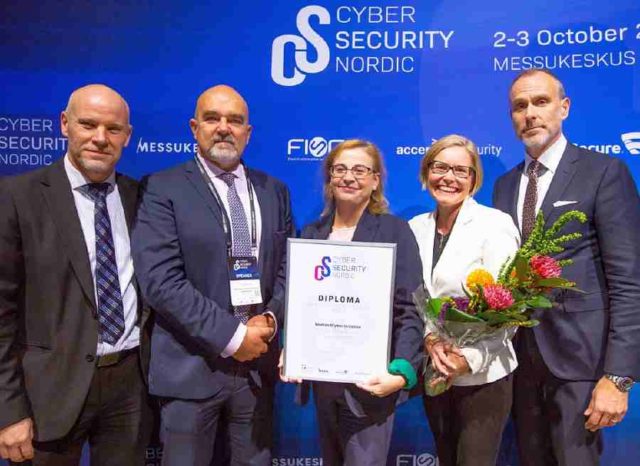 By Augustin Kurian
The third edition of Cyber Security Nordic, which is touted to be one of the most renowned cybersecurity events of Northern Europe, kicked off on Wednesday, October 2, at Messukeskus, Helsinki, Finland.
A highlight of the event was the Cyber Security Nordic Award which was won by Women4Cyber initiative. The award was funded by the Finnish Fair Foundation, F-Secure, Insta Defsec and The Finnish Electrical Safety Board STEK.
CISO MAG had an exclusive interview with Luigi Rebuffi, Secretary General of ECSO (European Cyber Security Organization) about the Women4Cyber initiative at Cyber Security Nordic 2019. 
Can you tell us about the genesis of the Women4Cyber initiative?
It is estimated that by 2022, 350,000 new cyber experts will be needed in Europe and 1.8 million globally. To combat the impending skill gap, we must first have to understand where it all begins. And it was evident that the representation of women in the cybersecurity domain has been stagnant for years. For a long time, it never went past the 11 percent mark. How can we move ahead without fifty percent of our population?
We felt that Europe must be able to respond to the increasingly tough competition for the best professionals in the field. In January 2019, the ECSO launched a new initiative, Women4Cyber, which focuses on increasing the cybersecurity expertise of female leaders and experts and building their professional networks through concrete actions.
The patron of the initiative is Mariya Gabriel, Member of the European Commission, responsible for the digital economy and society. We also founded this Women4Cyber initiative as a homage to our dear friend Mari Kert-Saint Aubyn, who was one of the greatest thought leaders of our time but had an untimely demise.
Even though the initiative highlights women, we are targeting everyone and want to broadly increase cyber awareness in the European region. Behind the initiative is a group of influential women from public administration and the business world.
Women constitute a major part of the healthcare system. With healthcare data becoming a beehive for cyber-attacks, it is also important that women should also play an active part in safeguarding the systems. At present, there are relatively few women in technological fields; we are on a mission to change that.
It is often said that one of the biggest reasons for the dearth of women in the cybersecurity space is the lack of role models. In fact, men make up most of the key commenters and high-profile influencers. How do you plan on changing that?
We understand that there are very fewer role models in cybersecurity for women to follow and that has been one of the most deriving factors for lack of women representation. In fact, even at this conference, you would have noticed the ratio of women speakers compared to men, and that itself speaks volumes about it. In that front, we have more than 300 cybersecurity women becoming a part of our initiative.
Apart from that, we are also creating a roster of women cybersecurity leaders in the space and will make sure that several thought-leaders from that list will be a part of several upcoming cybersecurity conferences all across Europe — to make sure that there is better visibility of women in the space.
We are also planning to leverage the list of women leaders and are also planning to have a national chapter of Women4Cyber all across Europe.
What according to you are the major challenges for women to join this space?
There is this thought that the cybersecurity sector is more of a man's job and women are not much inclined towards it. The first step toward changing this must begin from the fundamental understanding that it is wrong. In fact, nearly 30 percent of all cybersecurity jobs are also non-IT. If it is the notion that technology is becoming the major hinderance, then we must tell the women that cybersecurity is not only about IT engineers and coders, but it is also a vast spectrum of opportunities. And if you, as a woman, are inclined toward the technological part of cybersecurity, the opportunities are even more for you.
What is highly crucial here is to change the mindset. We not only want to propagate the fact that the information security industry needs more women, but also shed light on the fact that cybersecurity must be for everyone without any gender bias. And that thought must be taught to the kids, as they will drive the future tomorrow.
What are the fundamental action plans for Cyber4Women initiative?
We call it our three concrete actions. These include awareness and visibility, spreading and creating a network and finally influencing the career and job market. We are here to propagate one crucial message and that is: cybersecurity is for everyone.
Who according to you can make a huge difference and bring more women into cybersecurity?
As we have discussed, influencers and role models play a major part in improving cybersecurity in the region. Apart from that, the major responsibility also lies on recruiters. Women should be aware of how fulfilling the opportunities at cybersecurity is, and recruiters can play a big part in making a difference. The cybersecurity industry has untapped potential, and even public administration can also help boost this sector.
Augustin Kurian is part of the editorial team at CISO MAG and writes interviews and features. He was invited to Finland to report on Cyber Security Nordic.