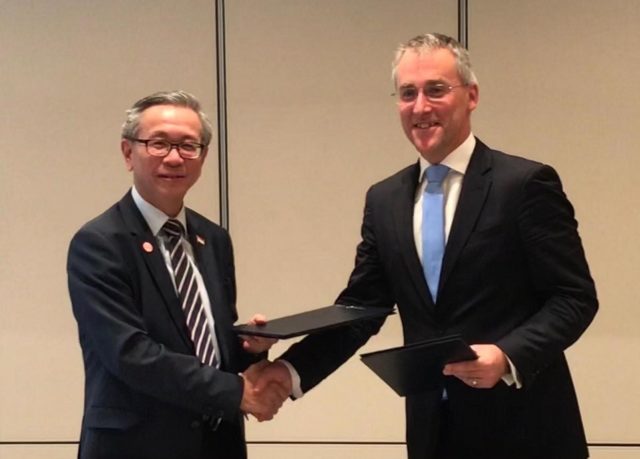 The governments of Singapore and the United Kingdom recently joined hands to promote user 'Security by Default' in both countries.
According to the official report, the Chief Executive of the UK's National Cyber Security Centre, Ciaran Martin, and Chief Executive of Singapore's Cyber Security Agency, David Koh, signed a joint statement on cooperation between Singapore and the United Kingdom on the Internet of Things.
Both countries agreed to work together on areas of common interest, including alignment, cooperation, and coordination to support the cause "secure by default.". The Singapore-UK strategic alliance is intended to drive improvements in the security of smart consumer devices.  The agreement also accelerates the IoT industry to grow and innovate.
"Both nations will adopt a multilateral approach by working with our partners, both internationally and regionally, including industry and consumer groups, to promote the implementation of good practice as set out in the relevant industry global standards. Implementing clear good practice principles from industry across all their consumer IoT devices will result in citizens and the wider economy is made safer and more secure whilst using their products," an official statement read.
The UK and Singapore governments urged the IoT manufacturers to implement industry best practices like: Discontinuing the security shortcomings; Regulating vulnerability disclosure programs across the IoT industry, and developing software security updates to protect the users' data throughout the lifetime of IoT products.
"We support the development of IoT assurance schemes and other efforts designed to give consumers confidence in the security of their products. The UK and Singapore have a shared interest in enhancing our bilateral cooperation in this area, as we develop our national approaches," the statement added.
In a similar cooperation deal, Australia and the United Kingdom pledged to intensify the fight against state-sponsored cyber-attacks. The announcement was made by British Prime Minister Theresa and Australian Prime Minister Malcolm Turnbull after both the leaders released an agreement joint declaration by the 53 nations of the Commonwealth on the dangers to civilian and military networks.
The written agreement commits both nations to a new era of practical cooperation. "Our responses will be proportionate to the circumstances of the incident and consistent with our support for the rules-based international order and our obligations under international law," the statement read.