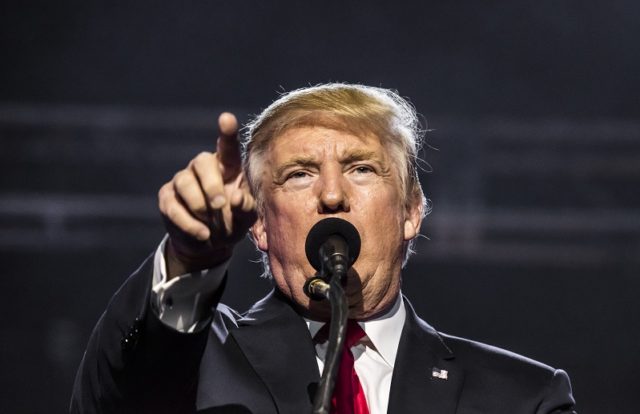 With an aim to protect the United States communications and computer networks from "foreign adversaries", President Donald Trump has declared a national emergency over threats against American technology. The president signed an executive order which effectively bars U.S.-based companies from using foreign telecoms, which are believed to pose national security risks, the White House said.
The executive order does not name any company, but it's believed that the move is expected to precede a ban on U.S. firms doing business with the Chinese telecommunications company, Huawei.
According to the White House statement, Trump's order aims to "protect America from foreign adversaries who are actively and increasingly creating and exploiting vulnerabilities in information and communications technology infrastructure and services".
"The order gives the secretary of commerce the power to prohibit transactions posing an unacceptable risk to the national security," the statement added.
Following the executive order, the U.S. Department of Commerce declared the addition of Huawei Technologies and its affiliates to the Bureau of Industry and Security (BIS) entity list. The addition makes the U.S. companies not to sell or transfer technology to Huawei without a license issued by the BIS. The Chinese Telecom giant Huawei hit back after the announcement of the executive order. The company criticized the move as "unreasonable".
"If the U.S. restricts Huawei, it will not make the U.S. safer, nor will it make the U.S. stronger. It will only force the US to use inferior and expensive alternative equipment, lagging behind other countries and ultimately harming US companies and consumers," Huawei stated in a statement.
Huawei faced a similar issue last year during Australia's Shadow Minister for Defence Richard Marles's apprehension and a possible ruling toward Huawei ban from 5G networks citing cybersecurity concerns. Huawei published a letter to Australian members of Parliament over the comments made. The company vehemently stated that the rumors and comments were ill-informed and have no factual basis.
In the letter, Huawei had pointed out that it is Australia's largest wireless technology provider, and that more than half of the nation relies on Huawei for communication. "Our telecommunications equipment connects millions of Australian businesses and consumers every day on the Vodafone, Optus, and TPG mobile networks. As focus turns to investment in the next generation of telecom technologies in Australia, cybersecurity is a key consideration for Australian policymakers … with our 5G investments in the United Kingdom, Canada, and New Zealand, the respective governments have taken up our offers for evaluation of our technology to ensure it abides by its cybersecurity protocols," the letter reads.
Earlier in 2017, the U.S. Senator Jeanne Shaheen pressed for a federal government-wide ban of all Kaspersky Lab products in U.S. Shaheen cited that intelligence officials during a public hearing stated that they weren't comfortable with using Kaspersky Lab software in computers at the intelligence agencies. Adding, "Americans were outraged by Russia's interference in our presidential election, but a wider threat is Russia's doctrine of hybrid warfare, which includes cybersabotage of critical American infrastructure from nuclear plants to electrical grids. Kaspersky Lab, with an active presence in millions of computer systems in the United States, can play a powerful role in such an assault. It's time to put a stop to this threat to our national security."