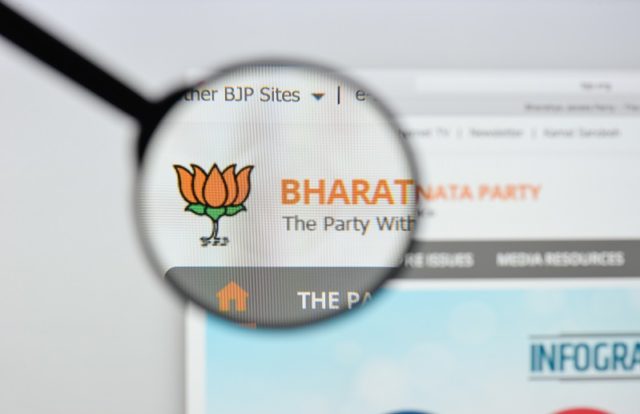 The website of Bharatiya Janata Party (BJP), India's leading political party, has been hacked by unknown intruders. According to media statements, the website, which belonged to BJP Delhi, was attacked by a hacker/hacker's group on May 30, 2019. The hackers, who go by the name handle Shadow_V1P3R, replaced the website content with ingredients and recipes for certain beef dishes. It's believed that the incident took place during the sworn-in ceremony of Prime Minister Narendra Modi and his Council of Ministers at the Rashtrapati Bhavan.
The attack was first reported by a French security researcher Elliot Alderson. The website was taken down and brought to its original position. "We have noticed some unusual activity on our website. We are looking into it and will fix it at the earliest," the party's Twitter statement reads.
The hacking of government websites has become a continuous activity for hackers. Recently, several websites in Sri Lanka fallen victim to a series of cyber-attacks. According to the Sri Lanka Computer Emergency Readiness Team (SLCERT), a group of unknown intruders allegedly attacked numerous Sri Lankan websites, including other websites like Kuwait Embassy in Colombo, the Tea Research Institute in Talawakelle, the Rajarata University in Mihintale, and 10 other private institutions' websites.
SLCERT stated that they're investigating on the incident combinedly with the TechCERT and the Cyber Operations Center that operates under the Ministry of Defence.
Commenting on the incident Dileepa Lathsara, the CEO of TechCERT, the attackers targeted on vulnerable websites that are equipped with minimum cybersecurity measures. Lathsara stated that most of the affected websites were restored to their previous condition and urged citizens to fortify security measures to their websites.
In a similar incident, cybercriminals attacked Pakistan's Ministry of Foreign Affairs and the Army websites recently. According to the spokesperson Mohammad Faisal, the ministry received several complaints from various countries reporting that the websites were inaccessible from February 16, 2019. It's believed that the attack was originated from India, Pakistan's news site Dawn reported.
Pakistan encountered a similar incident in November 2018, when hackers attacked almost all the banking websites in the country. Every person holding a bank account may have become vulnerable to cyber threats, as data from almost all the banks of the nation was stolen in a security breach. The incident was revealed by the Federal Investigation Agency's (FIA) cybercrime chief, Captain (retd) Mohammad Shoaib.  In an interview with Geo News, he said, "Almost all [Pakistani] banks' data has been breached. According to the reports that we have, most of the banks have been affected."