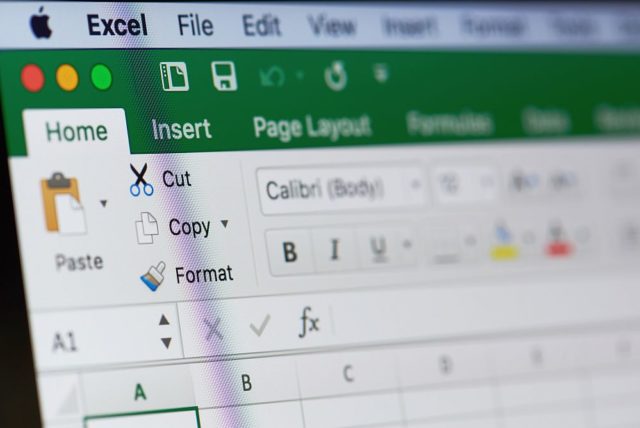 An Excel Workbook can be the most crucial data repository for many professionals. It could have operational data, customer information, product information, sales data or accounting sheets. Excel is also a popular application for small business owners and entrepreneurs who may have not invested in CRM, ERP or Accounting applications. An Excel workbook is likely to contain number-crunching data and analytics dashboards (Charts) which are a result of hours of diligent work. Excel is also used as a reporting tool and business intelligence or decision support too. But Excel files can occasionally get corrupted. There are tools available to Recover Corrupted Excel Documents. So imagine the reaction when the creator of the Excel workbook is one day greeted with an error message that looks like this:
By Victor Bobrov, Recovery Toolbox
It's a file corruption message and it is likely to happen to anyone, and for various reasons. If the Excel workbook was not backed up early, then the situation is critical as your business depends on the data in this workbook. Hours of work have gone to waste, and you are contemplating if you should begin all over again. But it will take you a long time to recreate that Excel workbook. And I don't know anyone who has solid insurance for corrupted Excel files.
Don't panic! There is a way to recover your data. In fact, we'll show you three methods to Recover Corrupted Excel Documents. But remember, always back up you documents so that you are never caught in this situation again. You will recover most of your data from the back up. So make it a habit to back up daily.
There is a reliable way to fix a damaged document. It is a Recovery Toolbox for Excel application. But before downloading it, I advise you to take a more proactive approach and protect all your other Excel files and documents on disk.
How to Protect Documents on a Disk
Here are the steps to protect an Excel document.
Open the Excel document.
File – Options
Click the Save tab
Under Save Workbooks, select Save AutoRecover information every "10" minutes
Also select Save to Computer by default
For older versions of Excel:
Open the Excel document
File – Save as
Go to the Overview—square button
Click on the Service button
Go to the General Settings section
Check the box next to Always keep a backup.
In just a minute, you will always have a backup of the critical file, but do not forget to copy documents to an external storage device such as a hard disk or USB pen drive. You could also backup to the Microsoft Onedrive service and set up a virtual drive folder on your hard disk. Files will be automatically backed up. It is also worth checking the autosave settings in Excel. Ensure that the MS Excel settings match the picture below.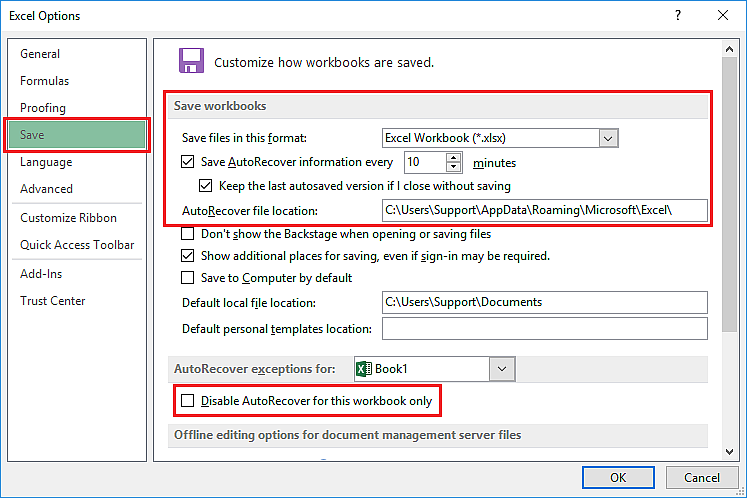 Congratulations! You've just learned how to protect your work from application or PC crashes, which corrupt Excel workbooks. But what if the document is no longer available?
First, check its size. Right-click on the document—Properties – Size. There's hope for recovery if the file size is a few hundred kilobytes or preferably several megabytes. The data is intact. But if the file size has shrunk to a couple of tens of kilobytes or less, the information is lost forever. 
Recovery with Standard MS Excel tools
The data on the disk was saved (at least once) so it can be recovered. Not everyone knows that MS Excel has its own auto-recovery tool. But sometimes the tool fails. Therefore, you need to go into Excel settings and run the built-in tool manually:
Go to File – Open
Select Open Document
Find the file you need in the popup window
Click on the arrow next to Open
Click on Open and Repair
If you use the latest version of Excel, you need to right-click on the file name to see these options.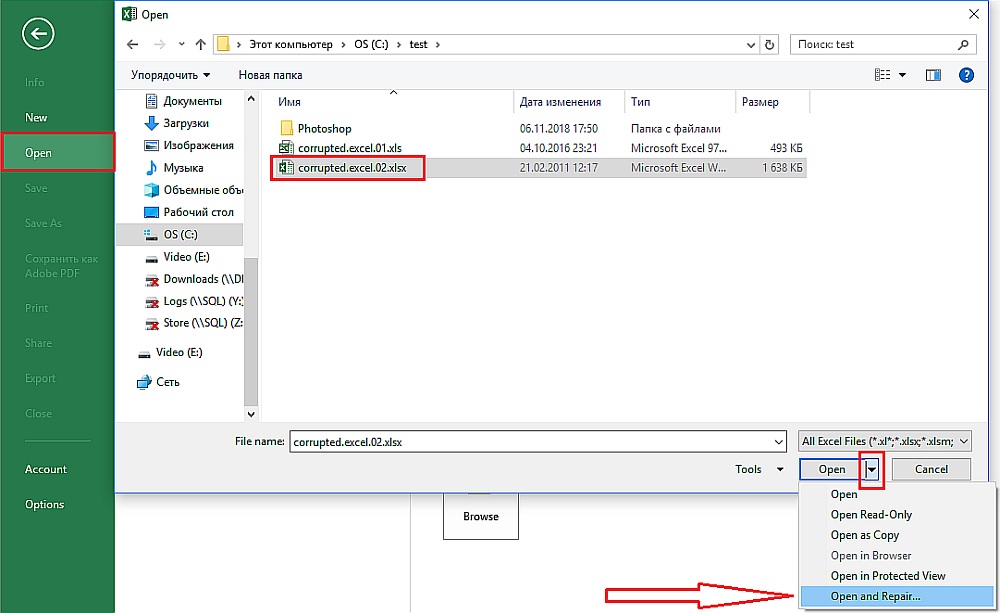 Unfortunately, this built-in recovery feature rarely works. If the file cannot be fixed, instead of the Restore command, press the adjacent key. It is called Extract data. This option will at least return data from lost tables. If it fails again, then move on.
There is a little trick. Sometimes you can open a damaged Excel document with it. Everytime you open an Excel document, the application looks at all the formulas and fields in the document. This function, which in this case prevents the file from being opened, can be disabled. Nothing complicated.
First, create a new document. If you are using the latest version of Excel, click the Formulas tab. In the Formulas ribbon tool bar, look for the option Calculation Options. Click the drop arrow for this feature and select Manual.
With older versions of Excel the command is: Calculations in the book manually.
Then, without closing the active workbook, try to open the document you need using File – Open.
Didn't work out? It's okay. It was still worth a try.
The next option is to use third-party recovery tools and services.
Recover corrupted Excel documents online
Try the Online File Repair Service at https://excel.recoverytoolbox.com/online/. It will save you valuable time. Yes, there are many other similar services, but the Online File Repair Service has been a leader in its segment for many years. It offers the lowest cost among competing services.
When you visit this site you will see a screen like the one below and will be asked certain details. You will also need to upload your corrupted Excel file.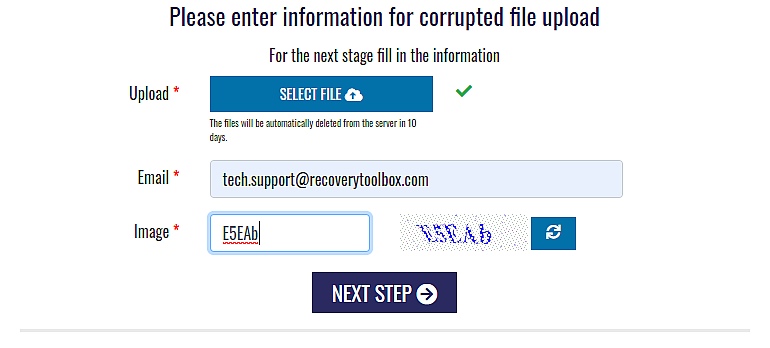 Follow the instructions to recover the file. In the process, you will be required to provide an email address—the recovered document will be sent to that email address. Then upload the file and start the recovery process.
The online service allows you to familiarize yourself with the results in advance, so you will not need to pay if restoration is not possible. The average price is ten dollars for one uploaded file. After payment, you will immediately receive a restored document, and you can open the champagne and start celebrating!
Recovery Toolbox for Excel can recover corrupted Excel documents
If your corrupted Excel file has sensitive data, then you may have concerns about uploading it to an online service. In that case, you should use the offline tool which you install on your system to Recover Corrupted Excel Documents. It's called Recovery Toolbox for Excel and is available here: https://excel.recoverytoolbox.com/. Click the Download button.
The tool is a powerful one for repairing damaged Excel files, and it has been available for the past 15 years. So it has practically evolved with Microsoft products. There is a free trial version as well, in case you want to get a feel of the features first.
Be sure to test Recovery Toolbox for Excel before purchasing the full version. If you find it useful, then it makes sense to buy a license for the full version. After that, you can upload an unlimited number of Excel files. Plus you get tech support and regular updates.
And before I end, let me remind you about the importance of backing up your documents. Use the auto back up feature and also, make backup copies to external storage media.
For more information visit: https://excel.recoverytoolbox.com
CISO MAG did not evaluate/test the products mentioned in this article, nor does it endorse any of the claims made by the writer. The facts, opinions, and language in the article do not reflect the views of CISO MAG and CISO MAG does not assume any responsibility or liability for the same. CISO MAG does not guarantee the satisfactory performance of the products mentioned in this article.
SPONSORED FEATURE