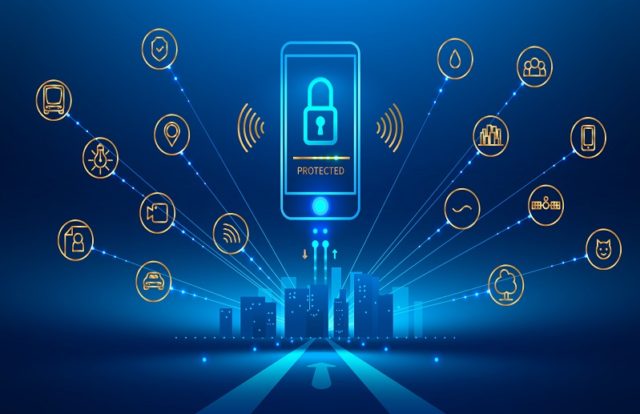 A research published by Transforma Insights revealed that the number of active IoT devices globally is expected to grow from 7.6 billion in 2019 to 24.1 billion in 2030, thereby generating revenue of more than $1.5 trillion, at 11% CAGR. North America, China, and Europe will dominate the IoT market in 2030, with 26%, 24% and 23% respectively of the total value.
The research stated that technologies like Wi-Fi, Bluetooth, and Zigbee will dominate connections, accounting for 72% in 2030. Public networks will grow from 1.2 billion connections to 4.7 billion in 2030, with increasing market share from 16% to 20%. While private networks account for the balance of connections, 10% in 2019 and 8% in 2030. It also found that the consumer sector is expected to dominate in terms of connected devices, accounting for 65% of all connections, up from 62% in 2019.
Within the enterprise segment in 2030, around 34% of connected devices will be accounted for cross-vertical use cases like generic track-and-trace, office equipment and fleet vehicles; 31% by utilities; most prominently smart meters; 5% by transport and logistics; 4% by the government; 4% for agriculture, and 3% each for financial services and retail/wholesale. While in the smart grid sector, connected devices like smart meters represent 14% of connections. And the smart automation sector, which is dominated by connected cars, is the third biggest category, representing 7% of the global installed base.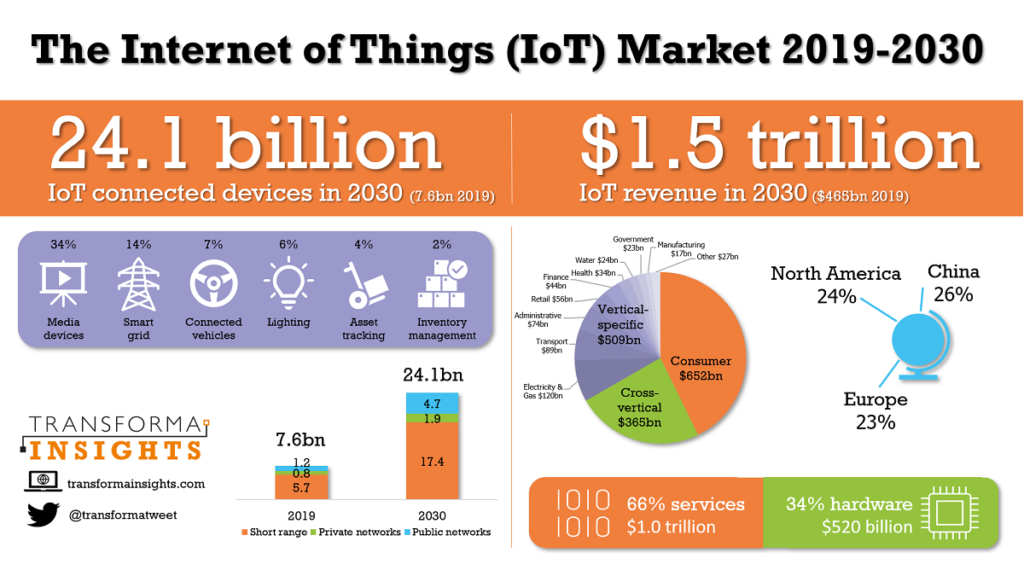 "In financial terms, the biggest vertical sector is consumer, generating $652 billion in revenue, or 43% of the total market value. Cross-vertical applications account for 24%. The remaining 33% is sector-specific applications across sectors such as energy, transport, retail, and healthcare," the report said.
Growing IoT Networks Bring New Security Concerns
A similar research, "The Internet of Things: Consumer, Industrial & Public Services 2020-2024," from Juniper Networks found that with the number and purpose of connected devices increasing rapidly, the concerns over security threats also increase. The research stressed that IoT networks must implement steps to maximize security in all layers of the IoT ecosystem, including devices and connectivity. The research advised enterprises to implement necessary security measures to defend from cyberattacks. It suggested two key areas of focus — the use of network segmentation to mitigate cyber risks and to ensure that the lifecycle management of network assets is properly maintained.
70% of Organizations Suffer IoT Attacks
According to a survey from the security firm Extreme Networks, organizations remain highly vulnerable to IoT-based attacks. The survey, which surveyed 540 security professionals across organizations in North America, Europe, and the Asia Pacific, found that 84% of organizations have IoT devices on their corporate networks. It also stated that more than 50% of the organizations do not maintain necessary security measures beyond default passwords.