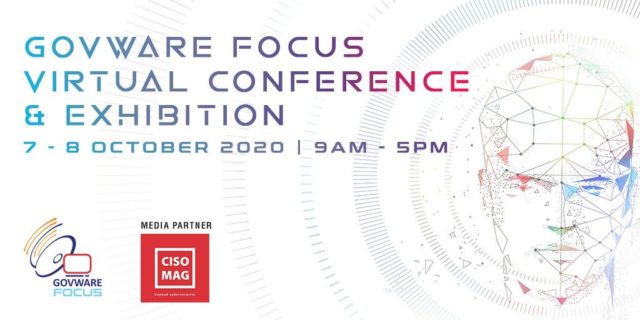 The COVID-19 pandemic has added new and salient challenges to the current demands of cybersecurity programs. Experts believe that information sharing and collaboration on critical industry insights, trends, and solutions have become more imperative than before. Thus, with a purview of serving as an information resource and connectivity platform, GovWare Focus – 2020, in its premier virtual conference has succeeded in bringing the global cybersecurity community on the same stage.
By Mihir Bagwe, Tech Writer, CISO MAG
With the theme for the virtual conference set to "Partnerships for Resilience and Advancement," the organizers showed a visible intent of tackling the current cybersecurity challenges with collective intelligence and collaborations. The GovWare Focus series is known for providing commercially neutral content, dynamic conversations that fuel new ideas and the means of increasing global connectivity. It provides a defined lens towards the key trends and developments in the realm of cybersecurity.
The Agenda
Being held online for the first time since its inception, GovWare Focus brought together 40+ industry and public agency speakers and over 60 virtual exhibitors showcasing the latest in cutting-edge technologies. GovWare's primary focus in this virtual edition was on examining and discussing the critical developments in both threats and defense within the industry. However, it laid a specific emphasis on cybersecurity across geographic boundaries, technology sectors, and user industry verticals.
GovWare Focus 2020 at a Glance
8 Keynote Addresses
10 Tracks
50 Keynote Addresses, Conference Sessions and Fireside Chats
60+ Exhibitors in the Virtual Exhibition Hall
Key Highlights
CSA – Singapore Chief's Keynote Address
The stellar line-up of speakers at GovWare Focus 2020 included Mr. David Koh, Commissioner of Cybersecurity & Chief Executive, Cyber Security Agency of Singapore. He said, "The pandemic has accelerated digitalization and increased its scope and reach. We are now even more dependent on connectivity and technology; they drive how we live, work and play."
David Koh, Commissioner CSA

"Cybersecurity is a collective responsibility, and we need the digital community to be on board with us to strengthen our defense against cyberthreats."
"Underpinning all of this is cybersecurity. It is the key enabler to our new digitalized world. The criticality of cybersecurity has only grown more pronounced, as the attack surface has expanded tremendously, and the range of threats and potential challenges posed by an equally diverse range of malicious actors has also increased. Governments, businesses, and individuals are dependent on a reliable, safe, and secure cyber environment in which to transact, interact, and do business."
Koh added, "We in the cyber community need to ask ourselves what our response should be, and how we can contribute towards an expanded cyber space safe for a world already reeling from so many challenges."
Addressing the issues related to the tasks on hand, Koh also suggested a possible solution – Security by Design. According to him, security by design is a comprehensive approach that helps formulate the organization's infrastructure design, which in turn provides a deeper view of security concerns. This allows automation of security controls to build security across every part of IT management process. This is not a new approach, yet the rise of cloud technology has made it a more simplistic and adaptable option.
The Fireside Chat
Prerana Mehta, Chief of Ecosystem Development, AustCyber

"Diversity is increasingly important, not just from having a young female in the team or from a research and development perspective, but from mindsets including top-down leadership. Through diversity, a myriad of solutions will help solve a wide set of problems."
Being a virtual conference, the impact of a fireside chat was questionable before the event started. However, these apprehensions went out of the window with some very fruitful and important discussions like the one on the role of a CISO in the evolving cybersecurity space.
The panel discussed a wide range of challenges based on the current scenario of geography, compliance, and more. One of the most prominent statements made during this discussion came from Prerana Mehta, Chief of Ecosystem Development, AustCyber. She highlighted that diversity is very important when it comes to problem-solving. It is important because a single point of view and vision at times hampers the problem-solving capability. A team with diverse roles and players ought to do better than others, and this applies to a cybersecurity team as well.
Other Highlights
Other highlights included the Startup Pavilion, which provided a platform for promising local companies to showcase their technology and solutions. Apart from this, the budding startups also battled it out in the GovWare-ICE71 Startup Pitch Pit. In its second run, the Startup Pitch Pit featured four up-and-coming cybersecurity startups from ICE71's community as they pitched their solutions to a panel of Infosecurity industry veterans.
Closing Notes
When it comes to cybersecurity readiness, Singapore currently ranks the world's most prepared. Experts across the globe have always wondered what makes this nation cyber efficient. And we might have just cracked the code to it. It is initiatives like the GovWare Focus 2020 and the Singapore International Cyber Week (SICW) that keeps them ahead in this game. Cyber space and cybersecurity, both, are constantly evolving and it is only through such collaborations that we can together work towards better cyber resilience and security.
About the Conference
Govware Focus – 2020 was a two-day virtual event held on October 7 and 8, 2020, as part of the Singapore International Cyber Week (SICW) that took place between October 5 – 9, 2020.
CISO MAG, a Media Partner for the event, would like to thank the organizers of GovWare Focus 2020 for exclusive access and patronage to their services.
About the Author
---
Mihir Bagwe is a Tech Writer and part of the editorial team at CISO MAG. He writes news features, technical blogs, and conducts interviews on latest cybersecurity technologies and trends.
---
Other Posts from the Author: