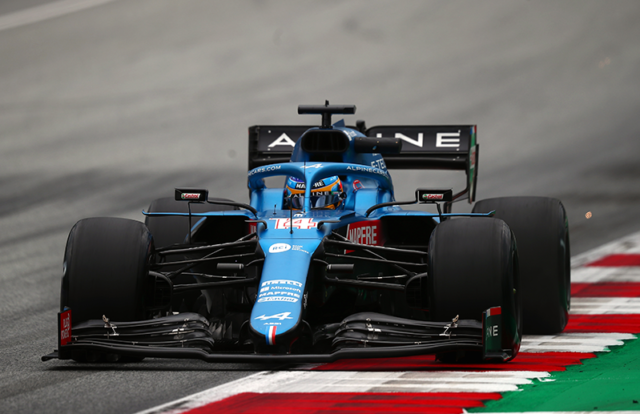 If the pandemic had played a spoilt sport for ardent Grand Prix fans and deprived them of the adrenaline rush, "The Hungarian Grand Prix 2021" more than made up with the action-packed drama from the word "Go." Right from the rain stalling the start to the big Turn 1 crashes, which resulted in the dismissal of five cars in the first lap, to throwing up the big surprise maiden winner, the race had it all. Esteban Ocon for Alpine witnessed his first-ever F1 victory at the track.  But a security breach or ransomware attack on the information systems enabling the racing operations could bring the F1 cars to a halt or worse, cause them to crash on the track. So, here's what the Alpine F1 Team does to mitigate the risk of that happening.
By Minu Sirsalewala, Editorial Consultant, CISO MAG
The Alpine F1 Team has been evaluating partnerships to improve their performance and have the fastest, safest cars on the track. Amongst these partnerships is their recent association with FireEye Mandiant to protect data across racing operations. As the 2021 season sprang victory surprises, the race was also making headlines for the massive damage to Max Verstappen's Red Bull, which cost $1.8 million in loss to the Australian racing team.
Could the crash be avoided with more technological advancement or system intelligence? Imagine the magnitude of these losses if there was a hacking incident, critical data breach, or even a ransomware attack.
F1 and Cybersecurity
Formula One is the world's most significant racing competition, with more than half a billion fans following races in multiple regions around the globe. Formula One is also unlike any other sport: an engineering discipline at the forefront of material science, and many of these technological advancements end up in aerospace and defense after being developed for the track. As a result, a considerable amount of intellectual property could be at risk for F1 teams as a whole.
Alpine F1 Team relies increasingly on technologies like artificial intelligence, connectivity between international locations, digital communication, and advanced data capture across multiple platforms, including telemetry, driver simulators, and its race cars. This is where Mandiant fills the gap to protect its engineering operations.
FireEye Mandiant and Alpine F1 Team Partnership
Alpine F1 Team was looking for a partner to help them mature, and the starting point for them was with Mandiant Solutions & Services. Going forward with the partnership, Mandiant will protect the data coming into the operations room on race day as the Team makes real-time decisions on strategy and performance. All data associated with a Formula One race car is subject to cyber risk.
As we have seen, communities in the world spotlight like Formula One are targets for cyberattacks, and when Alpine F1 Team sought to protect its engineering operations, they turned to Mandiant. Helping Alpine F1 Team tackle the new challenges of cybersecurity is to stay one step ahead of cyberthreats on and off-track.

– Kevin Taylor, Senior VP, EMEA, FireEye Mandiant
Cyber Defense for the Digital Ecosystem
Laurent Rossi, Chief Executive Officer, Alpine said, "In Formula One, success is achieved by taking humans and technology to the limit while minimizing risk." Similarly, with the digital transformation, data also needs to be treated with an approach where we push the intelligence and security limits to create a winning secured environment.
Rossi added, "The fastest cars in the world are also amongst the safest and we needed a strategic partner who could help us extend the same approach to our data, the digital reflection of who we are. Mandiant will thus cover a critical aspect of our engineering operations and is a welcome new member of our Technical Partners family."
With intellectual property (IP) at the core of all operations at the team, data security was of prime concern. Any vulnerability that could cause a cyberattack will damage IP, brand image, strategy, and finance at Alpine F1 Team. The Mandiant solution will cover everything from design, supply chain, production, simulation, and racing operations. In a hyper-connected digital world, this is no less critical than the advanced and very tangible solutions enforced to protect the drivers.
"Mandiant has a deep-rooted understanding of managing cyber risk. It's a part of everything that we do. Through this partnership, Mandiant will provide Cyber Defense to Alpine F1 Team's digital ecosystem," said Taylor.
Conclusion
Incidents of cyberattacks continue to plague every industry and only exacerbate the situation with the likes of ransomware with higher values at stake. Where damages and payouts are in millions and upward, the list of targeted organizations is no more limited to the financial or health care sector. With IP and digital assets getting targeted, companies need to revisit their security posture and beef up the protection. With technological advancements and innovations, the automotive industry is a lucrative target and has now actively been looking at partnerships to plan and manage cyber defense.
Pierre d'Imbleval, VP IS/IT Alpine, opined, "Formula One Teams are at the forefront of technological innovation and, when you are part of an elite, it is easier to become a target. In Mandiant, we have found a strategic partner who shares our understanding of the importance of planning and managing cyber risk."
---
About the Author

Minu Sirsalewala is an Editorial Consultant at CISO MAG. She writes news features and interviews.