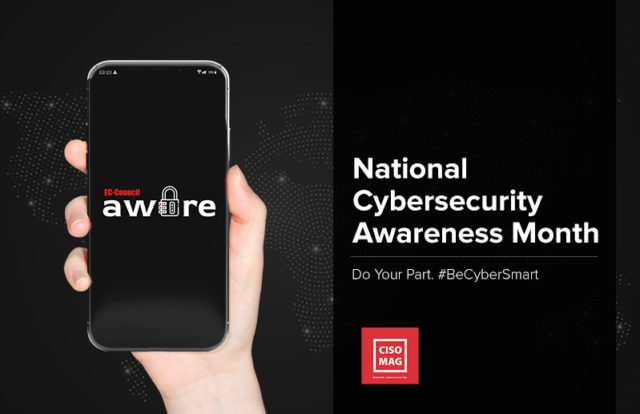 The world is reforming. Technology has become an integral part of our lives and businesses are undergoing a radical digital transformation. And digital transformation brings with it an array of cyber risks. CISOs and security professionals are always on the go to confront cyberattacks or data breaches. A joint study from Stanford University Professor Jeff Hancock and security firm Tessian revealed that 88% of data breach incidents are caused by human error. So, what is the best way to create a cyber-aware environment?
By Pooja Tikekar, Feature Writer, CISO MAG
Recently, EC-Council launched its cybersecurity training solution, Aware. Aware is a user-friendly and easy-to-access training app that helps end-users understand security risks on a cyber battlefield. Aware is for all in the organization — C-levels, managers, executives, employees, contractors, temporary workers — who are looking for information to defend their organizations from cyberattacks.
EC-Council Aware is available on Android and iOS platforms. The setup does not require technological acumen, and users can Sign Up to create a new profile or use their existing social media profiles (Google, Facebook, and LinkedIn).
Aware's Salient Features
Automatic Enrolment: Users will be automatically enrolled in the training they need based on their success during phishing simulations.
Upload Your Training Content: Once an organization is registered, the admin is authorized to upload training videos/modules, limit no bar. The training modules are required to be SCORM-compliant (Sharable Content Object Reference Model). Organizations can also add a company logo to the training videos/modules, which would help in branding and promotion.
Customizable E-learning Content: Users can customize their training programs to suit their requirements.
Scheduled Reminders: To ensure the completion of training, the app sets deadlines and reminds users of the timeframe they set in the beginning.
Advanced and Automated Reports: Aware's advanced reports helps users know how well they are performing on phishing simulations and testing, and more. Reports can be generated using the in-built templates to keep the teams/staff informed about the areas they need to improve on.
Customizable Training Certificates: Complete the training and voilà! Aware pats your back with a Certificate of Training with customizable text options.
Learn with Fun
Science has proved that learning is fun. And the idea of having fun while learning makes information processing an enjoyable experience. Do you remember the last time you sat down to hone your skills at work?
EC-Council Aware makes learning fun and effective. It is power-packed with challenging games and quizzes to offer its users a memorable screen time. Users can choose from millions of live games and host quizzes on the go, in the classroom, or at parties. Teachers can now save time and assign homework using creative challenges and track learning progress.
The app also offers premium plans —  Aware! Plus and Aware! Pro — for corporate trainers to engage in exciting remote training.
An Assembly for All
Creativity, trivia, and training, EC-Council Aware is a cyber assembly for everyone. It nurtures a cyber-aware culture to better understand cyberthreats and their potential to incapacitate a business and its information assets. In tough times like the pandemic, raising appropriate awareness about ransomware or phishing is a must. It's more important than ever to encourage collective effort to minimize the risk of cybercrimes.
And with the Aware app, organizations can not only train employees but also pave the way to a compliant digital future. #BeCyberSmart
Put on your quizmaster hat and download

EC-Council Aware

from the Google Play Store or Apple Store. For more information, visit https://aware.eccouncil.org.
---
About the Author

Pooja Tikekar is a Feature Writer and part of the editorial team at CISO MAG. She writes news reports and feature articles on cybersecurity technologies and trends.