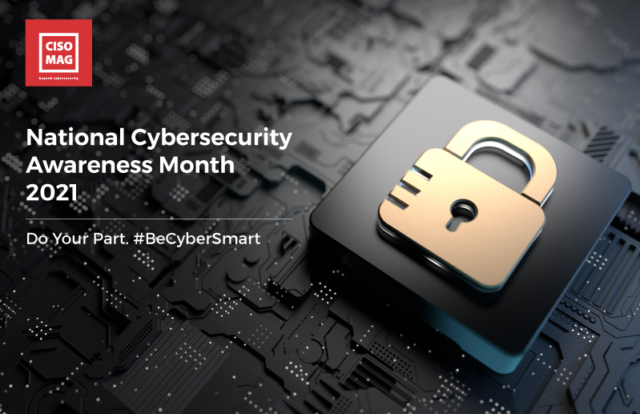 Awareness is the key to make everything better in our lives. While everyone knows how technology and connected devices play a significant role in everyday routines, only a few are aware of the security implications of the technology if not appropriately managed. The National Cybersecurity Awareness Month sheds light on various security vulnerabilities, and offers actionable guidance to users and organizations defending against evolving cyberthreats in cyberspace.
Initiated by the National Cyber Security Alliance (NCSA) and the U.S. Department of Homeland Security (DHS) in October 2004, the Cybersecurity Awareness Month continues to raise awareness among users and organizations, to own their role in protecting their part of cyberspace and the importance of taking proactive steps to enhance cybersecurity.
In its 18th year, Cybersecurity Awareness Month continues using last year's theme – Do Your Part. #BeCyberSmart.
The Cybersecurity and Infrastructure Security Agency (CISA) and NCSA stated that 2021 Cybersecurity Awareness Month will focus on multiple areas, which include:
Week of October 4: Be Cyber Smart.
Week of October 11: Phight the Phish!
Week of October 18: Explore. Experience. Share. – Cybersecurity Career Awareness Week
Week of October 25: Cybersecurity First
The agencies also offered cybersecurity technical and non-technical resources to help users improve their cybersecurity posture and mitigate security risks. "Use the hashtag #BeCyberSmart before and during October to promote your involvement in raising cybersecurity awareness," CISA said.
POTUS Proclamation on Cybersecurity Awareness Month
This year's Cybersecurity Awareness Month has become crucial for the U.S. government as the country sustained a series of cyber and ransomware attacks affecting its critical infrastructures. POTUS Joe Biden asked people, businesses, and institutions in the U.S. to recognize the importance of cybersecurity and protect against cyberthreats in support of national security and resilience.
"Our Nation is under a constant and ever-increasing threat from malicious cyber actors. Ransomware attacks have disrupted hospitals, schools, police departments, fuel pipelines, food suppliers, and small businesses, delaying essential services and putting the lives and livelihoods of Americans at risk. During Cybersecurity Awareness Month, I ask everyone to Do Your Part.  Be Cyber Smart.  All Americans can help increase awareness on cybersecurity best practices to reduce cyber risks," Biden said.