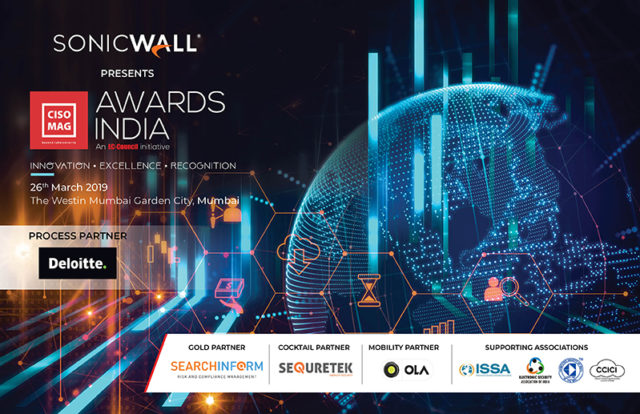 With the fabric of our society now defined by the technology we use, the issue of cybersecurity has become more important than ever. Time and again, major cybersecurity breaches have shaken up the world, serving as wake-up calls for authorities and individuals to initiate measures to improve the security and stability of the cyberspace.
CISO MAG, a cybersecurity magazine from EC-Council, realizes there is a continuous need to honor the leaders who have dedicatedly worked to thwart the cyber threats. This is where CISO MAG Awards intervene as a significant game changer in the cyberspace security. The event would celebrate the spirit of excellence in the Cyber Security domain and recognize the innovation, commitment, leadership, and sound business strategies of distinguished professionals and organizations.
CISO MAG Awards, presented by SonicWall, a company that has been fighting the cybercriminal industry for over 27 years defending small and medium businesses, enterprises and government agencies, will be held on March 26, 2019, at The Westin Mumbai Garden City in Mumbai from 5.30 pm. This invite-only event would be preceded by an elite roundtable session hosted exclusively by SearchInform, a leading risk management product developer. The session would include various leaders and achievers in cybersecurity who would discuss some pressing issues in the domain.
To ensure fair, transparent, and robust award selection and recognition, CISO MAG has tied up with Deloitte as the process partners. Over the last two months, CISO MAG Awards received 130 nominations from close to 100 top-notch companies. All the entries are evaluated by an elite jury panel comprising:
Bharat Anand, CIO & CTO, Ministry of Home Affair, Government of India
Brijesh Singh, Secretary & Director General, Information & Public Relations Secretary & Special Inspector General of Police Cyber Maharashtra State, Mumbai
Kanchana TK, Director General, Organisation of Pharmaceutical Producers of India (OPPI)
VG Kannan, Chief Executive Officer, Indian Banks Association
Anuprita Daga, President, Risk, Yes Bank
Amit A. Pradhan, CTSO & SVP, Technology Security, Vodafone Idea Limited
The CISO MAG Awards has been received excellently in the market with almost a dozen well-known organizations agreeing to come on board as partners. Some of our partners include SonicWall (Presenting Partner), SearchInform (Gold Partner), Sequretek (Cocktail Partner), Ola (Mobility Partner) among others.
So, get ready for a night that cybersecurity industry would remember, and rub shoulders with the best in business.
To attend the event as a guest, please contact Riddhi Chandra (+91 8454826593). To partner with us, contact Jayesh Bohara (+91 9930819319).