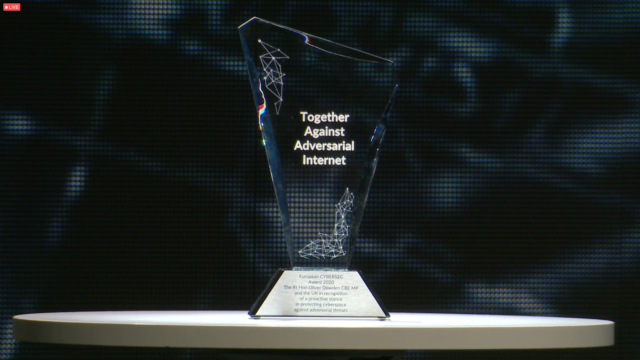 Cyberattacks across several verticals in Europe have seen a sharp surge in recent times. A report released by Hiscox highlighted that 61% of the firms in Europe and the U.S. alone experienced a cyber incident in the past year with financial losses accounting to nearly $7,20,000. However, amidst all the negative numbers, the mean cost of all cyber incidents in the U.K. was the second-lowest at less than $2,43,000. The U.K. was also recognized as the most eligible to measure the business impact of a cyber incident. Owing to the cyber readiness and response measures and many other such parameters of judging, the U.K. has now been recognized as a driving force in the fight against adversarial internet and has been awarded the "2020 European CYBERSEC Award."
U.K. – The Cyber Power
The U.K. is now being considered as a cyber power because of its proactive and innovative approach in building its cyber policies and capabilities. It has not just changed the domestic cyber space but also has an impact on the international cyber space. While giving away the award to the U.K., Izabela Albrycht, President of the Kosciuszko Institute said, "U.K. has collaborated with like-minded countries domestically and internationally. This is exactly the way towards fighting against adversarial internet space."
The country's approach to cybersecurity has been remarkable since the last decade. From 2011 to 2016, the U.K. government has funded an £860 million (approximately US$1,112.10 Mn) National Cyber Security Programme that helped in formulating the National Cyber Security Centre (NCSC) in 2016. The main aim of the NCSC was to improve the cybersecurity in the public sector, which it successfully did in the coming years through a range of measures that curbed cybercrime.
Not a Smooth Ride
The road to this point had a few bumps, with a successful WannaCry ransomware attack on National Health Service in 2018 being one of the biggest ones. Learning from their own failures, the British government built a great situational awareness to take appropriate countermeasures. Fortunately, the U.K. believes in sharing. It has time and again shared its expertise and resources with its allies and other friendly countries, recognizing that cybersecurity is a common goal.
The Future Roadmap
Like other weapons and strategies, having enough power to respond is what effectively keeps adversaries away from attacking. This is exactly what the U.K. is now focusing on — developing offensive cyber capabilities and the much-awaited launch of the National Cyber Force. The NCF, which is said to be launched by the end of 2020, will be jointly run by the military and the Government Communications Headquarters (GCH). The U.K. government believes in sharing and collaboration, thus, it has declared that it is open to sharing its offensive capabilities with the NATO allies as and when needed.
Matt Warman, U.K.'s Minister of Digital Infrastructure, who received the prize on behalf of the government, shared the success of the NCSC, among which it is dealing with over 2,000 sophisticated cyberattacks.
Warman said, "I agree that the part of the U.K.'s cybersecurity success is due to the international collaboration with like-minded countries, but introducing a true partnership between government, industry, and the academia environment has been most vital. The awareness of U.K. towards current trends, threats, and capabilities of cybercriminals, be it 5G security or building a cybersecurity ecosystem in private and public sectors, or leading in the regulatory space, has truly been exceptional."
The European CYBERSEC Award was handed over to the U.K. on day two of the CYBERSEC Global 2020 conference. With over 40 keynotes and panel discussions on varied topics on pressing cybersecurity issues for nation-states, businesses, defense, and future visions, this conference has been more than fruitful in all sense.