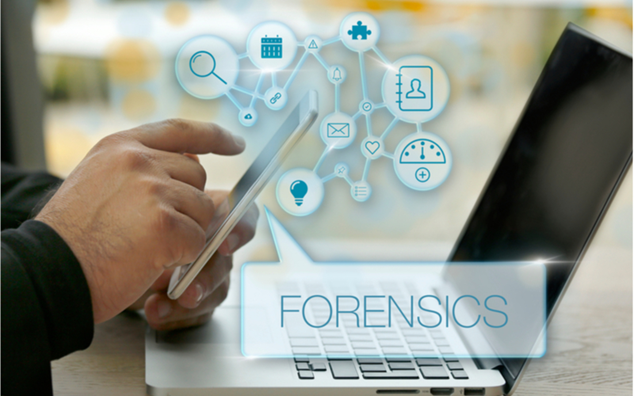 Digital forensics is an essential aspect of tracing computer-based crimes. With the rise in digital transformations and reliance on the web and mobile applications, there's an augmented need for digital forensic investigators in cybersecurity. Every organization that uses cloud-computing technologies and devices needs computer forensics or digital forensics expert. Any device which stores digital data or is connected to the Internet forms a part of the investigation and can be crucial evidence in cracking a case.
Digital forensics is a branch of forensic science concerned with data acquisition, investigation, and analyzing digital devices for gathering evidence. Identifying, collecting, storing, and documenting computer data using digital tools to produce the necessary evidence that may be utilized in a court of law, is known as digital forensics investigation. For instance, a digital forensics examiner investigates cases related to an illegal intrusion in your organization's network and tracks the digital footprints to trace the attacker.
Computer forensics tools and strategies serve both, private and criminal investigative purposes. Digital forensics is growing exponentially, and with the rate of cybercrimes rising, this field is spreading its reach to several other branches of databases, malware, firewalls, mobile devices, cloud, and network forensics.
This article explains the skills you need to qualify for a digital forensics job role and what is expected out of a digital forensics' expert during the investigation.
How Do You Become a Digital Forensic Investigator?
A digital forensic expert needs to have extensive knowledge of data, forensic and legal principles, and procedures. People adept in this branch of forensics can specialize in different roles such as computer forensics technicians, computer forensics investigators. Cyber forensics experts, etc. A report in Mordor Intelligence forecasts the digital forensics market to reach $8,210.5 million by 2026.
In addition to getting a bachelor's degree in digital forensics or an equivalent, you can also opt for credible online certifications or get a vendor-neutral credential.
You can further your digital forensics career by adding specialized degrees in due time to land high-paying jobs and stay abreast of your competition.
Simply put, the following are the steps required to become a digital forensic expert:
Bachelor's degree or a master's degree
Work experience in related fields
Become certified as an EC-Council Computer Hacking Forensic Investigator (CHFI)
Get relevant soft and hard skills
Apply for a digital forensic position
Meet the expectations of the certified forensic interviewer
Land the job position
How is Digital Forensics Used in Investigations?
A Digital forensics investigator follows a systematic procedure to unfold a cybercrime. As a forensics analyst, you have to be precise in your observations and ensure that the evidence is isolated and not tampered with. As a part of an organization's security team, you have to follow meticulous cybersecurity procedures in case of an incident.
There are different uses of digital forensics in an investigation. Let's look at the general steps required.
1. Planning
The planning phase is perhaps the most important strategy, to begin with. Cybercrimes occur at light speed, and one can never take enough precautions to protect their digital assets and networks from intrusions. Make a layout of your plan and approach them systematically. Identify your target and probable threats to gather evidence. As a digital forensics expert, you would also need to monitor and implement regulatory guidelines frequently.
2. Identification and Preservation
As a cyber forensics' examiner, next comes the identification phase. You would need to find shreds of evidence or sources from digital devices after a data breach. Procuring key information or data from the crime scene, for example, identifying the location or in which format the evidence exists.
Additionally, preserving digital evidence or data is significant. Investigators should ensure that the evidence is not tampered with and should safeguard the original data or information after isolating the master copy.
3. Analysis
The next step is analyzing the evidence. To recreate the timeline of the crime, you would have to rebuild the pieces of evidence or information you have gathered. Besides, having the timestamps of the individual data or evidence you gathered in chronological order or fashion, you can pinpoint the source or get a clear picture to support your theory.
4. Documentation
Reconstructing the cybercrime scenario is easier when you record all the observations you made during the investigation. The primary purpose of gathering evidence is to be able to produce it in legal proceedings. Hence, your documentation should contain an in-depth investigation report with factual data, timestamps of the incidents followed, dated, and signed.
5. Presentation
The last phase includes presenting a summary of the relevant information or findings. As a digital forensics expert, your job is to ensure that your digital analysis report is free of any bias. Additionally, you need to summarize your data in a concise and chronological fashion, which can be understood by law enforcement and other corporate executives.
Why C|HFI is Your Go-To for All Things Digital Forensics
Digital forensics is an integral part of cybersecurity and is expanding to include network forensics, mobile forensics, firewall forensics, among others. The Internet era is certainly changing the way we store and share data, but on the flip side, cybercrimes are witnessing an upward trend. Therefore, there is a growing need for cybersecurity specialists trained in digital forensics.
So, if you have plans to make a career in this field, you would need to pursue a relevant forensics online course that aligns with industry-demand skills. While there are many credible courses, EC Council's C|HFI program puts you at the top of the employment ladder.
The Computer Hacking Forensic Investigator (C|HFI) certification program by EC-Council aims to enhance the participant's competence in identifying an intruder's footprints. The modules also train individuals to gather all the relevant digital evidence needed to prosecute the perpetrator in a court of law.
C|HFI trains its participants in the core concepts of digital forensics, giving a methodological approach to computer forensics and evidence analysis that circles Dark Web, IoT, and Cloud Forensics. The program modules include using ground-breaking forensics tools and techniques to help the learner successfully execute digital investigations, identify complex security threats, and assist in data recovery programs.
Once you complete the training, you can qualify for a multitude of job roles as a certified forensic interviewer, forensics engineer, cybercrime investigator, forensic computer analyst, information technology auditor etc., and land high-paying jobs.
---
20+ Job Roles | 4,000+ Job Openings | Avg. Salary of $96,000
Start your C|HFI Certification and Explore New Career Opportunities in the World of Digital Forensics.
---
FAQs
What is the first rule of digital forensics?
The first step in any digital investigation is to isolate the evidence and preserve it so that it is not tampered with. Identification and preserving digital evidence are a crucial step in cracking down on the perpetrators.
How much can one earn as digital forensics professional?
According to PayScale, the average salary for a computer forensic analyst is $75,073. The median salary for an entry-level computer forensic analyst is $65,371, according to Salary.com.
---
References: