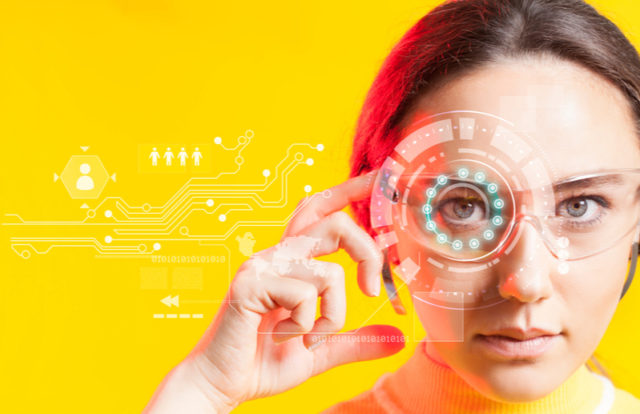 Deny or accept, but technology has always been a part of our lives and now it's almost become one with our bodies too. Wearables have become more practical, easy to use and more affordable than ever. But the rising popularity means hackers and bad actors are taking notes of the same.
Wearable smart glasses and headgear such as Google glasses, Samsung's Gear VR, RealWear HMT-1, etc. have seen a steep rise in sales as they are not just providing Augmented Reality (AR) solutions but enterprise level solutions. For example, RealWear's HMT-1 wearable Android tablet (headgear) has a wide offering – Voice based operating system, integrated speaker, four digital microphones, noise cancellation, video streaming, image zooming and many more. But with it comes the security quotient–is it cyber secure?
Consider a scenario where an employee brings his own headgear or smart glasses to work, which are connected to his smartphone. His phone, in turn, is connected to a company or private (for on-fieldworkers) network where sensitive customer data is stored, such as credit card and account numbers. A hacker intercepts the Bluetooth feed from the wearable and steals a customer's login credentials to drain the bank accounts. That's it, gone in 60 seconds! Thus, the answer is "Yes," wearables can be hacked, and they are going to be targeted sooner or later.
So, what must organizations do to mitigate this?
Define organizational level policies to safeguard and protect customers and internal stakeholders from cyber threats via wearables. Apply latest software and firmware upgrades on timely basis as and when they are released.
In a similar firmware upgrade announcement RealWear has announced the upcoming availability of HMT Release 11. With the release of this firmware, CIOs and IT managers will have a complete control over foundational level enterprise-ready security and performance of RealWear's flagship HMT-1 wearable computer.
"Ease and confidence of secure integration is everything to an IT professional looking to support the growing demand for RealWear HMT-1s in the enterprise. "This release will be included in all new purchases early next year as well as for thousands of existing customers worldwide as an over-the-air update, free of charge," said Patrick Neise, Chief Information Security Officer, RealWear.
This release is touted as very important for CIOs and IT directors since it gives them the liberty of treating RealWear's wearable device HMT-1 and HMT-1Z1, just like any other approved mobile phone or tablet in their enterprise. It adapts robustness and allows them to manage everything centrally. In addition to a full voice-controlled user interface, RealWear's HMT Release 11 includes specialized features such as:
Device Management – A central administrator can now own and manage the devices in their workforce.
Light Touch Enrollment – A user or administrator can perform a one-time scan of a QR code to quickly provision an HMT into an enterprise network.
Multi-User Support – HMT Release 11 sets the foundation for supporting multi-user environments included in coming releases.
RealWear is a knowledge transfer platform provider that helps companies in providing information and on-field training using software and hardware, thereby, improving the safety and productivity at workplace. Its flagship product, the HMT-1, is a revolutionary head-mounted, wearable, tablet computer that frees a worker's hands while performing hazardous work.
Earlier in August, RealWear acquired Kopin's Golden-i Infinity. Kopin Corporation is a provider of innovative wearable technologies and critical components for integration into wearable computing systems for military, industrial, and consumer products. This acquisition helped RealWear further strengthen its R&D and market share as Kopin's technology portfolio includes ultra-small displays, optics, speech enhancement technology, voice-interface and hands-free control software, low-power ASICs, and ergonomically designed smart headset reference systems.