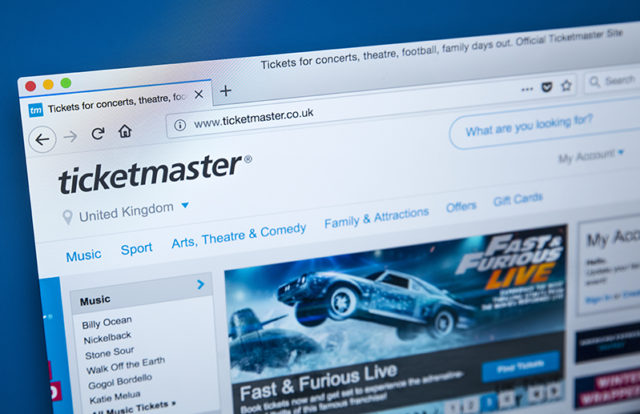 Ticketing website, Ticketmaster, became the most recent victim of a cyber attack and data breach, after hackers stole data from the website including payment information of several customers.
The website issued an alert after noticing a malicious software on a customer support product hosted by its third-party, Inbenta Technologies. "As soon as we discovered the malicious software, we disabled the Inbenta product across all Ticketmaster websites," stated the alert. Ibenta's product runs on several Ticketmaster international websites like Ticketmaster International, Ticketmaster UK, GETMEIN! and TicketWeb. Data of users' of these sites "may have been accessed by an unknown third party," it said.
Affected customers may include UK citizens who purchased or attempted to purchase tickets between February and June 23 2018, as well as international customers who purchased, or attempted to purchase tickets between September 2017 and June 23, 2018.
According to the website, "Less than 5% of our global customer base has been affected by this incident. Customers in North America have not been affected," while reports from BBC suggest that the breach has affected up to 40,000 UK customers.
The company has deployed forensic teams and security experts to work around the issue understand how the data was compromised. "We are working with relevant authorities, as well as credit card companies and banks," it said.
"After an incident like this, criminals from around the world will jump at the chance to try and catch a few unsuspecting people out," said Brooks Wallace from the cyber-security specialist Trusted Knight to BBC. "If you receive any emails purporting to be from Ticketmaster asking for any personal information, discard them. If you need to contact Ticketmaster, type the website address into your browser and log-in that way.