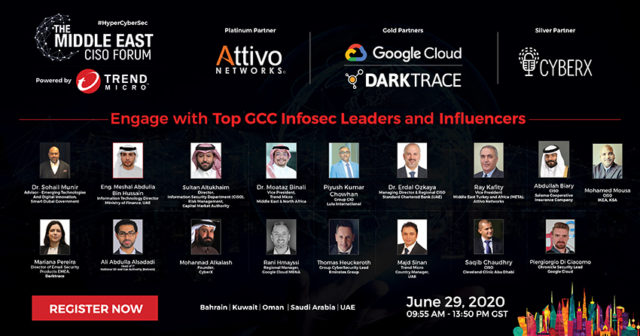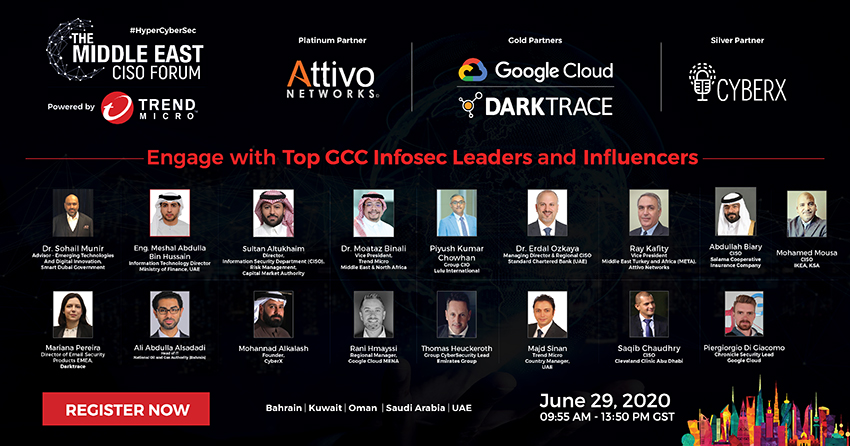 EC-Council's CISO MAG is all set to host you at their virtual Middle East CISO Forum on June 29, 2020, from 0955 hours to 1330 hours (GST).
With remote working becoming the new normal during this global pandemic, CISO MAG has decided to transform their valuable interactions into a virtual digital model.
The Middle East CISO Forum will bring together experts from across the GCC region to deliver realistic insights on redefining security frameworks and efficiently mitigating cyberthreats in the ever-changing digital realm.
With the attendance of a gamut of infosec professionals from across the GCC region and support from associations such as CXO Insights and UAE Business, the Middle East CISO Forum aims to help the cyber community stay connected and updated in the face of its ever-evolving cyber landscape.
The partners for the summit believe in this initiative too and have agreed to come together to share their thoughts during these crucial times.
Title Partner Trend Micro is a leader in hybrid cloud, endpoint, and network security solutions. It is a multinational cybersecurity and defence company and will be sharing their thoughts on Securing the Digital Transformation in the MENA Region. Platinum Sponsor Attivo too has joined this summit to share their inputs on cyber deception.
Gold Partner Google Cloud will be addressing the Blind Spots While Leveraging Artificial Intelligence and Machine Learning, which have proved to be business disrupters.
Another Gold Partner, Darktrace has been associated with CISO MAG for several years now and has been working together with them to ensure they stay connected to the market and provide solutions as per the market needs. On June 29, 2020, they will be sharing their thoughts on the Crucial Issues in Combatting Email Impersonation with AI.
Last but not the least, Silver Partner is CyberX, a platform that aims to spread cybersecurity awareness among individuals & organization by developing a variety of products. CyberX will be the joining the panel on Cybersecurity as a Transformation Enabler in an Era of Hyper Connectivity and Cloud.
While technology leaders will be addressing the technical concerns, we also have our guardians of the public sector sharing their thoughts with us. The Forum will feature special addresses by Dr. Sohail Munir, Advisor – Emerging Technologies and Digital Innovation, Smart Dubai Government and Eng. Meshal Abdulla BinHussain, Information Technology Director, Ministry of Finance, UAE. 
The event will also witness expert contributions from notable GCC leaders including Sultan Altukhaim, Director, Information Security Department (CISO), Risk Management, Capital Market Authority; Abdullah Biary, Chief Information Security Officer, Salama Cooperative Insurance Company; Thomas Heuckeroth, Group Cybersecurity Lead, Emirates Group; Saqib Chaudhry, Chief Information Security Officer, Cleveland Clinic Abu Dhabi; Dr. Erdal Ozkaya, Managing Director & Regional Chief Information Security Officer, Standard Chartered Bank (UAE); Piyush Kumar Chowhan, Group CIO, Lulu International; Ali Abdulla Alsadadi, Head of IT, National Oil and Gas Authority (Bahrain); and Mohamed Saad Mousa, Chief Information Security Officer, IKEA.
Join the dynamic Middle East CISO Community as they share their ideas, stories, and innovations with the world.
To access the full agenda, visit the event website.
To explore partnership or sponsorship opportunities, write to us at [email protected]
Stay connected, engaged, inspired, and impactful. #stayCISOMAG
About CISO MAG
CISO MAG is a publication from EC-Council, which provides unbiased and useful information to the professionals working to secure critical sectors. The information security magazine includes news, comprehensive analysis, cutting-edge features, and contributions from thought leaders, that are nothing like the ordinary. Within the first year of launch, the magazine reached a global readership of over 50,000 readers. The magazine also has an Editorial Advisory Board that comprises some of the foremost innovators and thought leaders in the cybersecurity space. Apart from this, CISO MAG also presents a platform that reach out to the cybersecurity professionals across the globe through its Summits and Awards and Power List surveys.