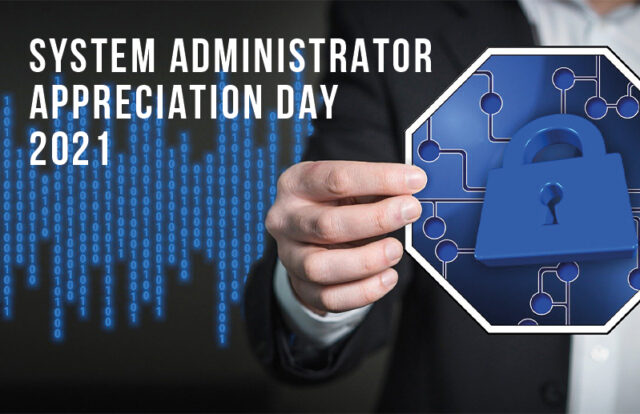 If your office computer is working fine under a secure network, it is because your system administrators work relentlessly to keep the organization running securely. The system administration personnel are responsible for various operations in an organization, such as software installations, updating computers and network systems, addressing vulnerabilities, troubleshooting, and building a security posture to provide a secure work environment.
By Rudra Srinivas, Senior Feature Writer, CISO MAG
System administrators are some of the most important employees in an organization.  And today, July 30, is celebrated as System Administrator Appreciation Day to honor and appreciate their continuous efforts towards business security.
System Administrator Appreciation Day
Ted Kekatos, a Systems Engineer at Netrix LLC, introduced the idea of System Administrator Appreciation Day after getting inspired by an advertisement in which a group of employees greets a system administrator for installing their new printer. Also known as SysAdmin Day, the System Administrator Appreciation Day is observed on the last Friday of July every year.
"Consider all the daunting tasks and long hours (weekends too.) Let's be honest, sometimes we don't know our System Administrators as well as they know us. Remember this is one day to recognize your System Administrator for their workplace contributions and to promote professional excellence. Thank them for all the things they do for you and your business," says Kekatos.
Challenges Faced by System Admins
System admins, IT, and security professionals across the globe constantly face severe challenges in their daily work life. The emergence of remote work made the situation even more difficult. It has become a challenge for system admins to secure the distributed networks amid rising cyberattacks.
According to the 2021 Netwrix Sysadmin Report, 68% of system admins stated that they are worried about the increasing number of cyberattacks and data breaches, and 66% said their workload increased as a result. Over 38% of system admins admitted that there is a lack of tools to support remote work.
Other Challenges Include:
40% of system admins admit that remote work diverted their attention away from security tasks.
29% said that they are more focused on cybersecurity than they were pre-pandemic.
79% of admins from the financial, retail, and health care sectors work more than 40 hours a week.
51% of respondents say that the average salary for system admins in the U.K. and the U.S. is lower than expected.
73% say their life would be easier if users would stop clicking on suspicious links or attachments.
Help Your System Admin
System administrators play a crucial role in protecting an organization's digital infrastructure and sensitive information from threat actors. As a responsible employee, helping system admins by following basic cyber hygiene and learning how to spot potential security risks will boost the company's security posture, eventually making the admin's job easy.
How to Become a System Administrator
Currently, it's hard to imagine a company without computers, and it's also impossible to find an organization without a system administrator. Organizations value real-world knowledge and practical IT experience. And there is no substitute for diversifying skill sets. One should not limit their knowledge to help desk and desktop support but also train in areas such as database administration, scripting, and IT security.
Skills Required:
In-depth knowledge of various computers and operating systems
Familiarity with all hardware units
Cloud administration skills
Sound knowledge of different networks
Troubleshooting expertise
Incident response handling skills
Good communication skills to present the issue to the management
In addition to these, relevant certifications will also help individuals excel in the field. One can get started with EC-Council's certifications like:
Not just today, let's appreciate our system admins every day for their valuable contribution to the cybersecurity community.
About the Author:

Rudra Srinivas is a Senior Feature Writer and part of the editorial team at CISO MAG. He writes news and feature stories on cybersecurity trends.       

Read More from the author.