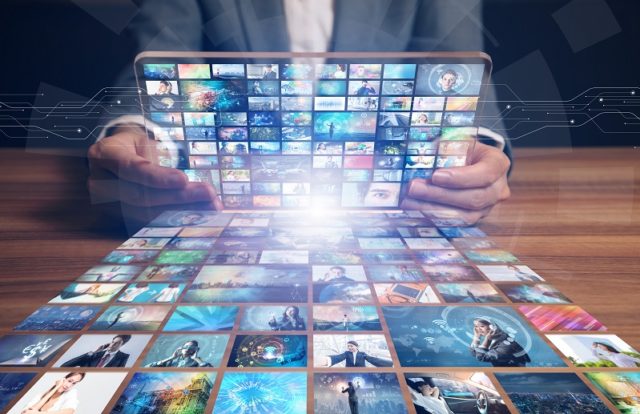 Users rely on the internet to find information about their favorite celebrities, which makes them vulnerable to various cyber risks. Cybercriminals are capitalizing on users' interest by spreading malware via search results. To highlight the same, McAfee's Annual Threat Report revealed the names of some of the top celebrities in the U.S. and India whose search links lead to malware or malicious sites.
According to McAfee, actress Anna Kendrick is the most dangerous celebrity to search online followed by veteran female leads, talk show hosts, and musicians like Blake Lively, Taylor Swift, and Jimmy Kimmel.
2020 Top 10 Celebrities in the U.S. include: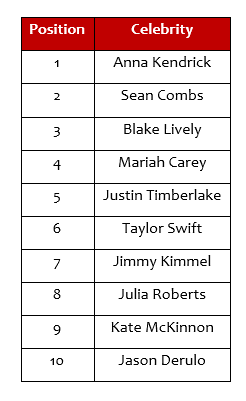 The survey also highlighted that Indians have been active online searching the internet for a wide variety of entertainment, owing to the COVID-19 lockdown. McAfee identified the top 10 popular celebrities generating the riskiest search results online in India. Football sensation Cristiano Ronaldo has topped the list, including other famous film personalities like Shahrukh Khan, Anushka Sharma, Sara Ali Khan, Sonakshi Sinha, Arijit Singh, etc. 
2020 Top 10 Dangerous Celebrities to Search Online in India: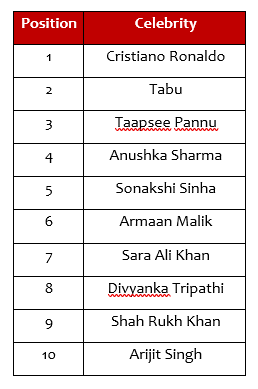 How to Stay Safe Online?
McAfee recommended certain security steps for safe online behavior, which include:
Users looking for popular coming-of-age films from the last decade, as well as updates on their favorite celebrities, should be cautious and only click on links to reliable sources. The safest thing to do is to wait for official releases and leverage legitimate TV and movie streaming platforms, instead of visiting third-party websites that could contain malware.
It is important to only use legitimate music streaming platforms, even if they come at a cost. Many illegal downloads are riddled with malware or adware disguised as mp3 files.
Safeguard yourself from cybercriminals with a comprehensive security solution. This can help protect you from malware, phishing attacks, and other threats.
Kids are fans of celebrities too, so ensure that limits are set for your child on their devices and use parental control software to help minimize exposure to potentially malicious or inappropriate websites.
"Cybercriminals use consumers' fascination with celebrity culture to drive unsuspecting fans to malicious websites that install malware on their devices, potentially putting personal information and log-in details in the wrong hands. Consumers are searching the web for free online entertainment now more than ever, and as cybercriminals continue to implement deceptive practices such as fake sites claiming to offer free content, it is crucial that fans stay vigilant about protecting their digital lives and think twice before clicking," said Baker Nanduru, VP of McAfee's Consumer Endpoint Segment.