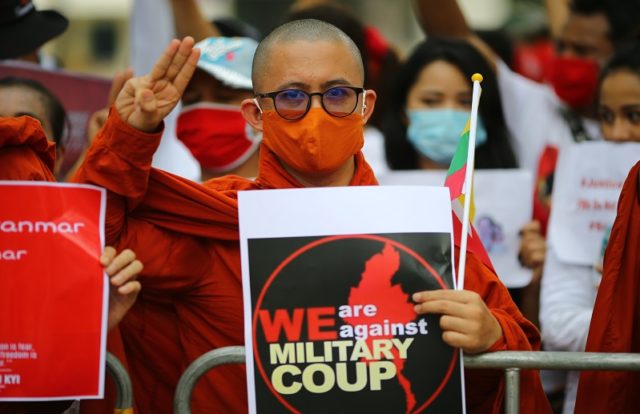 In what has been indicated as a draconian and punitive move, Myanmar's military junta has drafted a cybersecurity bill that has caused an uproar among human rights campaigners. According to several activists, the new law will grant authorities sweeping powers over the internet including allowing the military to ban content it dislikes, restrict internet providers, and even intercept data.
The 36 pages outlining the proposed laws, which was sent to telecom operators and Internet Service Providers for review was leaked online, and nearly 158 civil society organizations have condemned the attempt by the military-controlled state to establish this law.
"The so-called bill includes clauses which violate human rights, including the rights to freedom of expression, data protection, and privacy, and other democratic principles and human rights in the online space," said the statement, according to Reuters.
Cyber-security laws floated by Myanmar's new junta to allow it to ban content it dislikes, restrict internet providers and intercept data would violate human rights, civil society organisations said. https://t.co/NmW2rKkuwO #WhatsHappeningInMyanmar pic.twitter.com/5MFMOEJsUE

— Matthew Tostevin (@TostevinM) February 10, 2021
According to the Reuters report, the bill instructs internet providers to prevent or remove content deemed to "cause hatred, destroy unity and tranquility" to be "untruthful news or rumors" or to be inappropriate such as pornography.
The cybersecurity draft bill comes weeks after the democratically elected leader Aung San Suu Kyi was arrested in a military coup on February 1, 2021, by the Tatmadaw (the official name of the armed forces of Myanmar). Following the coup, the military rulers immediately banned Facebook, Twitter, and other social media platforms for the next couple of days where its critics had voiced opposition, and again banned the internet the following weekend. With 21 million Facebook users in Myanmar accounting for almost 40% of its population, Facebook is indeed the main portal to the internet for many.
The nation erupted in protests and violence in many parts after several young law students condemned the actions by the army online and in public demonstrations. According to the United Nations human rights office, more than 350 people, including officials, activists, and monks, were arrested.
Far from losing steam, it looks like today is the largest protest turnout yet #WhatsHappeningInMyanmar pic.twitter.com/N6R1ThcSIh

— Andrew Nachemson (@ANachemson) February 12, 2021
The military takeover was condemned globally with U.S. president Joe Biden announcing sanctions on the junta's leaders and freezing $1 billion of Myanmar government assets held in the U.S.