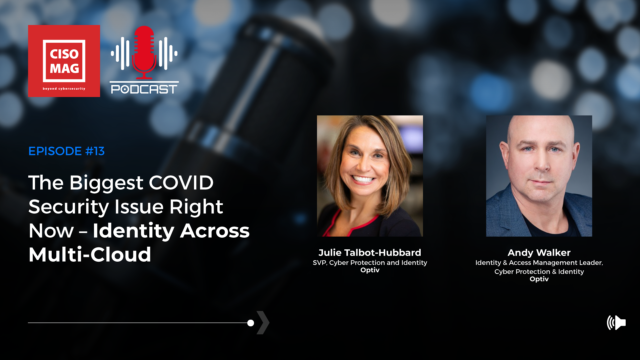 The COVID-19 pandemic transformed the way businesses adapted to the new normal of working from home, leveraging the cloud strategy to meet rising demands across all business channels. Most organizations migrated across multiple clouds, compromising their security infrastructure. And now that they are working towards addressing these security concerns, a new challenge has set foot: Multi-Cloud Identity Management.
This is a major problem because identity and access management (IAM) have emerged as a cornerstone of modern cybersecurity programs – and it has become even more important in today's COVID-driven "digital workplace," where people can work from anywhere.
While several companies looked for IAM technology vendors that supported multi-cloud management of identities where the native tools offered by the cloud platform vendors worked for multi-cloud infrastructure, several of them found themselves stuck in the sand. To dive deeper into the subject, Augustin Kurian, former Assistant Editor of CISO MAG discussed the IAM and PAM trends with Julie Talbot-Hubbard, SVP, Cyber Protection, and Identity, Optiv, and Andy Walker, Identity and Access Management Leader, Cyber Protection and Identity at Optiv.
RSS: https://feeds.soundcloud.com/users/soundcloud:users:899202688/sounds.rss
Spotify: https://open.spotify.com/show/7pBhvwEVAaL4uUJnzD5rWO
Julie has nearly 20 years of experience in information technology, cybersecurity, and data management across numerous industry verticals. In her current role, she is accountable for developing and implementing Identity, Risk, and Data Protection services leveraging security partner solutions to protect the organization's most critical assets while ensuring a secure, compliant, and uniform digital experience.
Julie has held key transformative CISO and Data Leadership positions at Symantec, the Ohio State University, Cardinal Health, JP Morgan Chase, Nationwide Insurance, and SunTrust Bank. Her focus was establishing and aligning global security and data strategies while leading the implementation of Security and Data capabilities to reduce each organization's cyber risks exposure while enabling them to maximize their data to grow revenue, product evolution, and consumer delight.
Currently, Julie is serving on several industry boards: The Identity Defined Security Alliance, Cyberstarts and ForgePoint Capital. Supporting one of her passions, Julie is an active Board member of Women in Technology (WIT), Optiv's Diversity and Inclusion, and Optiv Women's Network.
Julie is also vocal about the ongoing issues about gender diversity in cybersecurity and how they can be fixed.
Andy Walker, on the other hand, is a seasoned cybersecurity solutions and services leader with more than 18 years of experience, from consulting with the Fortune 100 to running global cybersecurity in various industry verticals. He brings a unique and diverse perspective on how identity can be leveraged as the center of any cybersecurity strategy and digital transformation journey.