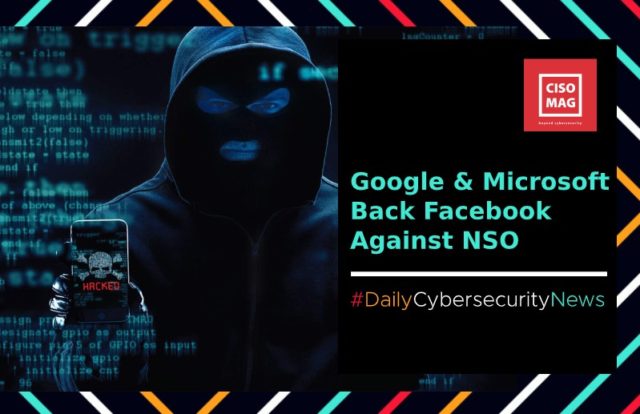 Facebook has been at loggerheads with Israel-based hacking company NSO since last year. It has accused the NSO of exploiting a bug in WhatsApp that wrongfully rendered them rights to surveil more than 1,400 people. NSO has since maintained that its products are strictly used to curb crime and combat terror. However, some reports suggest it has been using the proprietary spyware – known as "Pegasus" – against top lawyers, reporters, and even nutritionists. Noting this as a grievous issue, other tech companies, namely, Google, Microsoft, CISCO, and Dell Technologies-owned VMware have now announced their support towards the social media giant.
Related News:

Facebook sues NSO Group for violating Computer Fraud and Abuse Act
NSO Claims "Sovereign Immunity"
In April 2020, the NSO group filed a request to dismiss the lawsuit pressed by Facebook arguing that it provided hacking tools to police and spy agencies around the globe, and hence, it should be granted "Sovereign Immunity" as foreign governments enjoy in any lawsuit.
The basis of NSO's arguments was made on two grounds:
The Foreign Sovereign Immunities Act (FSIA): The law that limits whether a foreign state can be sued in U.S. court.
Federal Rule of Civil Procedure 19 (Rule 19): The rule that governs the joinder of parties in civil lawsuits.
The justification provided was not enough and found unfit on both counts. The appeal was correspondingly dismissed by the Northern District of California in July 2020. The NSO has, however, filed once again with the Ninth Circuit for overturning this ruling.
Why Other Tech Giants Support Facebook
Based on a Citizenlab report,  four Pegasus operators had successfully abused an exploit chain known as "KISMET." KISMET exploited a zero-day vulnerability in the then-latest iPhone 11 iOS 13.5.1. The targets of these operators were 36 personal phones of Al Jazeera employees, including journalists, producers, anchors, and executives. Facebook found the same vulnerability being abused in its case as well; however, the number of targets grew to 1,400.
Considering the NSO's client base, the targeted numbers unearthed until now are only a fraction of the actual number. Fearing this and the subsequent violation of human rights, other tech giants have joined forces with Facebook to argue against granting sovereign immunity to the NSO. In a brief argument filed with the Ninth Circuit, they said,
"

This would lead to a proliferation of hacking technology, and in the foreseeable future, we will have more foreign governments with powerful and dangerous cyber-surveillance tools. That, in turn, means dramatically more opportunities for those tools to fall into the wrong hands and be used nefariously.

"
It will now be interesting to see whether the U.S. court still agrees with the argument presented by Facebook and other tech giants or accepts the defendant's plea of overturning the previous ruling and abolishing the lawsuit altogether.