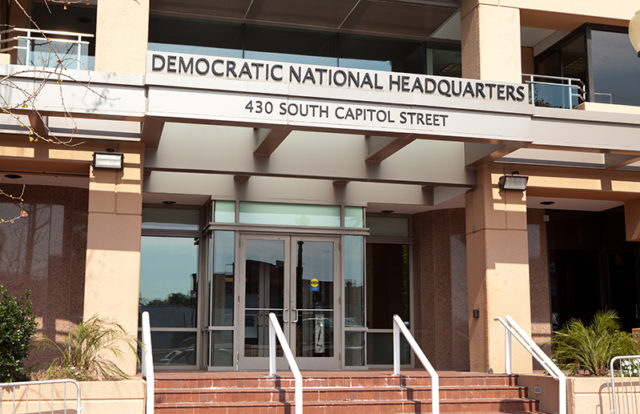 The Democratic National Committee (DNC) clarified that the suspected hacking attempt on its voter database was actually a simulated phishing test and not the work of cyber criminals. The party officials stated that the mishap was caused due to lack of communication between the DNC and one of its state branches.
"We have taken heightened steps to fortify our cybersecurity especially as the Trump Administration refuses to crack down on foreign interference in our elections. In an abundance of caution, our digital partners ran tests that followed extensive training. Despite our misstep and the alarms that were set off, it's most important that all of the security systems in place worked," Brandon Dillon, the chair of the Michigan Democratic Party, said in a statement.
On Wednesday, the DNC announced that they've stopped a cyber-attack on its party's website VoteBuilder after cybersecurity firm Lookout and cloud service company DigitalOcean notified them about the incident. Briefing Democrats on the unsuccessful attack, the DNC's chief security officer Bob Lord said, "These threats are serious and that's why it's critical that we all work together, but we can't do this alone. We need the (Trump) administration to take more aggressive steps to protect our voting systems. It is their responsibility to protect our democracy from these types of attacks. This attempt is further proof that there are constant threats as we head into midterm elections and we must remain vigilant in order to prevent future attacks."
However, now it became clear that the apparent hack was not what it seemed after the investigation.
"We have continued to investigate the phishing site reported to the DNC yesterday. We, along with the partners who reported the site, now believe it was built by a third party as part of a simulated phishing test on VoteBuilder. The test, which mimicked several attributes of actual attacks on the Democratic party's voter file, was not authorized by the DNC, VoteBuilder nor any of our vendors." Bob Lord said in a statement.
"There are constant attempts to hack the DNC and our Democratic infrastructure, and while we are extremely relieved that this wasn't an attempted intrusion by a foreign adversary, this incident is further proof that we need to continue to be vigilant in light of potential attacks," he added.