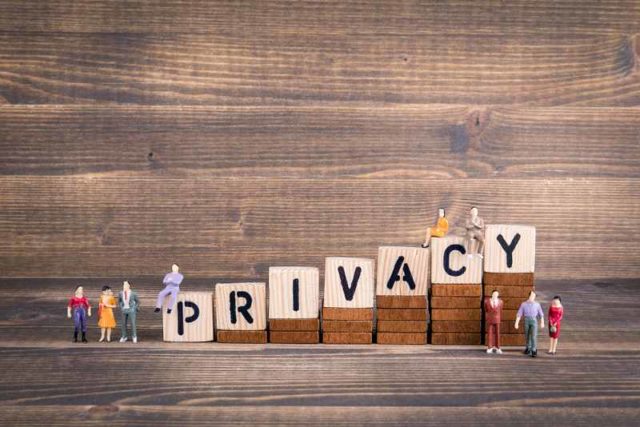 Stories about data leaks from social media sites surface with alarming regularity these days. And it's not just social media. Stock exchanges, credit card companies, banks, payment processors, airline companies, and other businesses have also experienced data breaches — their customer data has illicitly fallen into the wrong hands, making it easily available for sale on the dark web. A 2019 survey by PCI Pal shows that 44% of Americans, 38% of Brits, 33% of Australians, and 37% of Canadians have been the victims of a data breach. Studies show that consumers across the globe take a serious view of data privacy and are quick to abandon a service provider and move to a competitor when they hear that their databases and infrastructure have been compromised. That can have a major impact on the topline of the affected company. Besides, their share price and reputation would be tarnished. According to the Ponemon Institute's Cost of a Data Breach Report, the average cost of data breaches in 2020 was $3.86 million.
Data is a key asset of any business today. As we move towards Industry 4.0 and digital business, investing in data protection is crucial for businesses today. They need to assure their customers that their data is being collected, processed, and transferred securely.
However, businesses need to implement a data privacy principle that adheres to international privacy laws and data protection requirements. Therefore, most organizations that enforce strict privacy laws get a reduced number of data breaches.
What is data privacy?
"Data Privacy," also called "Information Privacy," is the technical aspect of information security that deals with the ability of an organization to handle PII, or an individual's right to determine what kind of data can be collected/stored on a computer system and can be shared with third parties.
Privacy is an individual's fundamental right to have control over the collection, usage, and dissemination of PII.
Personally Identifiable Information (PII) – The Information that directly or indirectly identifies an individual. For instance: name, address, date, and place of birth, National Identity Number, biometrics (e.g., photo, fingerprint, iris, etc.).
What Is the Difference between Data Security and Data Privacy?
People and organizations sometimes confuse Data Privacy for Data Security. Both pertain to PII but are distinct concepts. Data Privacy is about the control (related to usage and governance) over PII, such as policies and procedures being established to ensure that PII is collected, stored, used, and shared appropriately.
Data Security is about ensuring that technical controls (related to confidentiality, integrity, and availability) are implemented to protect PII from malicious cyberattacks. In other words, Data Security is a technical aspect of PII, whereas Data Privacy is a legal aspect. 
Why is Data Security and Privacy important?
There are many reasons why data security and privacy are important for organizations. Some of them are:
It helps reduce the number of data breaches that an organization can suffer
It helps prevent loss of revenue
It helps protect customer's privacy
For maintaining and improving brand value
It supports an organization's code of ethics
It gives a competitive advantage over other business
For these reasons, businesses are investing more in data protection and career opportunities are opening up. Here are some of the type of jobs available in this field.
Top Data Protection Jobs
Data Security Specialist
Job role: They help the organization provide data protection and security against cyberattacks and analyze data breaches and network failures.
Average salary: $76,000
Data Controller
Job role: They help the organization to determine the purposes and ways to process personal data.
Average salary: $41,531
Data Protection Officer
Job role: They provide technical assessment, analyzing personal data, risk assessment, and mitigating data breaches for organizations.
Average salary: $85,286
Cybersecurity Analyst
Job role: They help protect, detect, prevent, and manage cyberthreats.
Average salary: $75,891
How can Data Protection training help you stand out?
This training qualifies you to:
Advise staff on their data protection responsibilities
Advise management on whether data protection impact assessments (DPIAs) are necessary
Monitor your organization's data protection policies and procedures
Serve as a point of contact for individuals on privacy
Serve as a point of contact between the organization and its supervisory authority
What courses can I take for data protection training?
There are several training courses offered by EC-Council's CodeRed that can help you leverage data protection compliance at all levels in your business operations:
Build A Secure and Unbreakable Business Environment
The Ultimate Privacy by Design MasterCourse (GDPR, CCPA, etc.) helps protect private information that can have vital implications for everyday life. The best way businesses can go about this is by creating a privacy culture. Therefore, Privacy by Design, a decades-old application design, and development strategy, is now used as a foundational strategy for entire organizations.
Furthermore, the major goal of Privacy by Design is to develop best practices that ensure application developers build privacy into their products from the beginning to the end. In this course, you will learn about the correct privacy-by-design process to help your organization comply with many regulations. This means you will learn how to build things that people can trust.
Learn more about this course here.
Successful Implementation of Data Protection in your Enterprise
Learn How to Succeed in a Data Protection Officer Role-(GDPR-DPO). The General Data Protection Regulation (GDPR) is a privacy protection law with far-reaching implications. Before an organization can be compliant with the GDPR, significant structural changes need to be made. Therefore, organizations need a data protection officer (DPO) to keep up with the GDPR.
In this course, you will understand the requirement and role of a DPO. You will also gain intensive knowledge on ways to implement GDPR and ways to ensure the organization follows the compliance requirement and technical assessment needed for data privacy.
Learn more about this course here.
Design, Implement and Comply with Data Protection Laws
In this course, you will learn how to Build EU GDPR Data Protection Compliance from Scratch (CIPT). Learn about the basic understanding of GDPR foundations, the concepts of data privacy and GDPR compliance, and its documentation process that you can reuse and adopt for your organization. You will also be able to identify vulnerabilities and take measures for maintaining privacy.
The course also talks more about the role of a Data Privacy Officer and its importance. Furthermore, at the end of the course, you will be proficient in developing a basic knowledge of the GDPR and ways it can affect your organization.
Learn more about this course here. 
Ensure GDPR-regulated Data Protection in the Face of an Incident
Data breaches in organizations are becoming a common occurrence, and there is a need to eliminate them to avoid losses. In this course, you will learn how to Build a Security Incident Response Plan for GDPR Data Protection. Learn about the similarities between security incident response and GDPR data privacy act. Furthermore, you will get an insight into the ways of applying different security processes, methodologies, and frameworks in your organization.
The major highlight of this course is that you will learn how malware works and will be able to draft incident response procedures.
Learn more about this course here.
Learn from the Past to Ensure a Safer Tomorrow
The course, GDPR Privacy Data Protection Case Studies Explained, can be best described as a follow-up for the other GDPR courses. In this course, you will learn how to identify and implement real-world scenarios and get hands-on experience about ways to follow compliance, the challenges, and how to overcome them.
You will also learn how you can start a privacy program, who to ask, what to ask, and in what order. The course's highlight is that you will learn how you can look for compliance issues and how to address them. Furthermore, you will also learn the role and importance of a data protection officer (DPO).
Learn more about this course here.
Learn to comply with CCPA
The California Consumer Privacy Act (CCPA) is a data privacy law that took effect in the state of California on January 1, 2020. In this course, you will understand how to operationalize the CCPA and the amendments published to the law. Furthermore, you will learn how to draft a privacy policy under the California Consumer Privacy Act and the ways to transfer to third parties.
The California Consumer Privacy Act (CCPA) – the complete course also explains consumer rights and ways to access their data under the act.
Learn more about this course here.