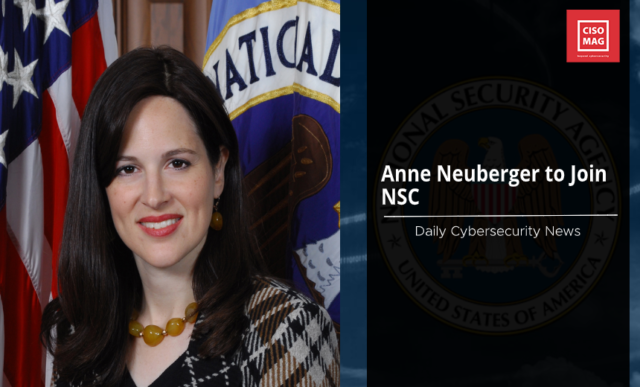 If diversity were a feather, Joe Biden's pick for staffers would look like a bird. The incoming President of the U.S. has plans of appointing Anne Neuberger to the newly formed National Security Council (NSC). According to reports from Politico, Neuberger will be departing from her role as the director of cybersecurity of NSA and will take on a senior position at the NSC. Neuberger is a decedent from a Jewish Orthodox community-based in Baltimore.
Prior to her role as the director of cybersecurity at the NSA, she led NSA's Election Security effort and served as Assistant Deputy Director of NSA's Operations Directorate, where she led NSA's foreign intelligence and cybersecurity operations.
Her previous roles also include NSA's first Chief Risk Officer; Director of NSA's Commercial Solutions Center; the Navy's Deputy Chief Management Officer; and a White House Fellow, working for Secretary of Defense Robert Gates. Prior to joining government service, Anne was Senior Vice President of Operations at American Stock Transfer & Trust Company (AST), where she was responsible for directing operations, including dividend distributions, complex mergers, and acquisition processing for approximately 2,000 publicly traded companies. In 2017, Anne was awarded a Presidential Rank Award for her service at the National Security Agency.
The appointment also highlights the President-elect's posture on cybersecurity. Earlier, the outgoing president Donald J. Trump had eliminated the role of cybersecurity coordinator in 2018. With this new appointment, it can be safely said that cybersecurity might be re-elevated as a national security priority in the coming years.
"The National Security Council plays a critical role in keeping our nation safe and secure. These crisis-tested, deeply experienced public servants will work tirelessly to protect the American people and restore America's leadership in the world. They will ensure that the needs of working Americans are front and center in our national security policymaking, and our country will be better for it," said President-elect Joe Biden.
Recently, Biden and Vice President-elect Kamala Harris had announced a slew of cybersecurity appointments for the NSC. These included:
Yohannes Abraham, Chief of Staff and Executive Secretary
Sasha Baker, Senior Director for Strategic Planning
Ariana Berengaut, Senior Advisor to the National Security Advisor
Tanya Bradsher, Senior Director for Partnerships and Global Engagement
Rebecca Brocato, Senior Director for Legislative Affairs
Elizabeth Cameron, Senior Director for Global Health Security and Biodefense
Tarun Chhabra, Senior Director for Technology and National Security
Caitlin Durkovich, Senior Director for Resilience and Response
Jon Finer, Principal Deputy National Security Advisor
Juan Gonzalez, Senior Director for Western Hemisphere
Sumona Guha, Senior Director for South Asia
Ryan Harper, Deputy Chief of Staff and Deputy Executive Secretary
Peter Harrell, Senior Director for International Economics and Competitiveness
Emily Horne, Senior Director for Press and NSC Spokesperson
Shanthi Kalathil, Coordinator for Democracy and Human Rights
Andrea Kendall-Taylor, Senior Director for Russia and Central Asia
Ella Lipin, Senior Advisor to the Principal Deputy National Security Advisor
Brett H. McGurk, Coordinator for the Middle East and North Africa
Melanie Nakagawa, Senior Director for Climate and Energy
Carlyn Reichel, Senior Director for Speechwriting and Strategic Initiatives
Amanda Sloat, Senior Director for Europe
"This outstanding team of dedicated public servants will be ready to hit the ground running on day one to address the transnational challenges facing the American people — from climate to cyber. They reflect the very best of our nation, and they have the knowledge and experience to help build our nation back better for all Americans," said Kamala Harris.
Even during his election campaign, as the presumptive Democratic nominee for President, Biden had hired former White House cybersecurity official Chris DeRusha as the CISO for his campaign and Jacky Chang as Chief Technology Officer.