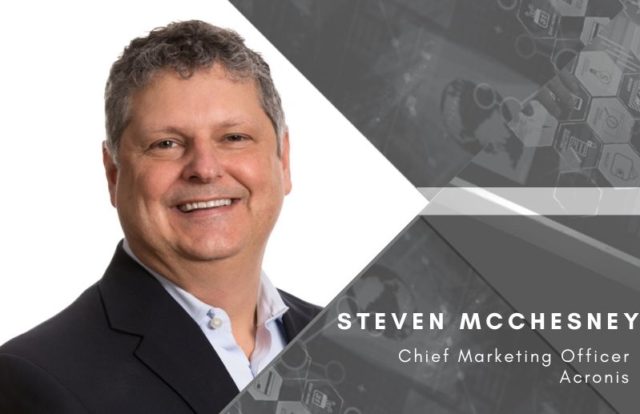 Swiss-Singaporean cybersecurity firm Acronis has announced the appointment of industry veteran Steven McChesney as Chief Marketing Officer. In his new role, McChesney will be instrumental in helping Acronis build awareness around the importance of cyber protection, while also spearheading overall marketing strategy for the firm.
McChesney is an industry veteran who has an experience in client-facing roles and served several leadership positions at F5 Networks, Druva, and Visio. He also held roles in Midisoft and Egghead Software.
"I look forward to working closely with the Acronis team on the expansion of a new industry category – cyber protection. It's clear that traditional backup practices are no longer sufficient, making cyber protection necessary," said McChesney.
"Steven McChesney will help to extend our global leadership in cyber protection and bring Acronis' marketing to the next level," said Acronis Founder and CEO Serguei "SB" Beloussov.
Acronis offers cyber protection, solving safety, accessibility, privacy, authenticity, and security (SAPAS) challenges with innovative backup, disaster recovery, and enterprise file sync and share solutions to enterprises in hybrid cloud environments and on-premises.
Last September, the company secured $147 million in an investment round led by Goldman Sachs reaching to the valuation of over one billion dollars. Serguei Beloussov stated the new proceeds will be used to expand the company's engineering team, build additional data centers, grow its business reach in North America, and pursue acquisitions.
"In 2018, Acronis achieved 20% business growth, and in 2019 it is on track for over 30% growth with the Acronis Cyber Cloud business growing by over 100%. Recently we announced the Acronis Cyber Platform, enabling third-parties to customize, extend, and integrate our cyber protection solutions to the needs of their customers and partners. The investment round led by Goldman Sachs will help us to fast-track the product development through acquisitions of companies and additional resources, and accelerate the growth." he said.