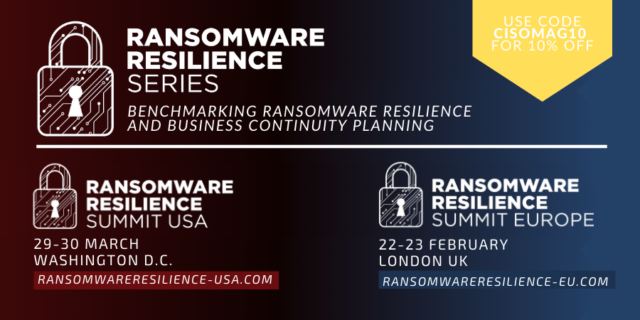 Ransomware attacks have surged 311% in the past year with a business now being attacked every 11 seconds. From crippling the Irish healthcare system and shutting down 45% of the eastern United States' fuel supply to stopping manufacturing and production lines globally, attacks are hitting hard. Experts will gather at the two Ransomware Resilience Summits to discuss resilience and mitigation strategies.
Ransom demands have surpassed £50 million, and the average cost of recovery is around 10 times the size of the ransom demanded. The 2022 Ransomware Resilience Summit Series will bring organizations and their expert advisors together across 2 events in London and Washington to benchmark resilience and business continuity planning, share lessons learned and enable businesses to better protect themselves.
Are you fully confident in your organization's ability to detect and defend against a ransomware attack?
Join us alongside leading cybersecurity experts from Europol, TikTok/ByteDance, Trainline, Prudential, HMRC, Wiley, Aston Martin, Microsoft and Barclays to learn how to identify cybersecurity threats and ensure strong mitigation plans; determine internal roles and responsibilities; practice cybersecurity hygiene as an organization; and apply lessons learned from past victims.
---
Ransomware Resilience Series
22 – 23 February | London
29 – 30 March | Washington DC
---
Download European Agenda
Download USA Agenda
With tickets starting at just £499, you could potentially save your business millions of pounds if you register today. Apply your exclusive discount code 'SWCRC20' at checkout to save an additional 20% on your ticket price. With ransomware attacks being the most prominent malware threat to businesses and ransom costs already passing $20 billion globally, can you afford not to attend?
Register now for our European Summit
Register now for our USA Summit
Pre-Event Workshop
Join us at our pre-event workshops (21 February, London | 28 March, Washington) with Linklaters and Mandiant to explore best practices and strategies for assessing incident response plans, looking at how organizations can better be equipped at building, growing, and adapting their action plans ahead of an attack.
For more information on our European Summit click here
For more information on our USA Summit click here
For sponsorship opportunities, please contact Ellis at [email protected]
---
SPONSORED FEATURE