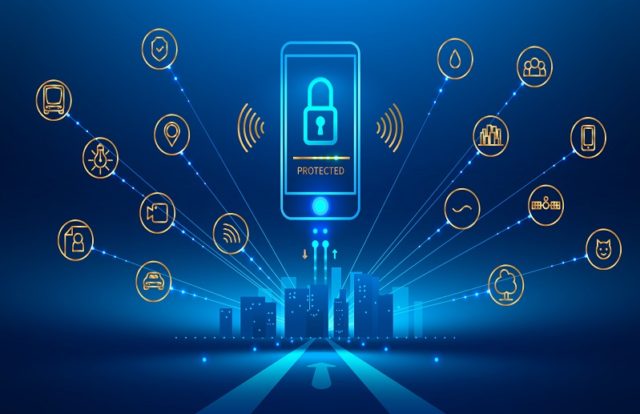 Contributed by Anoop, Grand View Research
Over time, technological advancements have created tools and resources that have enabled users to get all useful information at their fingertips. One such technology is IoT, which connects everything to the Internet. It has not only helped in improving the connected lifestyle, by delivering several benefits to individuals, but also created new business values for organizations. The application of IoT in several verticals has enabled users to interconnect everything, from sprinkler systems to refrigerators. However, drawbacks such as the possibility of creating new attack vectors for hackers have led to growing concerns among users. IoT devices are expected to gain more popularity than smartphones in future. These devices would have the ability to collect and share data which could potentially be misused for personal gains. Moreover, IoT devices would have access to private data such as banking information and social security number. In light of the importance of what these devices have access to, it is crucial to understand their security risk across the network, cloud, and application areas.
According to IoT Security Market study by Grand View Research, the security type segment was valued at USD 1,242.3 million in 2017 and is expected to reach USD 9,881.2 million by 2025.
IoT involves four significant steps — capturing data using sensors, processing the captured data, connecting the data to the network, and making use of the information to improve the productivity of smart applications. Allowing devices to connect to the Internet makes them prone to serious vulnerabilities if not adequately protected.
IoT security is a technology area that focuses on protecting networks and connected devices in the Internet of things. These devices are the number one target for cyberattacks, surpassing application & web servers, databases, and email servers. Security is an essential factor to consider for operating IoT devices or systems, particularly for the industrial Internet. An additional aspect that has triggered the growth of IoT is the concept of Industry 4.0. It is described as the latest revolution in manufacturing, powered by IoT technology and smart factories.
The growing demand for enhanced privacy is driving the growth of IoT security market. Increasing government efforts are being made to implement stringent regulations for limiting the volume of data being collected by IoT devices in industries such as retail, BFSI, and healthcare. This is a prominent factor that is expected to boost the market growth. Additionally, configuring the necessary/next-generation security features, increasing transparency, and providing consumers with a choice to opt-out of data collection option are some key factors that are likely to drive the market growth in the next five years.
Common attacks in the IoT ecosystem include steal key certification, fake firmware, and data breaches. Besides, IoT is a growing market and many product designers and manufacturers are more interested in getting their products to the market quickly. As a result, security is of least importance during the design phase of a product.
IoT network security is more challenging as compared to the traditional network security as it involves a broader range of standards, communication protocols, and device capabilities, thereby increasing complexity.
The IoT security market is characterized by the presence of major dominant players such as Cisco Systems Inc., IBM, Symantec Corporation, Gemalto NV, and McAfee, LLC. Companies are focusing on enhancing their product portfolios to stay ahead in this competitive market.
Drivers
High number of ransomware attacks on IoT devices
The rise in the adoption of IoT has increased the potential of cyberattacks. Cybercriminals seek to exploit susceptibilities in smart devices manufactured with poor security practices. It is estimated that over 30 million IoT attacks were done in 2018, an increase of 200% than that recorded in 2017.
By the end of 2025, approximately 30 billion devices are expected to be connected to the Internet. This has led to the growing need for avoiding ransomware attacks and reinforcing security. Additionally, the increasing adoption of cloud-based technologies by a large number of organizations for storing confidential data has given rise to the risk of unauthorized data access. Moreover, the growing trend of Bring Your Own Device (BYOD) has led to increased concerns regarding the security of data among enterprises and organizations. This, in turn, has unfolded numerous opportunities for security providers to offer effective security solutions, such as device and data security, implementation of security operations at IoT scale, and meeting compliance requirements along with performance requirements.
Growing number of IoT security regulations
The growing popularity of 3G and 4G networks and wireless technologies has led to an increasing number of cyberattacks. In order to address this, governments across the globe is focusing on implementing stringent regulations regarding data security and privacy. Advancements in technology have led manufacturers to connect consumer goods, right from toys to lights and other major appliances, to the Internet. This indicates that there is a wide range of exposure to potential vulnerabilities with multiple attack surfaces, making it easier for hackers to gain control. Thus, implementation of IoT security regulations to safeguard data is anticipated to enhance the use of IoT enabled devices.
Various regulations have been introduced to strengthen the security of IoT devices and avoid misuse of data. For instance, in September 2018, California was the first state to pass a law addressing the security of connected devices. The law, which is likely to come into effect by 2020, has mandated manufacturers to equip their internet-connected devices with sound security features. Moreover, the Federal government has introduced the IoT Cybersecurity Improvement Act of 2019 to encourage cybersecurity practices for IoT devices. The act would also help in preventing the use of any default passwords for IoT devices sold to the U.S. government. Moreover, it would offer a mechanism to patch the devices and not have any known vulnerabilities.
The opinions expressed in this article are the personal opinions of the author. The facts and opinions appearing in the article do not reflect the views of CISO MAG and CISO MAG does not assume any responsibility or liability for the same.