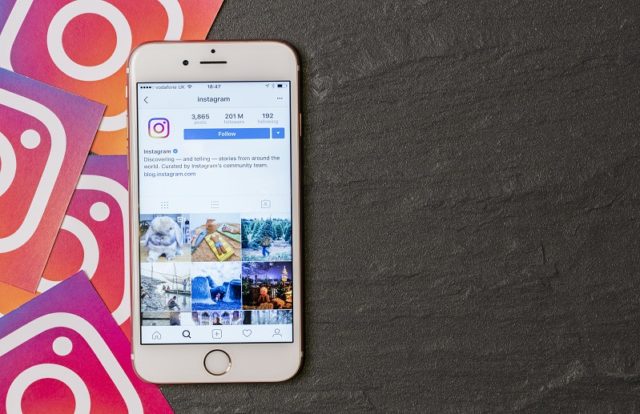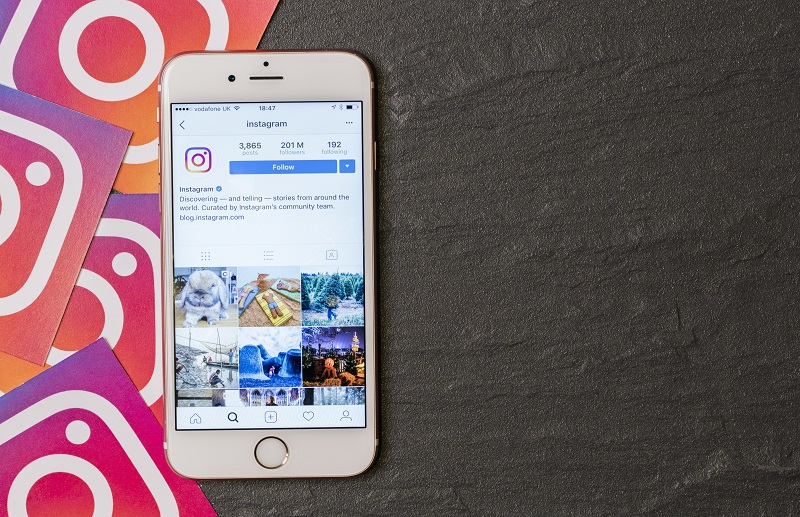 Instagram is currently hands-down one of the most popular photo-sharing platforms in the world. With more than 1 billion users (1.16 billion as of Q3 2020) of which 500 million are active daily users posting "Stories" – one of Instagram's most utilized features – it is topping all charts. The user and gender demographics of Instagram also make it a hotspot for marketers. According to recent statistics, 70% of Instagram users are aged under 35, and 51% of the total are from Venus (pun intended; we mean female). Also, a whopping 130 million users tap on shopping posts every month, and it does not end there. 81% of users say that they use Instagram to research products and services.  But have you ever wondered how do these product and service marketers and business accounts reach your feed in the first place? We have an answer; you may not like it, but you need to hear it. It is because Instagram shares 79% of users' personal data with third parties.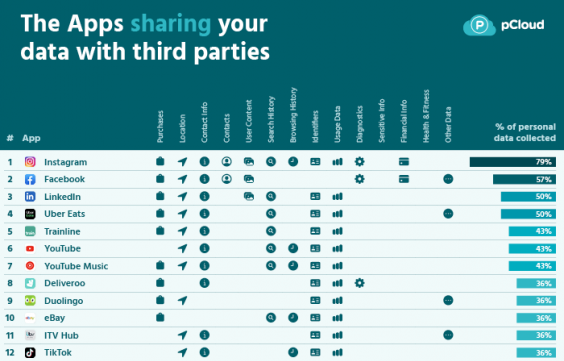 Surprisingly, TikTok, which has been banned by India and came under severe criticism of the former U.S. President Donald Trump, shares only 36% of data with third parties and ranks 12th on the list.
 Key Highlights 

52% of all the apps share your data with third parties.
Instagram shares 79% of your data including browsing history and personal information with others online.
When it comes to collecting your data, social media platforms are the worst offenders. On average 80% of apps use your data to market their products in their respective apps.
Netflix, Signal, Microsoft Teams, Skype, and Clubhouse top the list of safest to use apps.
Instagram: The Most Invasive App?
Did all these numbers break your heart? Well, if not, then be prepared for one more strike of lightning. A study by cloud storage platform, pCloud, has dubbed Instagram as the most invasive app. Instagram shares this title with its parent company Facebook since both use 86% of its users' data to sell more of their products and serve relevant ads to them on behalf of their clients.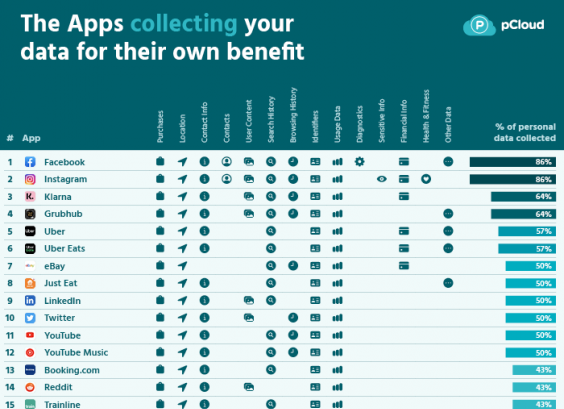 Also, when it comes to the percentage of data shared with third parties and used to target users for marketing purposes, Instagram again takes the first spot here with 62%.
Mirror-Mirror on the Wall, Who is the Safest of them All?
pCloud's study was mainly based on the new Apple privacy labels that are featured in the App Store and aimed at finding how and where users' private data is being gathered and used. In doing so, the company also found the safest apps which collect the least data from users and/or share or use it for marketing purposes.
Statistics revealed that privacy-centric messaging apps like Signal and Telegram, video conferencing and calling platforms like Zoom, Skype, and Microsoft Teams as well as streaming giant Netflix top the list of the safest to use apps. Clubhouse, Google Classroom, Shazam, Etsy, BooHoo, Amtrak, Shop, and IRS2Go are the list of other apps that do not share any data with third parties.
Related News:

WhatsApp vs Signal vs Telegram: Which is More Viable and Secure?

Data Scraped from Instagram, TikTok and YouTube Exposes 235 Mn Social Media Profiles