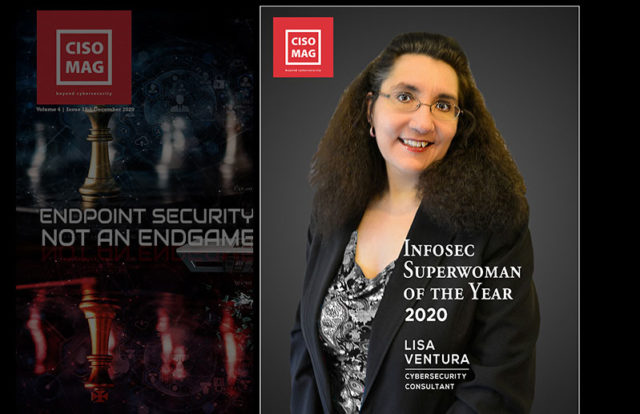 The CISO MAG Infosec Superwoman of the Year recognition honors the most influential women in cybersecurity. These are women who have, over the years, been committed to bringing awareness into the realm of cybersecurity – to whom the information security industry is profoundly indebted. The parameters of selection include experience, contribution to industry, spreading cybersecurity awareness, authorship, speaking roles, awards & recognitions, influencer status, and patents.
Lisa Ventura is an award-winning cybersecurity and content marketing consultant whose career spans over 23 years in PR marketing, technology, and cybersecurity. She entered the cybersecurity industry in 2009 when she became the Chief Operations Officer/PR & Marketing Director at Titania Ltd., a leading cybersecurity software development company in the U.K.
During her time at Titania, she saw the company grow from a tiny start-up to a successful small business with members of staff, offices, and a network of distributors and resellers globally.
Since her time at Titania, Lisa has utilized her expertise in cybersecurity in many other organizations including BT, and more recently as Cyber Security Awareness Professional.
Lisa is a published author and has recently contributed articles to Counter Terror Business Magazine, Europa Business Magazine, and the BPMA Magazine amongst others. Her book entitled "The Rise of the Cyber Women," which is a collection of interviews and accounts from some of the most inspiring women in the cybersecurity industry today, was released in August 2020.
She also has other books in the pipeline including "Picking Apart The Threads: How One Docu-Film About Nuclear War Influenced a Cold-War Generation," which was conceived through her strong interest in all things related to nuclear war.
As the Founder and CEO of the U.K. Cyber Security Association, Lisa is known for her expertise as a thought leader and commentator. The U.K. Cyber Security Association is a not-for-profit organization that raises awareness of the importance of cybersecurity for small businesses and SME's and provides education on the growing cyberthreat to individuals and businesses. As a result of this work, Lisa is also in high demand as a speaker and panelist at various cybersecurity, technology, and IT conferences and events.
Neurodivergent and proud, Lisa is a strong advocate of all things related to neurodiversity since she was diagnosed as being #ActuallyAutistic in June 2018. She is also a strong supporter of promoting cybersecurity as a career path to those who are autistic and neurodivergent and is a mentor to those who are considering entering the cybersecurity and marketing industries. In addition, Lisa is a strong business mentor for Women in Business, Women in Cyber Security, Women in Tech, and more.
---
Our December issue on Endpoint Security is now live.

Subscribe now!