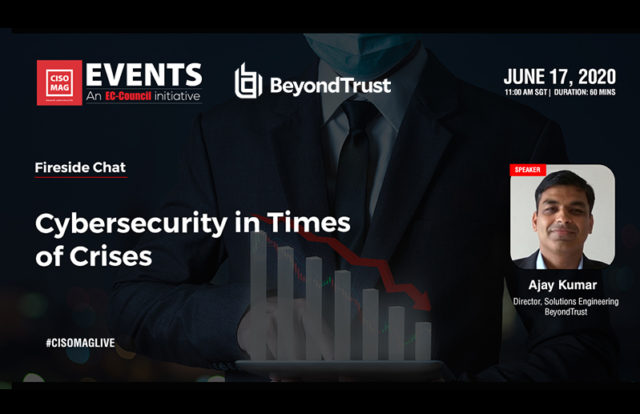 CISO MAG hosted its latest webinar in the Fireside Chat series with Ajay Kumar, Director of Solutions Engineering at BeyondTrust. The topic for the webinar was "Cybersecurity in Times of Crisis". Senior leaders and executives from countries like the U.S., the U.K., Canada, Singapore, Philippines, Cambodia, Qatar, Nepal, Saudi Arabia, Italy and even smaller nations like Trinidad and Tobago, Guatemala, and Cote d'Ivoire attended the webinar held on June 17, 2020.
The webinar elaborately discussed how the COVID-19 Pandemic altered the way business was done around the world. With remote workforces operating on unsecured home networks, corporate security teams such as the IT service desk have been struggling to gain control of enabling remote workforce and maintain business productivity.  Kumar highlighted how since the onset of COVID-19 the priorities for CISOs and CIOs have been to enable secure remote access for employees.
When asked has security been causing impediments to the workflow, he said, "Security never impedes innovation but helps it move forward. It is exactly the way brakes function in a car. Brakes in cars are not just to slow the car down or bring it to a halt, but also enable the car to go faster while ensuring safety. This is exactly what security brings to business—it drives the innovation ahead."
While talking about privileged access, he also stressed about how passwords have been the legacy platform and it is not going away anytime soon.
The Fireside chat also offered strategic insights on how organizations today can empower the remote workforce through the right security tools to maintain business continuity while negating cyber threats.
Kumar said, "For situations like COVID-19, BeyondTrust have secure remote access solutions that can be hosted on cloud as well as on-premises." He also highlighted how Privileged Remote Access Security from BeyondTrust was designed with security as the key priority while also keeping in mind several compliance norms.
During the webinar the audience also took part three polls following which Kumar later took questions from the audience: You can see the results of the snap polls here: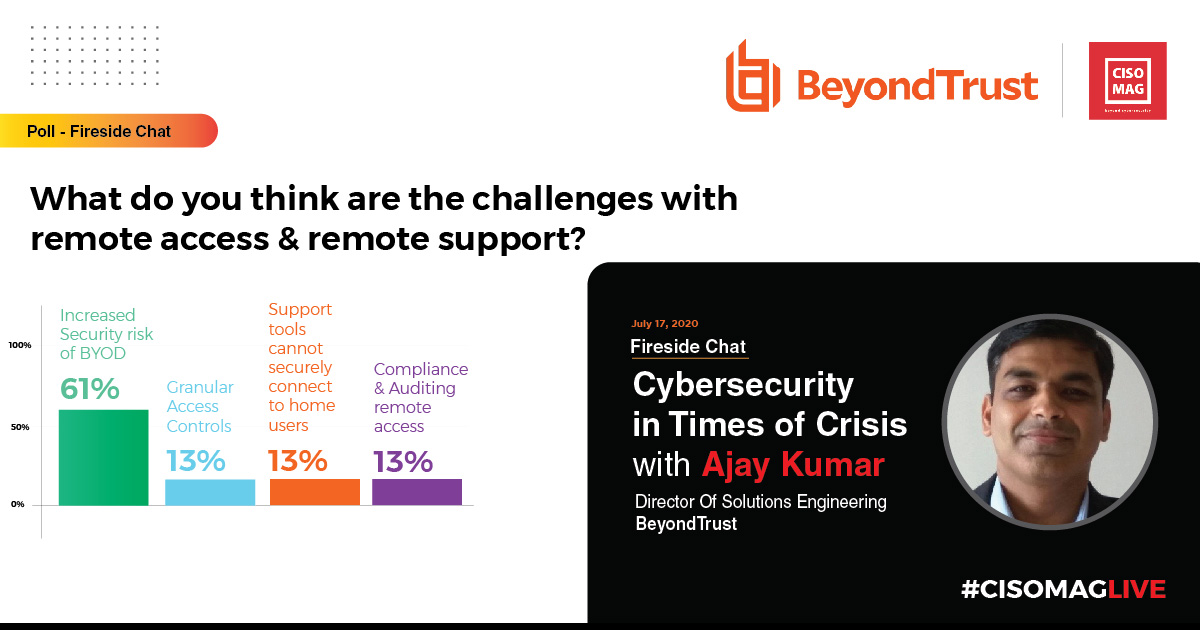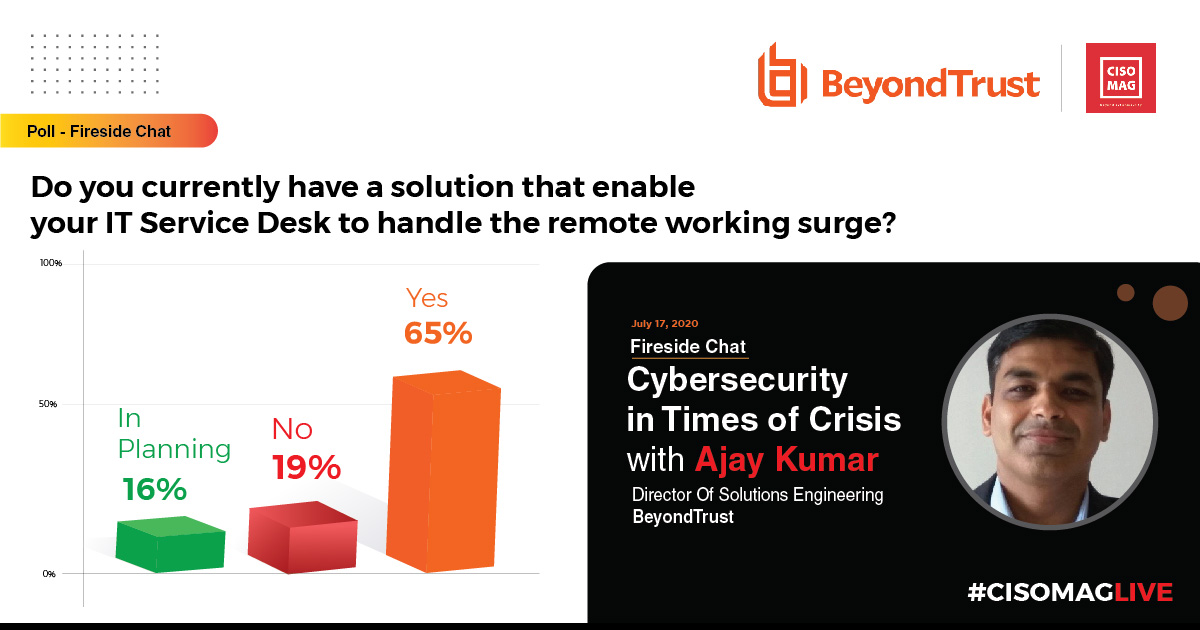 To his credit, Kumar has over 15 years of experience in cybersecurity, and seven specializing in privileged access and identity access management. Prior to becoming the Director of Solutions Engineering – APJ at BeyondTrust, he was the Regional Technical Sales Leader for over seven years at IBM. He is a trusted cybersecurity advisor to enterprise customers, his experience spans across several industries such as banking, insurance, energy and utilities, in addition to state and federal government.
At BeyondTrust, Kumar heads the regional security engineering department, helping enterprises and government agencies improve their security posture against internal and external threats.
Following the webinar, five lucky participants won the book titled "Identity Attack Vectors: Implementing an Effective Identity and Access Management Solution" written by Morey J. Haber, CTO & CISO of BeyondTrust.
Five lucky attendees who tweeted about the webinar also won a one-year subscription of CISO MAG.
You can watch a recording of the Fireside chat here.
The next in the line is CISO MAG Virtual Series-Virtual Roundtable with Ajay Kumar, Director, Solution Engineering BeyondTrust and Sean Gunasekera, ASEAN Cyber Security Lead, EY. The Virtual Roundtable scheduled for June 24, 2020 will be moderated by Brian Pereira, Principal Editor, CISO MAG. 
Register for the next webinar at https://register.gotowebinar.com/register/1063860370404613135
Through the Fireside Chat series, CISO MAG will be partnering with industry experts and solution providers from across the world to host similar webinars to discuss some of the pressing issues and trends in the cybersecurity. Stay tuned.
About BeyondTrust
BeyondTrust is the worldwide leader in Privileged Access Management (PAM), empowering organizations to secure and manage their entire universe of privileges. Our integrated products and platform offer the industry's most advanced PAM solution, enabling organizations to quickly shrink their attack surface across traditional, cloud and hybrid environments.
The BeyondTrust Universal Privilege Management approach secures and protects privileges across passwords, endpoints, and access, giving organizations the visibility and control they need to reduce risk, achieve compliance, and boost operational performance. We are trusted by 20,000 customers, including 70 percent of the Fortune 500, and a global partner network. Learn more at www.beyondtrust.com.
About CISO MAG
CISO MAG is a publication from EC-Council, which provides unbiased and useful information to the professionals working to secure critical sectors. The information security magazine includes news, comprehensive analysis, cutting-edge features, and contributions from thought leaders, that are nothing like the ordinary. Within the first year of launch, the magazine reached a global readership of over 50,000 readers. The magazine also has an Editorial Advisory Board that comprises some of the foremost innovators and thought leaders in the cybersecurity space. Apart from this, CISO MAG also presents a platform that reach out to the cybersecurity professionals across the globe through its Summits and Awards and Power List surveys.
About EC-Council
EC-Council, officially incorporated as the International Council of E-Commerce Consultants was formed to create information security training and certification programs to help the very community our connected economy would rely on to save them from a devastating Cyberattack. EC-Council rapidly gained the support of top researchers and subject matter experts around the world and launched its first Information Security Program, the Certified Ethical Hacker. With this ever-growing team of subject matter experts and InfoSec researchers, EC-Council continued to build various standards, certifications and training programs in the electronic commerce and information security space, becoming the largest cybersecurity certification body in the world. Learn more at https://www.eccouncil.org.