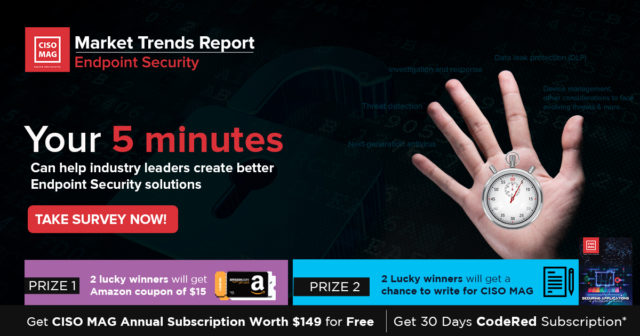 In today's cutthroat business world, data is considered an asset. Data loss or data breach could take down a business operation overnight, further leading to both financial and reputational damage. Hence, endpoint security is integral to securing modern enterprises.
Since endpoints range from mobile devices, tablets, ATMs, smartwatches, printers, and more, users can quickly connect to an organization's network. They are playing a significant role in communicating back and forth during the current work from home (WFH) scenario.
These devices end up becoming threat points and a favorite target of hackers.
At CISO MAG, we nurture an Endpoint Security culture. We invite you, the readers, to participate in our year-end Endpoint Security Survey to help us gain an insight into the looming cyberthreats and the challenges in deploying endpoint security solutions.
Your responses will be confidential and aggregated results will be shared in our Endpoint Security issue in December. The survey questionnaire will be live until November 17, 2020.
Your feedback will help industry leaders create better Endpoint Security solutions.
We appreciate your time, cooperation, and engagement. And as a token of thanks, we are offering you a free annual subscription of CISO MAG worth $149. We are also offering 30-days access to CodeRed (EC-Council's high-quality videos and courses on various topics of cybersecurity that will take your career to the next level!).
Sincerely,
Team CISO MAG
---
---