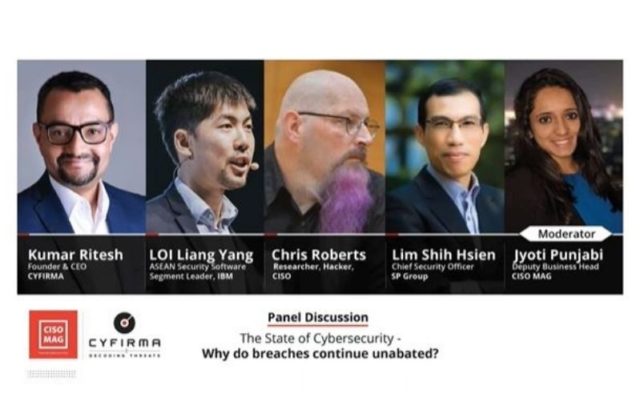 For a legion of cybersecurity experts plugged from across the globe, CISO MAG and CYFIRMA recently hosted a panel discussion on "The State of Cybersecurity: Why do Breaches Continue to be Unabated." The discussion was moderated by Jyoti Punjabi, Deputy Business Head, CISO MAG, and the panel had Kumar Ritesh, Founder and CEO, CYFIRMA; Lim Shih Hsien, Chief Security Officer, SP Group; LOI Liang Yang, ASEAN Security Software Segment Leader, IBM; and Chris Roberts, Researcher, Hacker, CISO. in participation. The discussion took a virtual format to create awareness on the need for cybersecurity and its related implications in times of a pandemic.
The discussion began with an address by Jyoti Punjabi who spoke on the dire straits of cybersecurity due to the ongoing pandemic, and how cybersecurity is still an afterthought for several organizations, even though the industry is worth a trillion. She also highlighted how digital is the new normal, attack vectors are witnessing an exponential uptick, and cyberthreats are increasing manifold. Taking the lead, Kumar Ritesh explained, "There are a number of reasons for this trend. To begin with, the controlled environment posed by the pandemic on us, learning how to operate remotely even for business for whom remote working was unimaginable. The transition wasn't a planned one but was done over night owing to the situation. I don't think anything like that has ever happened, where there was such prompt action. And knowingly or unknowingly, we have exploded attack vectors without enough emphasis on cybersecurity."
Kumar Ritesh has more than two decades of global cybersecurity leadership experience across all facets of the industry. A highly dynamic executive who successfully blends technology expertise with business acumen, he has a strong track record of developing successful cybersecurity strategies, products, policies, standards, and solutions, in addition to running complex cybersecurity programs. Today, Ritesh leads one of the foremost threat discovery and cyber-intelligence company, CYFIRMA, where its cloud-based analytics platform helps organizations decode threats and predict upcoming cyberattacks.
Ritesh added, "In the midst of all of these the bigger concern became geopolitical rifts between states and most of us are facing several state-sponsored attacks most of the time. While we look at ourselves as the defenders, we are set back due to constraints like budget, resources, etc.
"Another interesting trend we noticed from the cyber-intelligence front was that newer nations started to jump into the cybercrime economy. We have seen a big uptick in the last six months where new nations have joined the bandwagon of the cybercrime economy. Apart from that, there has also been a shift in the interest of hackers. They are moving away from enterprises toward high-value individuals, leveraging the work from the home format."
Concurring Ritesh's opinion, LOI Liang Yang said, "I completely agree with Ritesh here. In fact, every other day I am getting messages from someone or the other asking me to help them break into an enterprise. So, yeah, the threats are real." He added that in the past few months he witnessed a steep increase in the number of attacks from several vectors of cyberthreats.
LOI Liang Yang is a Certified Information Systems Security Professional (CISSP), Certified Ethical Hacker, and CompTIA Security+ cybersecurity consultant. LOI advises large enterprises including multiple fortune 500 companies on security strategy to protect against advanced threats.
LOI has a cybersecurity channel with more than 4 million views and over 170,000 global subscribers tuned to all his cybersecurity tutorials and lectures. LOI also teaches ethical hacking and network defense to the next generation of cybersecurity professionals.
Lim Shih Hsien also shared a similar assessment from a blue team perspective. Lim Shih Hsien is the Chief Security Officer, SP Group. He is currently responsible for managing the cyber and physical security risks for the SP Group, which owns and operates electricity and gas transmission and distribution businesses in Singapore and Australia.
Prior to joining SP in February 2019, Shih Hsien was heading the information security and data privacy functions for The Hong Kong Jockey Club. Before taking on this role in 2011, he was a member of the MOH Holdings P/L management team that was responsible for establishing the security technical architecture and policies for Singapore's National Electronic Health Record (NEHR). Shih Hsien has also previously held senior positions in Singapore Airlines and Infocomm Development Authority of Singapore.
"We are in different times. There was a time when we were behind a wall, but now there is no perimeter as such, so that is possibly how COVID-19 has changed the world," added Chris Roberts, Researcher, Hacker, CISO.
Roberts possesses a rich experience within the domain of information security and is globally recognized as one of the pioneering wizards on vulnerability research and counter-threat intelligence. He has worked on a multiplicity of projects specializing in intelligence gathering, DarkNet research, deception technologies, and cryptography with a number of organizations, and has been credited by many of the top Information Technology and Security disciplines.
The panelists also took questions from the audience. You can find the full version of the panel discussion here.
About CISO MAG
CISO MAG, an EC-Council initiative, is a cybersecurity magazine delivering cutting-edge updates about the latest happenings in the cybersecurity world. It is the handbook for CISOs, CXOs, and every responsible stakeholder of a secure Internet space.  Learn more at https://cisomag.com/
About CYFIRMA
Headquartered in Singapore and Tokyo, CYFIRMA is a leading Predictive Cyber Threat Visibility & Intelligence Platform company. Its cloud-based AI and ML powered Cyber Intelligence Analytics Platform (CAP) v2.0 helps organizations proactively identify potential threats at the planning stage of cyberattacks, offers deep insights into their cyber landscape, and amplifies preparedness by keeping the organization's cybersecurity posture up-to-date, resilient, and ready against upcoming attacks.
CYFIRMA works with many Fortune 500 companies. The company has offices and teams located in Singapore, Tokyo, and India. Official websites: https://www.cyfirma.com/ and https://www.cyfirma.jp/